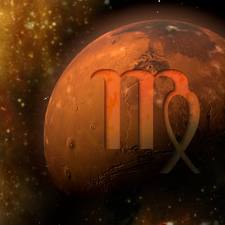 Mars moved into Virgo today. Mars represents energy, action, drive and assertion – in other words what we are compelled to "do" (among many other things). Virgo is analytical, efficient, productive and resourceful.
In this context, the Mars in Virgo energy is all about making yourself useful, putting your energy into helping others and making the world a better place.
If you were born with Mars in Virgo, you're probably very detail-oriented and precise. You may not be organized, but you're always organizing. Making lists: "things to do today;" refining and perfecting your surroundings; and pitching in to help others wherever you may see yourself as useful.
There are never enough hours in the day for Mars in Virgo people. They can't really sit still: they have to be doing something all the time – usually two or three things at a time. They're good with facts and figures, have a great eye for detail and are quick to point out where improvements can be made.
Mars in Virgo people are efficiency experts, and as such can be too focused on the flaw, ie "what's wrong with this picture?" But they're also good at knowing how to fix it and aren't afraid to get their hands dirty to do so (as long as they get to wash them later – they are after all also usually germaphobes). They thrive on being useful and of service to others.
Mars in Virgo people are often found in "helping" professions: nursing, veterinary, dietitian, etc. They're also found in service-oriented professions: domestic, mechanic, repair, etc., and technical: computers, electronics, accounting, etc. Some Mars in Virgo people are "tinkerers" – quick to jump in and make, fix, recycle and refurbish; and some are "scramblers" – racing around like a rat on wheel trying to put out every real and imagined fire. The good news is that they do keep the world turning and make sure that none of the rest of us fall off.
Even if you weren't born with Mars in Virgo, this is a great time to think about what areas of your life are in need of a little refining. What half-finished projects need to be dusted off and completed. And what parts of yourself (as a person) could use a little tinkering in your own on-going efforts to evolve and improve.
Mars will remain in Virgo until December 7th, when it moves into Libra.

Famous Women with Mars in Virgo: Britney Spears, Cameron Diaz, Mother Theresa, Princess Diana, Romy Schneider, Nicole Scherzinger Gwyneth Paltrow, Audrey Tautou, Jacqueline Kennedy Onassis, Alicia Keyes, Hillary Duff, Elizabeth Hurley, Blake Lively, Melanie Griffith, Sarah Jessica Parker, Yoko Ono, Zooey Deschanel,Christina Ricci, Brigitte Nielsen, Dita von Teese, Brooke Shields, Naomi Watts, Hayden Panettiere, Hillary Swank, Calista Flockhart, Diane Kruger, Stevie Nicks, Teri Hatcher, Raquel Welch, Helen Hunt, Michelle Trachtenberg, Evan Rachel Wood, Kim Novack, Michelle Rodríguez, Diane Lane, Linda Evangelista, Zoe Saldana, Joan Rivers, Chelsea Clinton, Joan Collins, Marisa Tomei, Grace Jones, Taylor Momsen, Rosanna Arquette, Amy Adams, Kelly Ripa, Sissy Spacek

Famous Men with Mars in Virgo: Johnny Depp, Barack Obama, George W. Bush, Ben Affleck, Sylvester Stallone, Will Smith, Vincent Cassell, Matt Damon, Robert Downey, Jr., Hugh Jackman, Jeff Buckley, Trent Reznor, George Michael, Thom Yorke, Bruno Mars, Ernest Hemingway, Josh Hartnett, Charles Bronson, Stevie Wonder, Kevin Spacey, Gordon Ramsay, Clark Gable, Jeff Bridges, Tom Felton, Benedict Cumberbatch, Chris Rock, Nick Cave, Michael Caine, Nick Carter, David Schwimmer, Jay Leno, Adam Brody. Tom Waits, Alice Cooper, Charlton Heston, Bruce Jenner, Magic Johnson, Willie Nelson, Lou Ferrigno, James Brown, Gabriel Byrne, Martin Lawrence, Don Johnson, Ryan Phillippe, Peter Sellers, Gene Wilder, Adrian Grenier, Bob Geldof, Jesse Eisenberg, Dennis Leary, Forest Whitaker
Contact Us Live!
Chrisalis:
Melodie:
We are available for phone or chat through the Click4Advisor links above. If we're not showing as available you can request a call-back or schedule a session. If you'd prefer a flat rate session (for a reduced fee), click on the "
About Us
" page in the Menu above for other payment options. We look forward to Speaking with you!