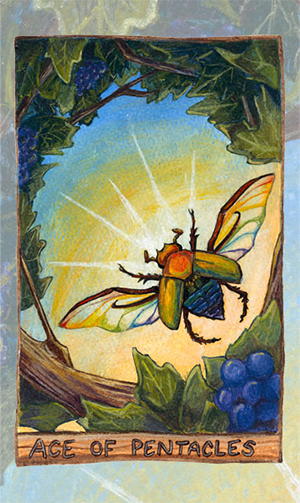 ARIES: Ace of Pentacles
October is going to be a good month for you to focus on attracting abundance and prosperity into your life. The Ace of Pentacles — this version from the Animism Tarot — refers to new opportunities for growth, prosperity and abundance, of which material (financial) gain is only a small part of. It refers to planting seeds which then grow and flourish, and ultimately begin to propagate and replenish themselves — much like the grape vines framing the scarab on this card.
You want to be thinking about what you have this month rather than what you lack. What you've invited into your life rather than what you've left behind. And what you're putting out there now, as a means of attracting more of the same.
The Ace of Pentacles is a card of assurance and inspiration. It's a "Yes" card, a manifesting card, a card of limitless promise and potential. It's an essence rather than a "thing," which means you have a lot of say in how it plays out. If it's money you want (or security, stability, comfort, etc.) now is the time to work on attracting more of it into your life.
It represents the start of something new, in this case new financial opportunities. It encourages you to plant seeds that you can tend to, nurture and grow.
The scarab is a sacred symbol of mystery, magic, creation and transformation. How fitting is it then that this one — suspended mid-air between shade and Sun — is participating in an energetic exchange? It pulls energy from the Sun and sends it right back out.
The Ace of Pentacles encourages you to participate in your own energetic exchange. Whether it's time, money, energy or aid, all of us have resources at our disposal. Put yours to good use this month and see what the Universe sends back.