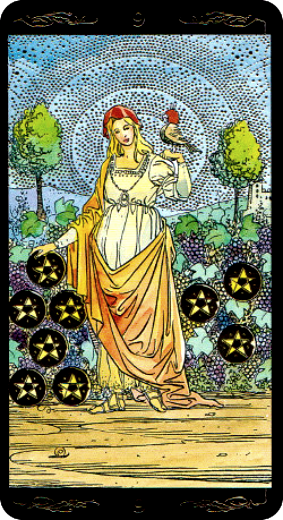 ARIES: Nine of Pentacles
The Nine of Pentacles implies success and satisfaction with career and financial matters. However, take a closer look at the imagery in this particular card and you may find that all is not as it seems. I'm not saying you should not feel more than a bit smug with your achievements but you may find you have an "itch" to try something different.
Do you find thoughts keep coming into your mind that you want to change something? Perhaps your job, your beliefs on success and what it personally means to you? If you look at this card you will see 6 pentacles are on one side (left hand side) and 3 pentacles on the other (right hand side).
Take a sneaky look on the ground under the 6 pentacles — this version from the Golden Universal Tarot — and you will see a snail so perhaps the accumulation of your wealth, knowledge and security is actually making you feel as if your life is moving at a slower pace (a snail's pace).
Now look at the side of the card with the 3 pentacles and you'll notice an almost mirrored version of the lefthand side… the difference being there is less on the right hand side (3 pentacles) which implies if you make a decision to go in a different direction you will have less in some ways but you may actually gain in other ways.
Perhaps the biggest indicator in this imagery that speaks out but is easily overlooked is the direction of the foot on the ground… the little bird whispers in your ear to make a change and almost without knowing it you are turning your foot to begin a new direction in your life.
And now here is a conundrum for you… I have not given out which foot I am interpreting as being the one that is "changing directions"… that part of the equation is up to you…. listen with your heart for the answers.