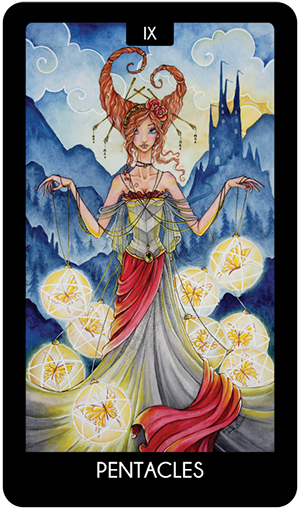 Nine of Pentacles
This is a good day to count your blessings and to express gratitude for all of the wonderful things you've accomplished in your life.
The Nine of Pentacles speaks of shifting your attitude to one of gratitude. It speaks of  attracting abundance and prosperity — not just with respect to money and material possessions, but also to your own sense of self-worth.
It's about being grateful for all you've acquired and recognizing that you deserve it. It's about developing a prosperity consciousness, knowing that the Universe offers up unlimited abundance to those who do.
The Nine of Pentacles — this version from Sarah B. Seiter's contribution to the beautiful 78 Tarot — represents that intricate and fulfilling balance between expressing gratitude and achieving prosperity.
The woman in this card looks like she may be struggling to maintain balance. She holds the strings to Nine Pentacles — five hanging from one hand and four from the other. And these are not just any old pentacles, they're glowing disks with butterflies and pentagrams etched into them.
She may be dealing with conflicting priorities or she may have a hard time maintaining the equilibrium in her life.
This is a key feature with the Nine of Pentacles. Balancing out the give and take in your life while still maintaining your priorities. Remember that whatever you put out there — whether it's time, energy, money or yourself — as well as whatever you're open to receiving, will all balance out and be replenished over time.