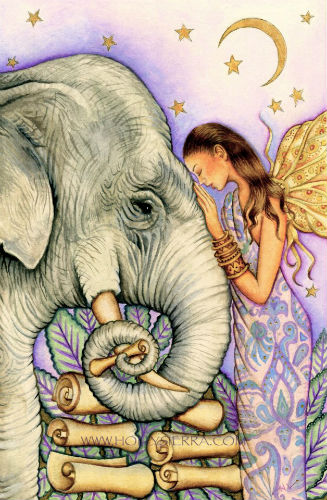 ARIES: Six of Scrolls
This is the month when wisdom meets hopes and dreams.
The elephant in this card — the Six of Scrolls from the beautiful Chrysalis Tarot — portrays that which is ancient and wise and the knowledge a person like this can bestow on you.
Keep your ears open this month for one such as this because it seems as if they have something very wise and nurturing to give you in the form of words and knowledge.
You may find that you go within yourself to draw out that which is wise and strong… that which you always knew. With this knowledge a transformation takes place within you.
The point where the woman in this card touches the elephant's forehead with her own is where the 6th chakra lays. This is where psychic information flows in and out and relays that the knowledge and wisdom you attain does not need to be from books but is simply "known" by you.
The crescent moon and stars in the sky speak of mystery and mysticism as well as the turning of the ages.
You may be thinking of taking a meditation class or psychic course. If these are not for you art, writing or anything creative can also give you the knowledge and wisdom you are looking for as it is already within you.