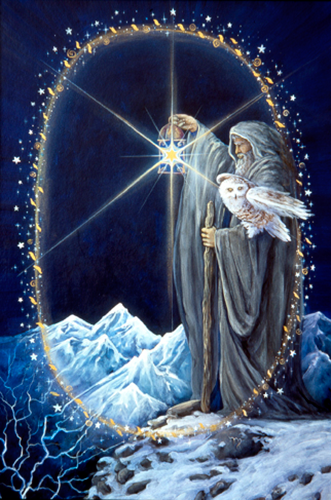 The Hermit
After all the fanfare of yesterday you may be feeling a little more like some solitude today.
The Hermit is a card of going inside yourself to find your own strength and your own truth.
It is a card of wisdom… specifically the type of wisdom that comes from your own thoughts and experiences.
Sometimes when you have a problem or a goal there is only so much of the path forward that you can see. In this version of the card there is a distinctive area which is lighted by the illumination of the lantern whilst the remainder of the "picture" is outside of this illuminated area.
This does not mean you need to worry about what you cannot see and by and large what is outside the illuminated area is pretty dangerous including the cliff face immediately underfoot.
Nevertheless there doesn't seem to be any risk you'll take a step in the wrong direction. You're well aware of what's going on, what your part is in it and more important what you part is not in it thereby keeping your boundaries. Knowing if you overstep these boundaries you may very well find yourself in a perilous situation or at the very least one you do not want to be in.
The owl shows wisdom and this owl is alert! It is ready to alight if needs be and also surveying an area of your life that you may not be thinking about too strongly. For this reason you may find you begin to think of different areas of your life not with panic or worry but more with wisdom and answers to how you can change things.
If nothing else you can be assured you will have help and whilst this help seems to come from within you there is also a strength to you today that you know you do not have to hold everything together on your own. The staff in your hand is strong and steady… as are your thoughts and actions.