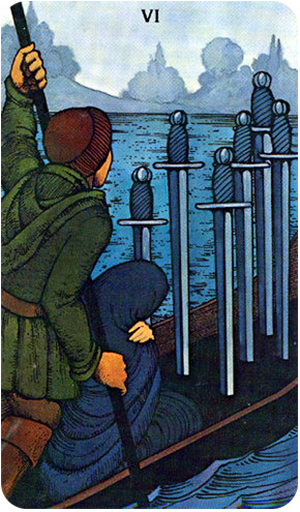 ARIES: Six of Swords

You may be on the verge of making important changes in your life, and in doing so will have to think about what you're taking with you and what you need to leave behind.
This doesn't necessarily mean material things; in fact that's rarely what it means. It's more about attitudes and belief systems, as well as a life you may have built and dreams you may have dreamed that are no longer capable of sustaining you.
The Six of Swords — this version from the Morgan Greer Tarot — is a card of transition and change. Moving from one "place" to another, if only in your mind. Notice how the woman in this card is huddled and shrouded from view. She's protecting herself from more than just the elements.
She may be mourning the loss of her previous existence, or she may be reflecting on the choices she's made to leave it all behind. She's put her faith in the ferryman to get to her safely to her new destination.
Notice too that while the waves are choppy beneath them, they start to smooth out the closer they get to the other shore. And speaking of that other shore, the landscape's silhouette appears to be promising. It's lush, flourishing and full of potential.
This is the message behind the Six of Swords. You may not be where you want to be just yet, but you're moving in the right direction. The Six of Swords reminds us that we're not alone. We don't get to the other side without assistance from someone, even when that "assistance" comes in the form of a setback that forces us to change direction.
It also provides clarity and perspective. We may see things we don't want to see — or admit to ourselves — but it's that kind of clarity that motivates us toward change. Take some time this month to reflect on where you are and where you want to be heading. This is the first step, courtesy of the Six of Swords, toward manifesting your goals.