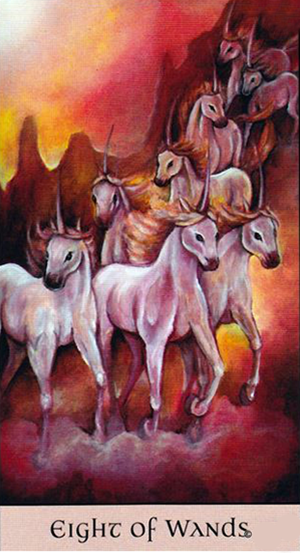 ARIES: Eight of Wands
You may have so much on your plate this month that it feels like "rush rush rush" for you as you scramble to get things accomplished.
The Eight of Wands — this version from the beautiful Crystal Visions Tarot — is all about action, progress and momentum. It's about getting things done and making things happen.
It may be as simple as ticking off all the little things on your to-do list, and it may be as significant as making great headway on an important project.
While it might feel to you like there just aren't enough hours in the day, you could be surprised when the month is over to see how much you really accomplished.
The Eight of Wands is a high energy card and also sometimes refers to travel. In that respect it relates to being literally and physically on the go. Are you planning a weekend getaway? Use this extra energy to make preparations for your trip.
Look at the Eight Unicorns galloping down the canyon on this card. They're raring to go and although not all of them are moving in the same direction, they' all appear to know exactly where they're going.
Mars (your ruler) is now moving through Sagittarius, which works very well with this energy: both the imagery of "wild horses" and the idea of travel. And while it will be turning retrograde later in the month, you won't want to be sitting home and letting your thoughts gather dust.
Now is the time to make sure your get up and go actually goes somewhere — whether that means tackling a mountain of chores or heading off on an exciting new adventure.