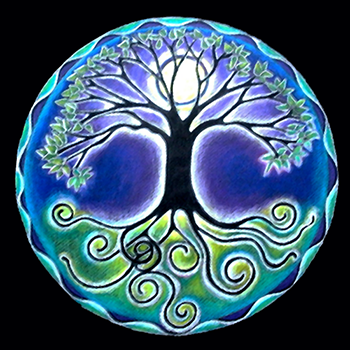 If your life is in a tangle and you feel as if you need new growth, an astrology reading can provide you with illumination into your current situation.
What can astrology tell you about yourself and your life? It can tell you not only who you are, but where you're heading. It can give you insights into your relationship, finances, career, health, family, education, travel — you name it.
It can look at a relationship between two people and show you not only your strengths and weaknesses as a couple but your karmic and soul-mate connections as well. It can look at your life path, your calling, your soul's purpose — whatever you want to call it.
It can look at your spiritual leanings, your psychological and emotional challenges and physical limitations (health and wellness). And so much more!
If you've never had an astrology reading, prepare to be amazed. It's not just horoscopes or Sun Signs. It's a unique and very personal look into your psychological makeup, that extends to your impact on the world around you (and its impact on you). In other words, on your actions and decisions that reverberate out and manifest in your life as events.
Astrology can provide you with the means to either take advantage of the planetary influences and use them to your benefit, or maneuver your way around some of the pitfalls coming your way.
For a limited time only, we're offering 3 Free Minutes for new clients only. This is added to your initial session which means a paid 10 minute session gets 13 minutes, a 30 minute session gets 33 and a 60 minute session gets 63.
About Us: We're both full-time professional astrologers with more than 30 years experience (studying, teaching, writing and consulting) individually. We met several years ago while doing online consultations and have been collaborating on weekly and monthly horoscopes for the last eight years.
Thanks to the internet, we've been fortunate enough to consult with people from all over the world. Our clients are not just bored housewives: they include single men and women, couples (both straight and gay), celebrities, business professionals, doctors, lawyers, engineers — and yes, even other astrologers.
We're both available for astrological consultations in 10-, 30-minute and 60-minute segments. These include natal chart interpretations, synastry and / or composite chart interpretations (relationship karma and compatibility), horary astrology (a divination technique based on the "birth" of a question), locational astrology (relocating your natal chart to determine the best places to live), and more.
One-on-one and group classes in beginning, intermediate and advanced astrology are also available.
If you would like to purchase as session with either of us, through chat (yahoo, MSN, AIM, Gtalk or Skype) or phone and don't see us available live, please feel free to email us to set up an appointment first.
To learn more about Chris, click here:
To learn more about Melodie, click here:







Melodie 

$3.99 per minute

$3.99 per minute


New Clients:
First Paid Session Only!
3 Minutes Free!



Flat-rate sessions available in 10-, 30- or 60-minute increments: Choose from the menu below:





"




Chrisalis




$3.99 per minute








New Clients:
First Paid Session Only!
3 Minutes Free!



Flat-rate sessions available in 10-, 30- or 60-minute increments: Choose from the menu below: