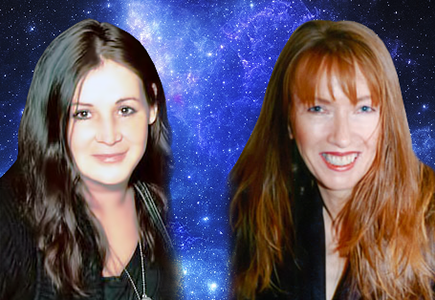 The Ask the Astrologers concept was born from a desire to present a small snapshot of one of the many uses for real astrology. With so much misinformation out there about what astrology is and how it can be used, we wanted to provide a glimpse into its value as a counseling tool. There are as many branches of astrology as there are other professional services and this is just one.
Contrary to popular belief, astrology is not fortune-telling it; it's not generic; and it's not just "horoscopes." It's an immeasurably complex study of the symmetry between the planetary cycles and our experiences here on earth.
What we offer here is just small portion of the many applications of real astrology. We're both full-time professional astrologers with more than 30 years experience (studying, teaching, writing and consulting) individually. We met several years ago while doing online consultations and have been collaborating on weekly and monthly horoscopes for the last eight years.
Thanks to the internet, we've been fortunate enough to consult with people from all over the world. Our clients are not just bored housewives: they include single men and women, couples (both straight and gay), celebrities, business professionals, doctors, lawyers, engineers — and yes, even other astrologers.
We're both available for astrological consultations in 10-, 30-minute and 60-minute segments. These include natal chart interpretations, synastry and / or composite chart interpretations (relationship karma and compatibility), horary astrology (a divination technique based on the "birth" of a question), locational astrology (relocating your natal chart to determine the best places to live), and more. One-on-one and group classes in beginning, intermediate and advanced astrology are also available.
If you would like either of us (or both) to take a stab at your questions, please email us, or submit them (along with the birth date, time and place of birth for each person) right in the comments section below. Remember, all comments are moderated, so we'll be sure to edit out your birth data and any personal or identifying information before it's publicly posted. If you have any concerns about this process feel free to message us here. Although we won't be able to respond to every question, we'll select those that best suit the current astrological themes and post our responses here.
If you would like to learn more about Chrisalis, click here:
If you would like to learn more about Melodie, click here:
Personal Consultations:
We're also both available for more personalized and in-depth sessions, in 10-, 30- and 60- minute increments:  If you would like to purchase as session with either of us, through chat (yahoo,  MSN , AIM, Gtalk or Skype) or phone, please email us to set up an appointment first.
If you would like to schedule a session with either of us, there are two ways to go about it.  You can either purchase time either per minute (via Click4Advisor) or in blocks of 10-, 30- or 60-minutes (via PayPal).




"




Chrisalis




$3.99 per minute








New Clients:
First Paid Session Only!
3 Minutes Free!



Flat-rate sessions available in 10-, 30- or 60-minute increments: Choose from the menu below:








Melodie 




$3.99 per minute

$3.99 per minute


New Clients:
First Paid Session Only!
3 Minutes Free!



Flat-rate sessions available in 10-, 30- or 60-minute increments: Choose from the menu below: