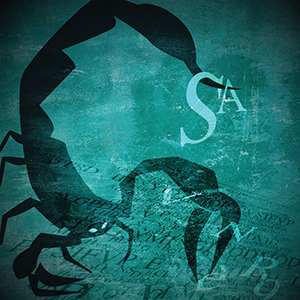 Happy Birthday Scorpio! Here are some highlights for the month ahead.
Lunations: Moon Phases for the entire month
Full Moon: This month's Full Moon occurs on November 6th at 14° Taurus 25′.
New Moon: This month's New Moon occurs on November 24 at 0° Sagittarius 07′.
Retrogrades: Neptune turns direct on November 16th at 4° Pisces 47′. Chiron turns direct on November 23rd at 13° Pisces 05′.
Uranus is retrograde for the entire month of November. 
Ingresses: Mercury enters Scorpio on November 8th. Venus enters Sagittarius on November 16th. The Sun enters Sagittarius on November 22nd. Mercury enters Sagittarius on November 28th.
Continue reading for complete scopes for each sign:

Aries — March 21-April 19: 
With all the focus that has been on your relationship this past month November should be a month for you to sit back a bit and relax. After the first week you will be clear of Mercury dancing around and causing communication problems for you and your partner. Venus gives you an extra edge in understanding and getting to the bottom of your emotions up until the 17th when it enters your area of adventure, travel and philosophy. This will perhaps give you itchy feet and the feeling you need to do something different with a sense of risk around it. As this falls close in line with the moon in your relationship area on the 18th and 19th you may want to pause and think through any imminent plans you have for your love life as what you are wanting and needing may be at odds with what your partner is wanting and needing. Mars will give you a burst of energy all month to get on top of any workload that you may have been struggling with and as a nice boost to your confidence the work you do will be noticed by your superiors.
Moon in Aries November 4, 5

Taurus — April 20-May 20:
The full moon in your sign on the 6th will further illuminate any changes you have been contemplating to your life especially as it comes on the back of the recent eclipse in your area of relationships. However, the difference to this month is that the focus may be more back on you and what you want versus what your partner wants. If this is the case you need to be especially careful that around this full moon you are not so caught up in your own needs and want that you exclude your partner. If you can use this time to take stock of your relationship as a "whole" though you will find that the first half of November is your "friend" especially given that Venus is in your love area during this time. Mercury's recent retrograde may have given you some headaches and you are also clear of any problems with communication from mid month onwards. Mars may be urging you to branch out and explore several options you may have going on around you and the nicest part of this is that you may find yourself planning a holiday with a difference.
Moon in Taurus November 5, 6, 7

Gemini — May 21-June 21:
Your love life will come into its own after the 17th when Venus gives you a much added boost to your relationship and if you are single, a chance to meet someone new. Any communication, emotional problems you have been struggling with should drop away at this time and you also have Mars in an area of your chart that simple shouts "sex appeal". The new moon on the 22nd also adds to this theme as it falls in your relationship area. After the 9th Mercury will be giving you a much added boost to your ability to communication in the work place. Use this period well as it is a chance to get through a lot of work and it only lasts up until the 29th when Mercury enters your relationship area. It seems that this month is focussed on your love life, communication and work. If you need some time for yourself though you may like to ride on the coat tails of Jupiter which is in your communication area and can make any ideas you have bigger, brighter and better… along with a splattering of luck to see them through.
Moon in Gemini November 8, 9, 10

Cancer — June 22-July 23:  
Mars is spending all month in your relationship area so take a deep breath and don't get too caught up in what this may mean for you. And if you are under any illusions about what this may be then think Mars, planet of war, moving through your love life and midmonth coming into contact with Pluto, planet of transformation. The date this falls on is very close to when the recent Mercury retrograde clears its shadow period so expect some new thoughts that you can actually do something about and work with after mid month as opposed the frustrations you may have been experiencing in the past. As a prelude to this period of change the moon is in your sign on the 11th and 12th forming excellent aspects to the Sun, Mercury and Venus. Take this time to get straight in your mind what you want for yourself and trust your intuition. With Venus moving in to your work area after the 17th you are given the chance to look at options in your work life which go along the lines of "are you doing what you love? Do you love what you are doing? What changes would you make if given the choice?"
Moon in Cancer November 11, 12

Leo — July 24-August 23:  
You home life may have taking some knocks lately with Mercury retrograde last month and still coming out of its shadow period alongside an eclipse in this area which would've just made matters that bit more difficult to deal with.  Rest assured though that November looks better especially the latter part of it.  The general theme for you this month is work.  Mars is in an excellent position to push you forward at work and also for you to make getting through your workload look like "child's play".  Speaking of "child's play" you also have Venus moving into an area of your chart after the 17th which will boost your love life and generally have you feeling like a child at heart.  What could be better for a Leo?  Not much I'm thinking!  Adding to this the Sun moves into this area on the 22nd and falls in alignment with a new moon on the same date.  The first half of the month may be busy for you but the second half looks like a piece of heaven.  Even Mercury will be coming to the rescue of any misunderstandings you've had at home after the 12th when it clears it's shadow period and also clears the way for better communication for you and your family.
 Moon in Leo November 13, 14, 15

Virgo —  August 24-September 22: 
Communication has always been important to you and this month is no exception although you may have a few loose ends to clear up from the hangover of Mercury retrograde last month. This fell in your area of communication so it is as if you had a "double dose" of the mix up and mayhem this can cause. After the 9th though you should be clear of this period and be able to forge ahead knowing that nothing will stand in your way. This is especially important to you this month as Venus is also in that area of your chart. Any disagreements you've been having in your love life look set to be cleared during the second week of this month although you may not want to push this past that time when Venus moves into your home and family sector and that is a whole different ballgame! Not a bad one though as it means you will have some pretty loving moments with family and may wish to spend more time at home. Mars is giving you the energy of a kid this month so lots of fun and games and if you have children you will be able to join in and enjoy some much needed play time.
Moon in Virgo November 16, 17

Libra — September 23-October 22: 
Mercury is in your sign at the beginning of this month still coming out of its shadow period after last month's retrograde. However, it also holds special significance to you as it comes into contact with the node during the first few days and as this is a point of fate and/or fated events then it may be a good idea to keep your senses open to anything that pops up for you specifically in relation to what you are thinking. Any thoughts that continue to come back into your mind take note of them as they may be trying to tell you something. Venus is in your area of security and stability up until the 17th giving you a chance to explore your femininity. It's also a time where you may find your partner is willing to spoil you in some way. As Venus moves into your area of communication after the 17th the moon moves into your sign thus allowing you to not only tune into your own emotions but also giving you the capacity to express these emotions. If you are thinking of any home improvements Mars lends a hand for the entire month with enough energy there for you to get through any job… large or small.
Moon in Libra September 18, 19, 20

Scorpio — October 23-November 22: 
Big month for you Scorpio! Venus shines her light on your love life up to the 17th. Make the most of this and if there is anything you have to do to change your relationship then be aware that around the 12th to 14th when Venus comes into contact with Saturn you may have the feeling that you are being constricted in some way emotionally. If this is the case then give it a few days to clear and take note of what areas of your life you felt this squeeze in. Around the same time Mercury will clear its shadow period after its retrograde you should be thinking clearer and able to get a lot more done. Mars, in your area of communication, may have you thinking and acting upon your thoughts faster than you can process them so give yourself a bit of a break from thinking everything needs to be done "yesterday" and instead focus on the "now". A new moon on the 22nd falls in your area of stability and security coming into close aspect Venus. At this time all the heavy thinking you had on your relationship earlier in the month may take a new turn and you come up with the answers you were looking for.
Moon in Scorpio September 21, 22

Sagittarius — November 23-December 20: 
Big month for Sagittarians with a new moon in your sign on the 22nd and the oh so lovely planet Venus moving in to your sign after the 17th. What does this mean for you? Well for one you want be bored in your love life. You may meet someone new or your current relationship may take on some very positive attributes. Added to this Mercury will be in an area of your chart which will give you great insight after the 10th into what you may need and also in "reading" other people. Yes it is in an area of your chart that is linked to intuition so don't go putting your foot in your mouth before you speak as you may not be filtering your thoughts before they turn into words. Mars is in a great position to allow you to look at your finances and make any changes that will work better for you. Jupiter, as it has been for the past few months, still travels through your area of adventure and as the month progresses you may feel more and more like getting out and doing something different as the aspects between Jupiter and Saturn ease off.
Moon in Sagittarius November 23, 24

Capricorn — December 21-January 20:  
Mars is spending the entire month in your sign. This could be good or bad depending what you do with it. If you have a project you need to finish then it is great because Mars will give you that extra burst of energy needing to complete it in record time. However, if you have not made concrete plans on how you are to accomplish something then you may find the energy of Mars playing out in your life as a series of frustrations, setbacks and miss opportunities (and possibly not in that order). Take special care around the 11th, 12th when Mars comes into contact with Pluto and forms an opposition to the moon. At this time you may feel a sense of urgency to take action and one wrong move could see things blowing up in your face. The right move though… could see you coming out on top with something you have been trying to facilitate a happy ending to for a long time. Take heart though as Venus moves into an area of your chart on the 17th which allows for you to slow down a bit and put your feet up and as friends are also featuring prominently for you in November you might like to spend this time catching up with them.
Moon in Capricorn November 25, 26

Aquarius — January 21-February 19: 
Venus is in an area to boost your chances of work for the first half of the month. If you are wishing to shine there then this is the time to do so. After the 17th it moves into an area of your chart which is all about fun, play, adventure and just generally not bothering about much at all. Add this to your Aquarian eccentricity and there's a lot you can do with Venus in this position. The new moon on the 22nd will only heighten this feeling for you. Jupiter is still in your relationship area and those of you born from mid Aquarius onwards will be feeling the effects of this more especially around the 13th, 14th and 15th when it is joined by the moon. After the 9th Mercury will allow you to get your head down to any work you have been having difficulty with lately. See what is around for you on the 26th, 27th and 28th when Uranus, your ruling planet, makes some nice moves on Venus. Think quick, unexpected, out of the ordinary communications relating to love and you'll have the idea.
Moon in Aquarius November 1, 27, 28
Pisces — February 20-March 20:  
The moon in your relationship area on the 16th and 17th lends to any thoughts you have been having around your love life. Mercury is in a position after the first week to perhaps give you thoughts of changing something in a quite unexpected way when it comes to your relationship. Added to this Venus is also urging you on to be a bit more adventurous when it comes to love during the first half of the month. After the 17th though all thoughts may turn to work and you'll actually enjoy it. Mars may be giving you enough energy to do the job of two people but my money is on you actually taking more time off for yourself and seeing that your own needs are met. This becomes more obvious towards the end of the month when, on the 29th Mercury, also moves into an area that lightens your thoughts. In short this month may have its up's and down's for you but if you find your centre, make a plan for what you want to do then you won't leave too many people disappointed and best of all you won't leave the most important person disappointed… that being you!
Moon in Pisces November 2, 3, 29, 30
Be sure to check out this month's tarotscopes too!
November 2014 Horoscopes
by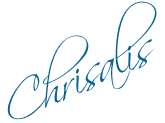 Personal Consultations:
If you would like to schedule a session with me, there are two ways to go about it. You can either purchase time either per minute (via Click4Advisor) or in blocks of 10-, 30- or 60-minutes (via PayPal). If I'm not showing as available, or if you want to purchase blocks of time through PayPal, please feel free to email me:




"




Chrisalis




$3.99 per minute








New Clients:
First Paid Session Only!
3 Minutes Free!



Flat-rate sessions available in 10-, 30- or 60-minute increments: Choose from the menu below: