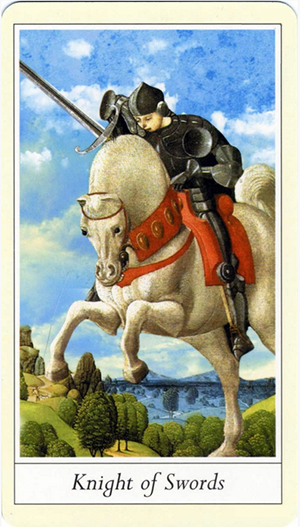 Knight of Swords
Today is a day for putting your head down and thinking about the choices you have to make as you plan your next move.
As Mercury moves into Libra, you may be wavering over important decisions. You may be weighing your options or figuring out what your best course of action may be.
The Knight of Swords is traditionally associated quick thinking and quick action. But this is a kinder, gentler version of the card. This version, from Jane Lyle's Lovers' Tarot — appears to be lost in thought.
He's in no hurry to get moving, even though his horse is raring to go. He may be daydreaming about the journey ahead, or he may be contemplating all of the different routes that can lead him to his destination.
As with all court cards this can refer to someone in your life, a frame of mind you need to adopt, or it can refer to you personally. If it's someone in your life, you will know him by his gentle demeanor and sense of fair play. These are both Mercury in Libra qualities that you'd do well to incorporate in your decision-making today.
The Knight of Swords is known for being frank, blunt and outspoken. And even in this gentler version you can count on him to be honest.
If it takes you a little while to get your bearings today and to make an informed decision, know that there's a reason for holding back. Mercury in Libra wants to be fair and just. So make sure you have all the facts before you jump to any conclusions.