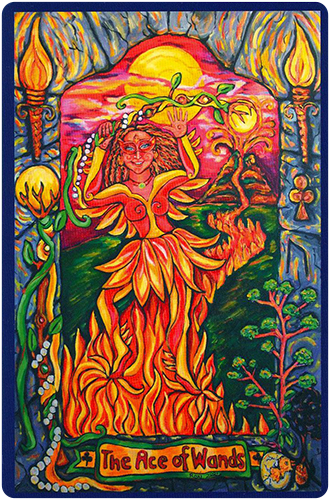 Ace of Wands
Today's New Moon in Leo is closely conjunct Venus, the planet associated with love, harmony, beauty and femininity.
And what better card to describe this energy than one that brings together the joyous rapture of the Leo archetype with the lively spirit of a flaming fire goddess?
The Ace of Wands — this version from Roxi Sim's gorgeous Pearls of Wisdom Tarot  — is all about manifesting your dreams and desires. It's about taking your life in your own hands and following your bliss.
The woman in this card has emerged from a volcano that's erupted in the distance and has forged her own path. She rises from the flames in victory, her wand held high overhead.
This is the energy you want to keep in mind as you work on manifesting your goals. It is that raw, pure, unharnessed energy that is the Ace of Wands as it changes energetically from spark (idea) to flame (intention) to contact (manifestation). It's about increased confidence, drive and enthusiasm. Ardor. Vitality. Passion. Creativity. Power. Potential.
The Ace of Wands invites you to ask yourself what you really want to do that you can put your whole heart and soul into. It invites you to offer your intentions up to the Universe with every reason to believe you will be rewarded for doing so. With this in mind, it's time to push all negativity aside and replace it with optimism and inspiration. If you're truly serious about manifesting your desires, there is no time like the present to do it