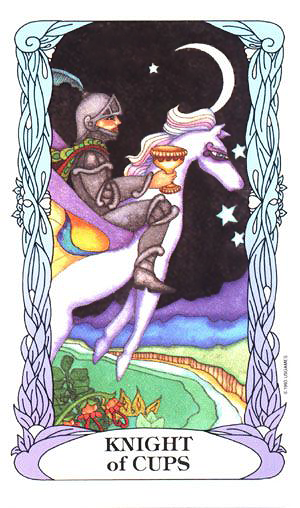 Knight of Cups
You may find yourself swept up in a wave of romantic reverie today, courtesy of today's beautiful Moon / Venus / Jupiter conjunction in Leo. You can see this aspect applying in the Tarot of a Moon Garden's version of the Knight of Cups.
It starts with Moon and Venus in the early hours, bringing the together the female archetypes and emphasizing the feminine qualities of love, romance, beauty and harmony. As the day wears on the Moon closes in Jupiter, bringing in the Jovial qualities of warmth, benevolence, expansion and optimism.
You can see these planets lined up with the Crescent Moon tonight if you step outside and check out the Western horizon just after Sunset. This is a fortuitous configuration that the Knight of Cups would surely be wishing on.
The Knight of Cups is the most romantic of all the Knights. He's sensitive, loving and passionate. He may in love with love; it's certainly his main driving force.
He may be a person in your life — if so expect him to wear his heart on his sleeve. He may have swept into your life like the proverbial knight in shining armor, or he may be reaching our from afar as the Knights are often also messenger cards.
But as with all the court cards, this may be an event transpiring in your life (a proposal, an invitation, or messages of love and affection from afar.). And it may also appear as an indication of qualities that you might need to adopt.
You may receive news today and while it may not manifest as an actual proposal, it should at least be good news. It may also answer important questions or validate you instincts about someone you feel a connection to. While the Knight of Cups is known for his extravagance, he can also be quite subtle. So don't be surprised if he sneaks up on you when you least expect it.