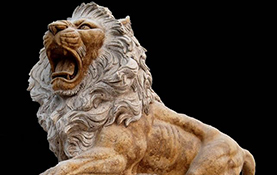 Aries
March 21 – April 20 
You won't have to worry about being lonely this month, with the Sun moving through your house of romance and the full moon taking place (on the 1st) in your house of friendships. If anything, you're going to have to figure out which is more important so that you can prioritize the time you spend with others. Your ruling planet (Mars) spends most of the month in your relationship sector. But it's not "happy" there: it's debilitated by both sign and house. You'll be navigating through your share of relationship challenges – most likely related to how little time you're devoting to those who need it most. Everything comes to a head on the 15th when Mars conjuncts Saturn. You'll have to "man up" (or "woman up") and meet those challenges head on. Saturn demands your complete attention so don't try to ignore or avoid. By the 23rd, when Mars moves into Scorpio, things should be falling back into place. You'll be glad you took the time to resolve your relationship issues and gotten back on the same page as your loved ones.
Moon in Aries: Aug 5, 6, 7 and 8
Taurus
April 21 – May 21 
You'll be putting a lot of energy into "doing business" this month – whether that means jump-starting your career, taking stock of your financial situation, branching out into other work-related ventures or just reviewing where you're at professionally. You have a lot of work-related transits, with the full Moon in your career sector on the first, Mars and Saturn in your work sector, and Venus and Jupiter moving in your money sector. Things should be picking up for you financially, even if you don't end up taking the world by storm.  Your ruler (Venus) moves into Cancer on the 7th and will be in what's called "mutual reception" with the Moon until the 10th. That small window of time could bring a nice little romantic interlude, and should also be good for communicating your feelings to others. Things can become tense though on the 15th when your relationship rulers are in opposition. It's not the time to engage in power struggles or allow minor disagreements to escalate. The 23rd is also problematic so steer clear of conflict with loved ones during those two time-frames.
 Moon in Taurus: Aug 8, 9 and 10
Gemini
May 22 – June 21
You should be flying high in the romance department this month.  With both your relationship and your romance rulers (Jupiter and Venus) moving through your sign, and with Mars moving through your romance sector, you'll be hard pressed to think about anything else. These are light-hearted, carefree, playful energies, so treat them as such. It's not the time to project any serious expectations onto a love interest: you'll probably regret it if you do. Your ruling planet (Mercury) has been retrograde for the past three weeks, but that all changes on the 8th when it turns direct and starts moving forward again.  You may have to "clean up" some of the communications messes that were made during the retrograde cycle, but hold off if you can until the 22nd. At that point the Sun moves into Leo and forms what's called "mutual reception" to Mercury. Think of this as a period when these energies offer assistance to one another; making for a livelier, more creative form of self-expression. Use this to your advantage in your dealings with others and in matters of the heart.
Moon in Gemini: Aug 10, 11, 12 and 13
Cancer
June 22 – July 22 
You may not feel like venturing out into the public much this month – at least early on. With a preponderance of activity in "hidden" areas this month, you're going to be more comfortable staying close to home and spending time with loved ones.  These placements are highly introspective: you'll be doing more soul-searching and less participating in outer-world activities.  There is some danger of reading too much into other people's motives so try to keep your paranoia in check. Venus moves into your sign on the 7th and brings it with it romantic opportunities.  Whether you're in an established relationship or just "in the market," this would be a good time to re-evaluate your needs. Challenges erupt around the 15th when Mars conjuncts Saturn and Venus opposes Pluto. This is not the time to confront a loved one or to back someone into a corner.  The potential for serious or even permanent damage is strong. You'll need to resolve any conflicts that arise before either of you can move forward. You can make a lot of headway in your relationships by rising above the drama.
 Moon in Cancer: August 13, 14 and 15
Leo
July 23 – August 23 
 Happy Birthday Leo!  This month the Full Moon takes place in your relationship sector (on the 1st) and the New Moon takes place in your sign (on the 17th).  You get to show what you're made of in the relationship department – whether that means taking a new romance to the next level or resolving conflicts in an already-established relationship.  It may not be an easy undertaking. Your specific relationship ruler (Uranus) has been involved in an on-going square to Pluto.  This aspect is intense and can be extremely volatile, so choose your battles wisely. Things can get heated and so much can be blown out of proportion – to the detriment of what should be a relatively harmonious connection.  You'll want to look at putting your own needs aside in favor of your partner's, especially after the 24th when your ruler (the Sun) opposes Neptune. This aspect can derail any progress you've made, so pay attention to what you're saying and how it's received.  Think about what you bring to the table (as opposed to what you're getting out of your relationship) and make the necessary adjustments.
 Moon in Leo: Aug 15, 16 and 1st
Virgo
August 24 – September 22 
 Your ruler (Mercury) has been retrograde for the last few weeks and has been moving through your Solar 12th house. This is also the area that both the Full and New Moons are emphasizing (on the 1st and 17th respectively). This area is tied to the unconscious mind (among other things) and when activated in this way can act as a bit of a double-edged sword.  It can enhance your psychic intuition and make for incredibly rich dreams and premonitions, but it can also magnify doubts, fears and irrational thoughts. Mercury turns direct on the 8th, but takes until the 22nd to fully shake some of this energy off. You might feel like you're dealing with mental overload until that time. The Sun enters your sign on that day and your relationship rulers form a perfect sextile (harmonious aspect), so you should see things clear up appreciably. There are actually two Full Moons this month, with the second one (sometimes referred to a "blue moon") in your relationship sector on the 31th.  See that as the perfect note to end the month on.
 Moon in Virgo: Aug 17, 18, 19 and 20
Libra
September 23 – October 23 
As usual, love and romance will take center stage for you this month.  Even when you've got a lot of other irons in the fire, everything tends to grind to a halt when your relationships are not flowing smoothly.  This month will be no different.  With Uranus (your romance ruler) retrograding through your relationship sector – and in hard aspect to Pluto—you'll want to try to off-set as many conflicts as you can. Don't assume that someone else is always the instigator: you're going to have to look at your own contribution or you won't get anything resolved.  Your ruler (Venus) moves into Cancer on the 7th, but joins in with that nasty Pluto/ Uranus configuration the following week. The 15h and 16th are especially trying so try not to do anything (or say anything) that could exacerbate the tension.  Your relationship ruler moves into Scorpio on the 23rd.  This is a powerful placement; it's intensely magnetic, charismatic and potent. It can increase all of your drives and desires. A trine to Neptune on the 26th softens this energy through the remainder of the month.
 Moon in Libra:  Aug 20, 21 and 22
Scorpio
October 24 – November 22 
You'll want to trust your intuition this month.  While you tend to rely on your instincts more than others as a rule, recent events have probably had you questioning whether you were getting an accurate read on things or giving into wishful thinking.  Your ruler (Pluto) has been involved in a nasty aspect with Uranus, the planet related to chaos and bedlam.  There've been lots of unpredictable twists and turns for you, particularly in the romance department. And while that's not completely changed, you do have some nice transits coming in to off-set some of the pandemonium.  Venus (your relationship ruler) moves into Cancer on the 8th and forms a trine to your romance ruler (Neptune) shortly thereafter. These are your most important relationship planets, and will afford you the opportunity to calm any turbulence – at least temporarily.  Things may get tense again around the 15th / 16th, but only for a few days. This month's second Full Moon (on the 31st) falls in your romance sector too. You can expect the end of the month to be considerably smoother, at least in this area.
 Moon in Scorpio: Aug 22, 23 and 24
Sagittarius
November 23 – December 21  
You'll want to make sure you're communicating your needs clearly this month, especially during the first week when your relationship ruler (Mercury) is still retrograde.  The potential for misunderstandings and miscommunications is huge for you, as your ruler (Jupiter) is debilitated by both sign and house. This is a bit of a double-edged sword.  On one hand it's teamed up with Venus in your relationship sector, which is ordinarily a good thing.  But on the other hand – perhaps more importantly – the planets ruling your communications sectors are both involved in intense planetary conflicts.  You'll have to be prepared to explain yourself or clarify your position when others misread even the most innocent comments. The good news is that Mercury turns direct on the 8th and starts clearing away some of the debris. By the 22nd, when it moves into what's called a sextile with Jupiter you can expect things to be back on track and your communications to be more harmonious. This doesn't happen without some come without some fall-out, but it's for the best as the process from conflict to resolution be both healing and liberating.
Moon in Sagittarius: Aug 24, 25 and 26
Capricorn
December 22 – January 20 
You may be taking on more and more responsibility this month, thanks to a preponderance of activity in your professional, work and money sectors. You'll have six planets (7 if you count the Full Moon) spread through these areas at the beginning of the month. Additionally, Pluto is now moving through your sign, which is traditionally associated with career, reputation and professional standing. If it seems like all work and no play for you, just wait until the 7th, when Venus moves into your relationship sector and the Moon moves into your romance sector.  These planets will briefly be involved in what's called a "mutual reception," meaning that they're symbiotically supporting one another.  If you can shift gears (and side-step a potentially nasty bump around the 15th and 16th), love and romance will take center stage.  Be careful around the 24th though as there's a potential for someone's duplicity – yours or another's – being exposed.  You'll want to keep your nose clean and your wits about you.  If you can accomplish all this, you'll end the month on a more romantically satisfying note.
 Moon in Capricorn: Aug 1, 26, 27 and 28
Aquarius
January 21 – February 18 
 The Full Moon at the beginning of the month affords you the opportunity to start things off with a clean slate. This is mostly a good thing – but thanks to an on-going aspect between your ruler (Uranus) and Pluto, this won't come without some sacrifice.  It's out with the old and in with the new for you this month – whether that means weeding people out of your life, or just releasing some residual baggage. Either way you can look at it as the Universe preparing you for some new and exciting adventures. The Uranus/ Pluto square can rear its ugly head, as in battle lines drawn or outright confrontations. But the New Moon (on the 17th) falls in your relationship sector and is involved in a harmonious aspect to Mars and Saturn: any rifts that have developed can be beautifully healed during this time. Ideally, you can side-step the drama in the first place; but if that's not possible, you can always take advantage of this energy and mend fences later on. The 22nd through the 31st are most advantage for you in this area.
Moon in Aquarius:  Aug 1, 2, 3, 28, 29 and 30
Pisces
February 19 – March 20
You're going to be given opportunities to right some serious wrongs this month, particularly in the romance department.  With Venus moving into your romance sector on the 7th and your relationship ruler (Mercury) turning direct on the 8th, you can expect things starting to smooth out in these areas shortly thereafter.  There may be misunderstandings (courtesy of Mercury retrograde) that need to be ironed out. Or you may need to overhaul your expectations (courtesy of its 6th house placement). Either way, this is a good time to smooth over ruffled feathers and heal any rifts that may have developed.  You don't want to let things fester, as there are indications that you're at least partially culpable.  An opposition between Venus and Pluto on the 15th can re-aggravate old wounds, so try to deal with them before they get worse. There are two Full Moons this month, with the second one (a "blue moon") taking place in your sign (on the 31st).  Get your affairs in order during the early part of the month so that you don't carry any conflicts over into the next lunar cycle.
Moon in Pisces:  Aug 3, 4, 5 and 31
 by Melodie