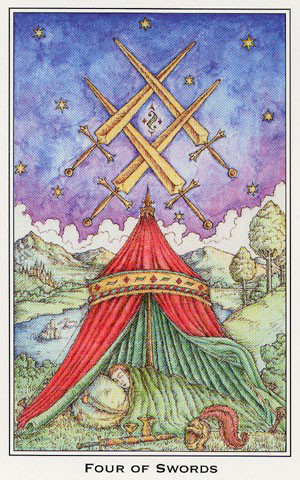 Four of Swords
Today you may be ready to get away from it all. You could be feeling the strains of mundane chores and responsibilities; or maybe you just long to escape from the hustle and bustle of day-to-day life.
The Four of Swords encourages you to disengage from all the noise and distractions around you and  to find your strength through recovery.
It could be as simple as getting out of town for the weekend to relax and recharge your batteries. And it could be as profound as going on a life-altering pilgrimage or spiritual retreat.
The figure in this card rests peacefully under a starry sky, He's tucked in to his own personal sanctuary — a sumptuous tent, luscious blankets and pillow, his sword and helmet resting outside. The four swords also seem to cast a protective shield above him.
If you're able to get away this weekend then by all means do it! But if you can't there are other ways to restore your sanity. Meditation, breathwork, self-imposed silence, etc. — any one of these can help you to de-stress and to restore your equilibrium.
This card is part of the Medieval Enchantment Tarot series by Nigel Jackson (who also gave us the Rumi Tarot and other esoteric works), published by Llewellyn. This is a rare deck that is currently out of print. Here's an interesting interview with him by the American Tarot Association. 
Check out more daily tarot scopes or visit our Shop