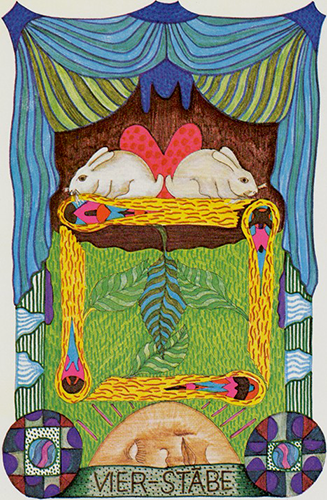 ARIES: Four of Wands
March is the month for honoring the relationships you have developed with loved ones and family members.
It's a month for rejoicing and celebrating — whether this means planning for a party or special event, or getting yourself out of the doldrums and washing away the blues.
The Four of Wands — this version from the beautiful Tsigane Zigeuner / Gipsy Tarot by Walter Wegmüller — takes the "dream big" energy that came with the Three of Wands and turns it into something tangible, solid and lasting. It represents a joyous celebration, such as a marriage, a promotion, the birth of a child.
It tells you that "this is only the beginning" of something you've already established and that it's bound to just keep getting better.
You may be planning a special event — one which will be way more fun than you are anticipating. You are likely to meet people, have fun, put your worries aside and focus instead on the promise of friendship, companionship and socializing.
This month is about expressing love and affection for those who are there for you even when the going gets tough. It's about basking in the power of love — like the two bunnies in this card.
No matter what else you're up against remember to be grateful for what you have. It's not the time to isolate or withdraw from social opportunities. Look around you and take note of all you've accomplished thus far. Chances are good there's a lot to be grateful for and a cause for celebration right there in front of you.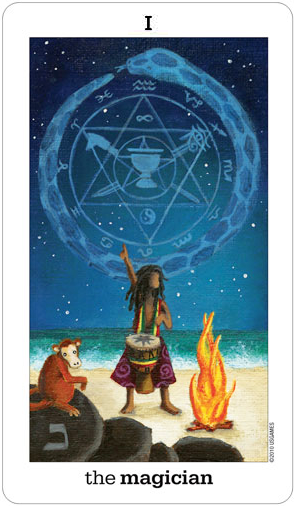 TAURUS:The Magician
The Magician in your card for this month — from Vanessa Decort's gorgeous Sun and Moon Tarot — is seen delineating an astrology chart in heavens.
An Ouroboros (world snake, known for devouring its own tail and swallowing itself, only to be born again and again) is placed around the chart wheel's circumference.
In the center of the wheel are the Magician's tools — a wand, cup, sword and pentacle. Esoteric symbols (yin-yang, a lemniscate, eye or horus and horse-head talisman) are also seen inside the wheel.
The Magician stands on a beach with waves lapping at the shoreline. Stars twinkle in the night sky while a fire blazes to his left and a monkey gazes out from a pile of rocks on his right.
But the figure in this deck is not your typical Magician. He marches to the beat of his own drum. He points to the stars in the heavens and deciphers their meanings for those gathered round.
The Monkey in the foreground is also fitting as monkeys are known to be clever and playful creatures who embody the spirit of the Magi.
Take some time this month to think about what makes you unique and what skills you and you alone possess. Every one of us has something that we're so passionate about — and properly channelled, this can become your calling.
It's all about making the best and most powerful use of that thing that makes you YOU. Like the Magician in this card, you'll want to remember that all of your resources are right there at your disposal, and will only need to be accessed in order for you to create something "magic."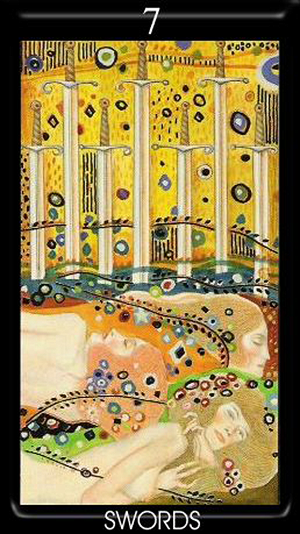 GEMINI: Seven of Swords
What do you do when you find yourself mulling over what you want to do in a situation when one part knows what you want and the other part does not?
Usually you find yourself getting pulled back into the situation going against all the logic you have used in getting away from it in the first place.
Sound familiar? Swords stand for thoughts and here it is your thoughts rather than your emotions that are pulling you back.
The Seven of Swords — this version from the beautiful Golden Tarot of Klimt — says that you can run but you can't hide… well not until you get your thoughts in order and decide if you stay or go.
The images of the three women in this card show different thought processes which are going on in relation to the actions you would like to take.
Sometimes you may feel like just sitting back and doing nothing, sometimes you feel like going with the flow, and other times you want to get up and take a stand.
Only you will know what is right for you when the time comes.
Until you get your thoughts in line with your emotions though, you're basically at an impasse where even if you do take action to leave you are pulled back by what may well feel like an undercurrent.
The Seven Swords can act as a barrier, preventing you from moving until you're clear on the direction you want to go.
Take some time this month to think about the options before you.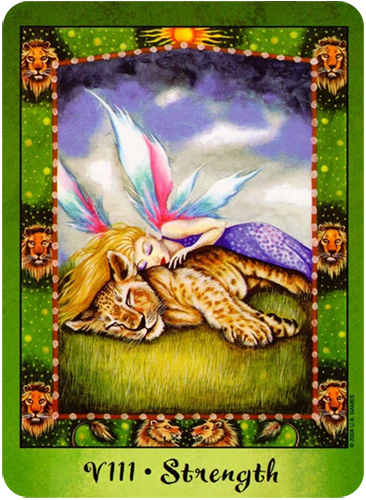 CANCER: Strength
You may need to be extra gentle with yourself this month, and tend to your own needs with the same loving care that you're used to doling out to others.
The Strength card is a card of self-mastery. It's about digging in deep and finding your inner reserves of strength and power that are sometimes necessary for handling life's challenges.
It's a card of courage, bravery, discipline and self-control. It speaks of the importance of staying grounded and being steadfast in the face of danger, and whatever curveballs the Universe throws your way.
You may be putting on a brave face as you tackle things that frighten you this month, or that take you outside of your comfort zone.
Or you may — like the young faerie in the card, from Nathalie Hertz's beautiful Faerie Tarot — recognize the value of taming your inner beast and becoming one with it.
You may notice the storm clouds brewing in the distance, but she doesn't even flinch. And this is the essence of this card. Self-mastery and self-control.
The Strength card encourages you to not only meet your fears and insecurities head on, but to transform them by neutralizing the power they hold over you. Once you do that you'll find that they weren't so frightening after all.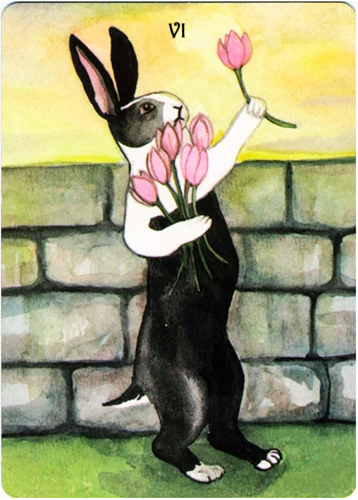 LEO: Six of Tulips
This month you may find yourself surrounded by friends and loved ones and reminiscing about the past.
Whether you're physically with those who are near and dear or just revisiting them in your memories, you're likely to taking a trip down memory lane.
The Six of Cups — Tulips in this version, from the charming Rabbit Tarot by Nakisha VanderHoeven — speaks of innocence, sentimentality and memories from days gone by. You may be missing someone, longing for the comforts and companions that have gone by the wayside over time.
You could also hear from an old friend unexpectedly today. Someone who's been on your mind and who reaches out across the miles, reminding you of long-forgotten events that come rushing back in a wave of nostalgia.
You may also feel the urge to reach out to those who remind you of life's simpler pleasures, such as a family member or a childhood friend. And if you're lucky enough to be surrounded by loved ones today, you should have no problem recapturing those memories.
You may have been taking life too seriously and find yourself needing to get in touch with your inner child. Or you now may have to let your guard down and allow yourself to trust again — especially if you've been trying to guard your heart from pain.
The Six of Tulips is about sharing — like the Rabbit in this card — and bringing the happier memories from your past forward to today.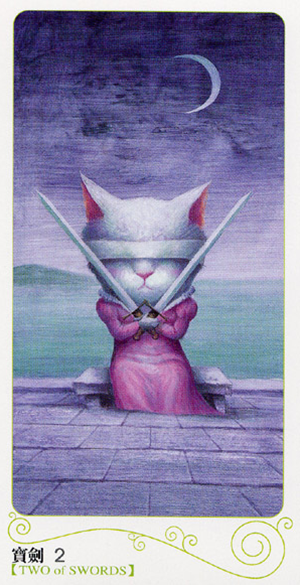 VIRGO: Two of Swords
You may feel like you're being pulled in two different directions this month, or you may be struggling with an important decisions that have been weighing heavily on your mind.
The Two of Swords — this version from Leo Tang's gorgeous Tarot of the Magical Forest — can refer to an impasse or stalemate that's more likely than not a result of your own indecision.
It can refer to a pivotal moment in time where you recognize that the options before you are equally appealing (or terrifying) and that whatever decision you make will have a huge impact on your life.
The Two of Swords refers to conflicting ideals. Feeling torn or pulled in two different directions. Weighing options. Straddling the fence.
In this respect it can refer to inaction and immobility. Sometimes this is due to fear: "What if I make the wrong decision?" But it's just as often related to a desire to not have to choose at all.
The cat in this card is blindfolded with her swords (decisions) crossed in front over her, each of them perfectly balanced. She isn't leaning one way or the other; she hasn't yet taken a stand.
The Two of Swords tells you that while you may ultimately have to make a decision, each one has value. And you can't know the exact outcome of either choice until you do decide.
While you don't want to let yourself be swayed by external desires or distractions, you also can't allow your own uncertainty to prevent you from taking a stand.
You want to weigh your decisions carefully, knowing that they can have far-reaching repercussions. While you may have to sit back and consider your options carefully, in the end you'll have to decide and then abide by your decisions.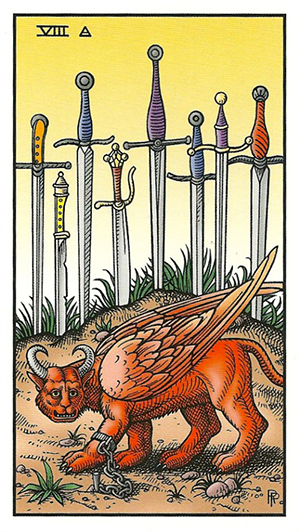 LIBRA: Eight of Swords
This month you may need to think about your own limitations, and how you've contributed to the obstacles that stand between you and your goals.
The Eight of Swords speaks of self-imposed obstacles and restrictions. You may feel powerless in your current circumstances and may be so caught up in blaming the people or events that have brought you to this that you're unable to see a way out.
You may feel like you're beating your head against a wall or like all of your efforts are being met with resistance.
You may question whether the Universe is telling you to fight or to accept defeat — although neither of these is going to be the right course of action.
If you look at the demon in the card — from Robert M. Place's Alchemical Tarot — you can see that he has several ways out. The Swords that are lined up behind him are more decoration than anything else.
The chain around his leg is attached to … nothing. And he has wings! If he wanted to he could just take flight. There are multiple options available to him to break free.
As always with the Eight of Swords there is a way out. It may require a bit of ingenuity — much like is seen in this card. But it mainly involves simply opening your eyes, changing your perspective and finding a workable solution.
The Eight of Swords calls for awareness, perspective and acceptance or responsibility. Only once you have achieved all three can you truly break free from the ties that bind you.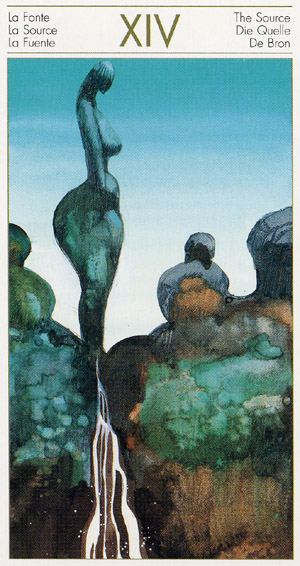 SCORPIO: The Source
What is it that you have been waiting for as father time ticks slowly by? This is a question you may need to ask yourself this month.
The images on this card — the Source (Temperance) card from the Tarot of Origins — are as if they are set in stone and this is how you may have been seeing things for a while.
Yet there are also fertile images on this card… images that say new life is coming, a new beginning and it springs forth directly from your "Source."
It is part of you, you are part of it and even though you may feel alone as if everything is "set in stone" you have people watching out for you.
Look at the two stone boulders on either side of the middle figure. To me they look like birds. Birds which have been sitting there for a long time until they also look as if they have been "turned to stone."
Yet underneath them you can see the glorious nests they have fashioned into the rock face. Hues of blues and greens, patterns of mists and water showing that although time seems to have "stood still" it has not been idle.
As the waters break, it is as that which is "inside" pours forth and so too does that which is inside you. Look to any of these three figures and you will see new life within each.
Who will you be, what will your new direction when the cocoon breaks apart and the chrysalis transforms?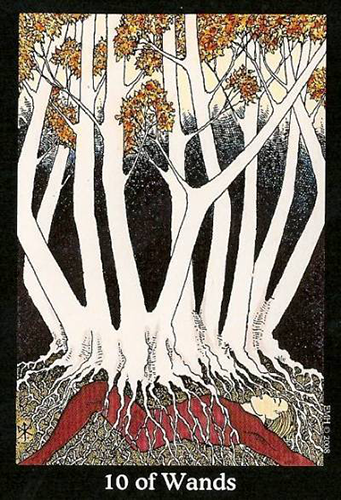 SAGITTARIUS: Ten of Wands
Has it seemed like it's been all work and no play for you in recent days?
The Ten of Wands — this version from the gorgeous Whispering Tarot — can feel like you're carrying the weight of the world on your shoulders, or are so consumed with work that you have no time left for anything else.
You might experience this first hand on the job or in a stressful relationship or even in your own head. If you've been giving — of your time, energy, money, affection — until you find you have nothing left to give, that is the essence of the Ten of Wands.
You may be questioning whether something is worth putting more effort and energy into — such as a job, a relationship, or a business venture that's not paying off — or whether it's time to throw in the towel.
You may also feel like you're carrying "extra baggage," whether this refers to your own struggles or those of someone else. You may have taken on someone else's problems, rather than letting them iron them out themselves.
As a result it may feel like you're carrying the weight of the world on your shoulders with no time or energy left to attend to your own needs.The weight of responsibilities you've taken on may seem like a heavy load — too heavy in fact for just one person to carry.
The Ten of Wands says it's time to lighten your load. Get rid of what is no longer worth holding onto, and work on salvaging what's left.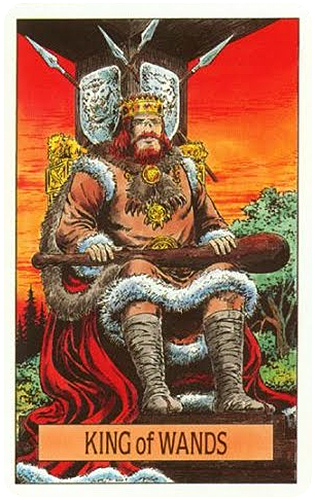 CAPRICORN: King of Wands
You may be called upon to lay down the law this month or exert your influence and authority over others.
The King of Wands — this version from the Arcus Arcanum Tarot — is depicted as a powerful and imposing figure.
This King is hearty and robust. He's seated on his throne against a fiery red and gold back-drop. His royal garb is rugged yet dignified and the club he holds in his lap (his "wand") is not one to be trifled with.
As with all of the court cards, the King of Wands can represent a person in your life, in this case someone who possesses strong leadership qualities and who has a personable, larger-than-life presence that's impossible to ignore.
If this is the case with you, know that this person is here to teach you to embrace some of these qualities yourself.
You may need to learn to wield your own authority over others, at home or in the workplace. Or you may need to work on standing up for yourself, against an oppressive regime.
The King of Wands can also represent a state of mind — as in displaying confidence and problem solving skills that draw people to you and elevates you in their eyes. And he can represent an event — such as a promotion or recognition from your peers.
However he appears for you this month, see it as an indication that it's time to step and start exerting your own influence. It may be time for you to pick up your own mighty club and show the rest of the world what you're made of.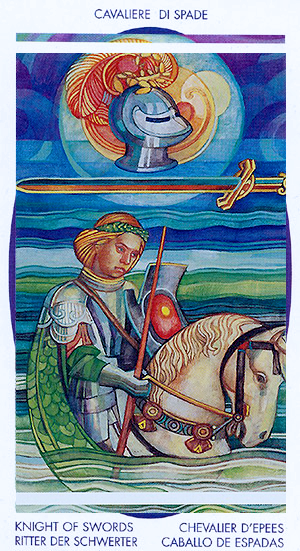 AQUARIUS: Knight of Swords
This is the month for being strategic and thinking about the choices you have to make as you plan your next move.
You may be wavering over important decisions. You may be weighing your options or figuring out what your best course of action may be.
The Knight of Swords is traditionally associated quick thinking and quick action. But this is a kinder, gentler version of the card. This version, from the Crystal Tarot — appears to be lost in thought.
He's in no hurry to get moving, even though his horse is raring to go. He may be daydreaming about the journey ahead, or he may be contemplating all of the different routes that can lead him to his destination.
As with all court cards this can refer to someone in your life, a frame of mind you need to adopt, or it can refer to you personally. If it's someone in your life, you will know him by his gentle demeanor and sense of fair play. These are qualities that you'd do well to incorporate this month into all of your decisions.
The Knight of Swords is known for being frank, blunt and outspoken. And even in this gentler version you can count on him to be honest.
If it takes you a little while to get your bearings this month and to make an informed decision, know that there's a reason for holding back. You want to be decisive, fair and just. So make sure you have all the facts before you jump to any conclusions.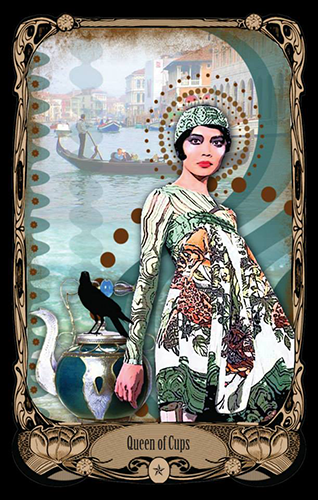 PISCES: Queen of Cups
This month is about taking care of yourself as well as others and if there has been any imbalance between the two lately then it's time to take a look at that.
The Queen of Cups — this version from Charissa Drengsen's Steampunk Tarot — is sensitive, loving, nurturing and maternal. She may take on a motherly role among friends and co-workers. People look up to her and rely on her for guidance.
If this is you, you may need to remember how much people value you in this role. If you're so caught up in business or social affairs that you don't have time for one-on-one with those who matter most, it's time to take a second look at what's most important to you.
The Queen of Cups though may be someone in your life — a parent, older sibling, friend or supervisor. If this is someone in your life, know that she's got your best interests at heart.
She may be the person you need to turn to when you're feeling insecure or uncertain. She may also be a version of you that needs to be brought to the forefront.
Either way — it's all about giving and receiving comfort. Making others feel at home. Letting them know you are there for them. And being willing to take off your business attire and assume that role yourself.
—————————–
This month's tarotscopes feature some of Ask the Astrologers all time favorite cards. We hope you like them too! 
Don't forget to check out this month's Horoscopes too!
March 2016 Tarot Scopes
By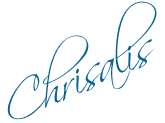 Personal Consultations:
If you would like to schedule a session with me, there are two ways to go about it. You can either purchase time either per minute (via Click4Advisor) or in blocks of 10-, 30- or 60-minutes (via PayPal). If I'm not showing as available, or if you want to purchase blocks of time through PayPal, please feel free to email me:




"




Chrisalis




$3.99 per minute








New Clients:
First Paid Session Only!
3 Minutes Free!



Flat-rate sessions available in 10-, 30- or 60-minute increments: Choose from the menu below: