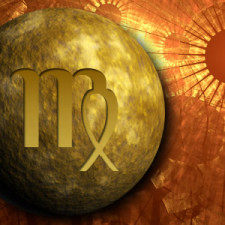 Aries
March 21 – April 20 
The real action for you this month happens from the 16th when Mercury enters your relationship area.  At this time you may find you are wanting to talk something through with your partner and you do seem to have quite a few other beneficial planetary aspects to help you with this.  Venus is in your area of romance after the first week giving you instant appeal to the opposite sex.  From mid month however, Mars will be squaring off to Venus and you may find yourself in a power struggle.  Let's hope its an enjoyable power struggle, one that you see as a "challenge" to enhance your Aries characteristics.  Do not make major decisions around the 3rd and 29th when the moon comes into close contact with Uranus in your sign… you make live to regret them.
 Moon in Aries Sept 3, 4, 29, 30 
Taurus
April 21 – May 21 
Mars (planet of war) is in your relationship area this month.  Need I say more?  You need to be on your guard against arguments and friction with partners and also perhaps a bit more patient especially around the 5th.  The home would be a great place to seek sanctuary for yourself with Venus travelling through this area from the second week onwards.  Although on saying that from mid month Mars and Venus are squared to each other which may find any discord you are experiencing following you home.  Mercury will be in your work area by this time so you may just find yourself immersed in work to avoid any arguments.
 Moon in Taurus Sept  5, 6, 7
 Gemini
May 22 – June 21
September looks like a nice month for you with Jupiter moving through your sign and coming into a nice alignment with Mercury for a few days around the 27th.  This would be a good time to give your point of view on something you wish to clear up.  Venus will also be giving you a helping hand this month not only with your love life but with communication around it.  However, on saying this you may also wish to just watch what you say at work.  You have a lot of energy to get things done with work this month but jumping in and speaking without thinking is not one of them.  Keep your smooth words for love this month.
Moon in Gemini Sept 8, 9
Cancer
June 22 – July 22 
Venus forming a tense aspect to Saturn for the first week of July may put you in a situation where you have major decisions to make in relation to your love life.  On top of this Mars is in a great position to add oomph to any changes your wish to make.  Choose your timing carefully though.  The moon in your sign on 10th, 11th and 12th may highlight for you what you need to look at and it is at this time that you should feel comfortable to make your move.  After the 17th you may find you are holding back or fighting any changes as Mercury moves into your area of family and home and forms a square to your sun sign.  This month, for you, timing is everything.
 Moon in Cancer  Sept 10, 11, 12
Leo
July 23 – August 23 
From the 7th Venus is in your sign hopefully allowing you to show some of your grander traits and receive some in return.  It is a great time for love and being loved.  Around the 20th be on the look out for any problems at home as the moon comes into conjuction with Mars which is currently in your area of home and family. Mercury is in a strong position for you this month as it moves through your area of communication and gives you a great way with words and the ability to use them to your advantage.  If you have anything to watch out for it is friction between your own ego and that of family members caused by Mars in this area.
 Moon in Leo Sept 13, 14
Virgo
August 24 – September 22 
 For the first part of this month Mercury, your ruling planet, is in your sign.  Hopefully, this will pave the way for some clear thinking for you as your love life seems to be see sawing between you feeling on cloud nine to you turning into a real grouch (and every mood in between) as Venus and Mars square off against each other from mid month onwards but be especially careful of this around 28th and 29th as the moon moves through your relationship area.  You may think you are being perfectly logical and unemotional but the position Mars is in during this month you may bite someone's head off and not realise you have done so.
 Moon in Virgo Sept 15, 16
Libra
September 23 – October 23 
You should not have a shortage of friends this month as Venus travels through this area for you.  Alongside that piece of good news is also Mars in your area of security.  If you were wanting to get anything firmed up or make plans for then this is the month that you will have the energy to get it all done in.  Mercury is also in your sign from the 17th forming a great aspect to Jupiter from 24th onwards.  The full moon on the 29th falls in your relationship area and will throw a light on what you may be wanting there just now.  This month is also the last full month Saturn will be in your sign for another 29 years… that in itself is reason enough for you to be celebrating.
 Moon in Libra Sept 17, 18
Scorpio
October 24 – November 22 
Mars is in your sign this month, where I will add, it feels right at home.  Be prepared to get a lot done, be prepared for feeling stronger within yourself and be prepared for perhaps a few arguments as you put your foot down on others or possibly on yourself.  Venus is in a great position to let yourself be seen by those that can help you with your career from the 7th but you may wish to lighten up a bit in how you present yourself.  You may be coming across a bit too strongly.  From the 17th Mercury lends a hand to your already good intuition you should take note of any ideas you have floating around your mind from the 17th to the 20th at which time the moon will be influencing your choices.
 Moon in Scorpio Sept 19, 20
Sagittarius
November 23 – December 21  
You have the chance to make anything of this month that you like.  Venus is merrily playing around in your area of fun loving freedom from the 7th whilst also forming great aspects to your own sign.  Mars may dampen your mood down a bit making it slightly hard for you to feel you are getting anywhere but don't let that stop you when Mercury enters your area of friendships on the 17th.  I don't often say this to you and you probably won't take any notice of this when I do but watch your reputation on the 15th with the full moon perhaps bringing something into transparency that you would rather others didn't know about.
Moon in Sagittarius Sept 21, 22
 Capricorn
December 22 – January 20 
Mars should be giving you a long list of things to do with friends this month.  Don't sit at home moping either… get out there and live a little!  Venus is in a position for you to consider a new relationship.  There is a great deal of passion around for you this month along with some freedom of thinking that you should allow yourself to enjoy up till the 17th.  After this date you may find your thoughts turn to work although on the 23rd and 24th you may find yourself torn between wanting to work and wanting to play.  Now that is a delimma for you.  Jupiter is still in your relationship area so I would go with the playing and try to force yourself to put work on the back burner for a bit… there's a challenge for you!
 Moon in Capricorn Sept 23, 24
Aquarius
January 21 – February 18 
With Venus entering your relationship area after the 7th and Mars travelling through your work area all month you can be excused for not knowing which way to turn or what to do next.  Do you just enjoy yourself or do you put all that energy you seem to have into work?  If I were you I would do each in turns and balance the time you have to do this in.  However, from the 25th onwards enjoy yourself.  Get out, go outside, play, laugh and let your intellect run wild as several planets come into contact in air signs making great aspects to your sun sign and giving your a sense of freedom to explore that you may not have felt for a long time.
 Moon in Aquarius Sept 25, 26
Pisces
February 19 – March 20
There is a full moon in your relationship area on 15th which may be highlighting new thoughts you are having about your love life during the first two weeks of the month.  Mars is also in an area of your chart that could be finding you not happy and restless with a situation and just wanting to break free especially as Saturn travels for the final month, well for another 29 years that is, through an area of your chart where you may have felt stuck or trapped for the past few years.  View this month as a month where you are on the brink of change.  Make plans for something new in your life and if all else fails turn to work as Venus is in this area for you so you should be pretty content to put in extra effort around your job.
 Moon in Pisces Sept  27, 28, 29
by Chrisalis