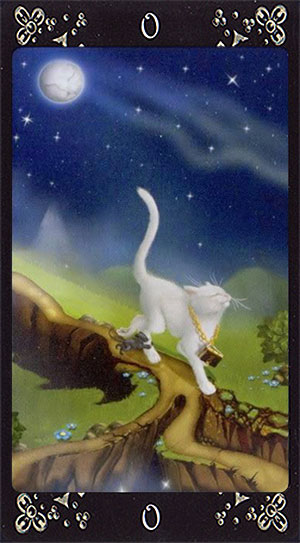 The Fool
As August comes to an end are you thinking about where you're heading or what you're leaving behind?
The Fool card begs this question, as it brings the past, present and future together into one fleeting moment in time. It asks you to suspend your beliefs and rely on your instincts as you take a leap into the unknown.
In this version of the card — from Maria Kuara's fantastic Black Cat's Tarot — The Fool is a beautiful white cat waltzing along a rocky trail without a care in the world.
She's so confident in her footing that she doesn't even bother to open her eyes. Or she may just trust in the Universe so completely that she knows wherever she winds up is exactly where she needs to be.
Like the Fool in so many versions of this card, she's got everything she needs right along with her. In this case it's her trusty companion — a little grey field mouse — holding on for dear life. She also has a set of bells dangling from her collar and her shadow at her side.
She could miss a step and end up falling into the abyss. But it doesn't look like she's in any danger of that. Even with her eyes closed she knows the Cat in the Moon is watching over her.
This is the ultimate "leap of faith" card. It's about jumping into the unknown and trusting the Universe will provide a net. Think about what new adventures are in store for you, and how suspending all beliefs and concerns can get you in the necessary mindset.