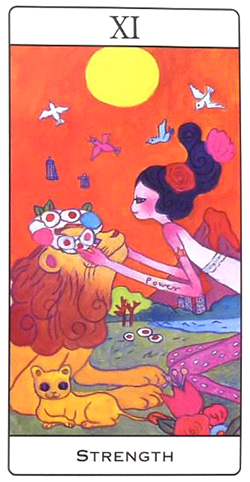 ARIES: Strength
You may be called upon this month to reach into your inner reserves of strength and overcome your deepest fears. The Strength card is all about mind over matter and gaining control over the things in your life that are at risk for spiraling out of control.
It could be as simple as a pattern of second guessing yourself or talking yourself out of doing what you know is best for you. And it can be as complicated as upholding your part of a bargain you've made with yourself: quitting smoking for example. Dieting. Sticking to an exercise regimen. Holding your ground against temptations to "give in" when you know that doing so is not going to be in your best interests.
The woman in this card — from the Aya Takano Tarot
— has managed to tame the beast through kindness and generosity. But she's not exactly lying down and exposing her underbelly. Her demeanor is both soothing and reverent as she places the wreath of flowers over the lion's mane. I love the "power" tattoo on her forearm.
Think about how far you've come in taming your own inner beasts. If you're tempted to throw in the towel, remember that doing so will only cause you to lose momentum.
The Strength card encourages you to not only meet your fears head on, but to transform them by neutralizing the power they hold over you. Once you do that you'll find that they weren't so frightening after all.