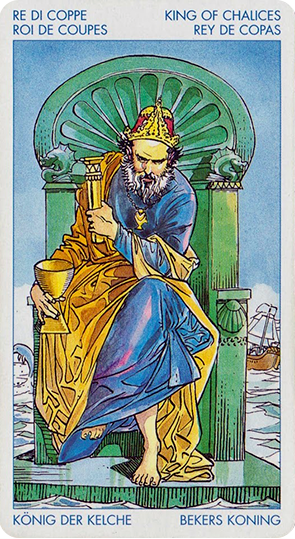 King of Cups 
Today you may be compelled to seek out the counsel of someone you know you can turn to for comfort and guidance.
The King of Cups is ruled by Pisces, which represents the more sensitive and gentle aspects of the masculine archetype. Although the person (or attitude) representing this card is not always a man, it does refer to the more assertive / yang energy that is traditionally associated with the male archetype. It can describe a person, an event or a state of mind.
As with all of the court cards, the Kings often represent someone coming into your life to teach you important lessons. In this case as it's Cups, which refers to the realm of feelings, emotions, instinct and intuition.
This King is seated on a throne that rises of the ocean like a pedestal. He leans forward with a scepter in one hand a golden chalice in the other. Behind him are a sailboat and a dolphin, enjoying the clear skies and calm seas.
While this King is kind and compassionate, he can also be stern. He is not afraid of his emotions, but he doesn't let them govern him or weaken his authority.
He's not easily persuaded or manipulated and he doesn't get caught up in maudlin sentimentality. The seas around him may be turbulent, but he maintains his calm as he keeps a watchful eye on the horizon.
The King of Cups encourages you to be compassionate while still maintaining an air of authority. It speaks of developing a clear emotional radar without becoming wishy washy. And it speaks of getting a better understanding of your emotions without being overpowered by them.
The sextile between the Sun and Neptune today can act as an ideal conduit for this type of emotional expression. The idea is to be kind without allowing yourself to become weak, to be compassionate without allowing yourself to become too gullible and to be sensitive without allowing yourself to become too vulnerable.
Today's card — the King of Cups — is part of the Universal Tarot series, a Lo Scarabeo deck by Roberto De Angelis and published by Llewellyn. 
Check out more daily tarot scopes or visit our Shop







Melodie 

$3.99 per minute

$3.99 per minute


New Clients:
First Paid Session Only!
3 Minutes Free!



Flat-rate sessions available in 10-, 30- or 60-minute increments: Choose from the menu below:





"




Chrisalis




$3.99 per minute








New Clients:
First Paid Session Only!
3 Minutes Free!



Flat-rate sessions available in 10-, 30- or 60-minute increments: Choose from the menu below: