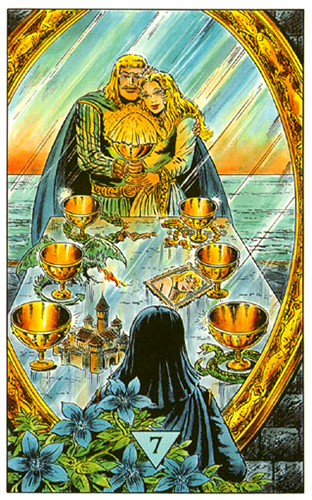 Seven of Cups
You may need a reality check today. Or at the very least a kick in the pants to get motivated toward manifesting your dreams.
The Seven of Cups is a card of temptations, often fueled by irrational thoughts or fantasies. There are sometimes too many options available, which makes it hard to decide. But more often it's a case of wishful thinking and foolish day-dreaming that can interfere with actual progress. 
In this version of the card, we see a woman seated before a "magic mirror" which reveals to her her deepest longings. She doesn't see her own reflection in the mirror (reality) instead she sees herself celebrating a happy marriage to the man of her dreams, surrounded by elegance and finery. In contrast her own silhouette is shrouded in darkness.
This is the dilemma with the Seven of Cups. What you long for looks so appealing while what you have appears so drab. But it's just an illusion and even if it weren't — even if it were perfectly attainable — it's not going to come about by sitting around day dreaming about it.
In some decks this card is called "Debauchery." It refers to the superficial appeal of things that most of us only think will make us happy.
There are elements of seduction also inherent in this card. Being seduced by something intangible or just out of reach, or being lured in by a fantasy that falls short in the harsh light of day. Notice the snake, the fire breathing dragon, the wreath, the castle, the celebrity photo and the gold coils also laid out on the mirror's table. All of these enticing representations of fame, glory, power, wealth and acclaim are often hollow victories in the end. 
While you may think that the grass is greener on the other side of the fence, chances are good that when you got there you'd want nothing more than to return back home. The message behind this card is to aim for reachable goals and to participate in attaining them rather than allowing yourself to fall into the trap of wishful thinking.
The card used for today's tarotscope is part of the Arcus Arcanum Tarot series by Gunter Hager (Author) , Hansrudi Wascher (Illustrator); published by US Games. This deck is currently out of print. 
Check out more daily tarot scopes or visit our Shop




"




Chrisalis




$3.99 per minute








New Clients:
First Paid Session Only!
3 Minutes Free!



Flat-rate sessions available in 10-, 30- or 60-minute increments: Choose from the menu below:








Melodie 

$3.99 per minute

$3.99 per minute


New Clients:
First Paid Session Only!
3 Minutes Free!



Flat-rate sessions available in 10-, 30- or 60-minute increments: Choose from the menu below: