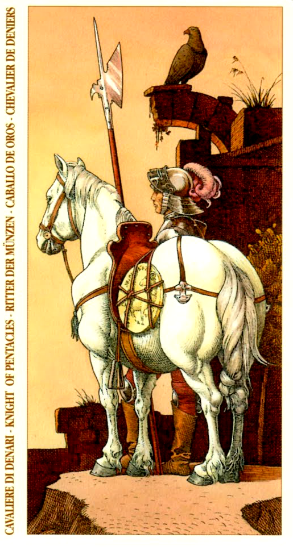 Knight of Pentacles
Today you may be taking a more serious look at where you're heading, with respect to your education, your career or your "brand."
The Knight of Pentacles is all about taking things slow and steady, with a keen eye on the future and the discipline to keep "plodding along" as he moves toward his ultimate goals.
As with all the court cards, this can be someone presently in your life (or coming in) or it can represent a frame of mind that's necessary for you adopt right now.
Don't make the mistake though of focusing too much on the nuts and bolts of achieving success. If there's any negative aspect that can be associated with this card it's the dearth of inspiration that can lead to getting stuck in a rut of tedium and routine.
In this version of the card we see the Knight of Pentacles staring off in the distance with his faithful horse at his side. He can see that there are some hurdles to cross to get to where he wants to go, and rather than mounting his horse and making a run for it, he pauses to reflect on the best way to go about it.
Notice how he keeps his money (the pentacle strapped the horse's side) secure and his weapon at the ready. This is a cautious Knight, and not given to taking unnecessary chances. A messenger pigeon is perched on the crumbling archway above him, looking off toward the distance as well.
If the Knight of Pentacles is someone in your life right now, know that he may not be where he wants to be just yet, but he has his eye on the future and there is no doubt that he knows where he's going. His gait is measured and sight is keen. He will be someone you depend on to do what he sets out to do.
If on the other hand this card refers to you — as in some new educational or professional undertaking — you definitely want to look before you leap. The Knight of Pentacles reminds you that good things do come to those who wait, espeically if the focus is on preparation and planning.
The card used for today's tarotscope is part of the Tarot of Durer series which pays homage to the German artist of the Renaissance era, Albrecht Durer. Written by Manfredi Toraldo and illustrated by Giacinto Gaudenzi. This is a Lo Scarabeo deck, distributed by Llewellyn. 
Check out more daily tarot scopes or visit our Shop







Melodie 

$3.99 per minute

$3.99 per minute


New Clients:
First Paid Session Only!
3 Minutes Free!



Flat-rate sessions available in 10-, 30- or 60-minute increments: Choose from the menu below:





"




Chrisalis




$3.99 per minute








New Clients:
First Paid Session Only!
3 Minutes Free!



Flat-rate sessions available in 10-, 30- or 60-minute increments: Choose from the menu below: