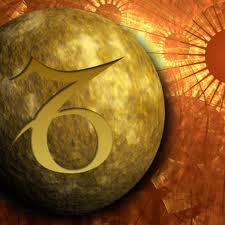 Work and your place in it may be top of your list of priorities as 2013 begins with the Sun and Mercury both in this area of your chart turning your thoughts to work and how you can reach the top of your career goals. The Aries moon on 17th and 18th January not only highlights what is important to you emotionally it also occurs at the same time as Venus and Pluto are conjunct and it would be a great time to approach your boss about a promotion and/or put your own plans into motion on how you can best use your talents for your own advancement. Mars is in your friendship area this month and if you need any favors from a friend then now is the time to ask for them… be polite and ask nicely though.
Moon in Aries 17, 18

You may find that your new year starts off with some deep questions about your love life and relationships… or lack thereof. Apart from Saturn which is in your relationship area and will be for a few more years you also have Venus and Pluto coming into contact mid month which will have the effect of you possibly finding yourself in a matter of fighting for a relationship or fleeing from it. From the 1st to 21st the Sun and Mercury are also travelling through this same area of your chart giving you another push to make changes. After 21st your thoughts turn to work and getting ahead professionally so if you had decided to stay around and make that relationship work then make sure you plan to put more time and effort into things.
Moon in Taurus 19, 20, 21

You enter the new year with Venus in your love and relationships area so make the most of this while you still can… which is up until the 10th. Luckily for you around this same time the moon moves into a position to give your love life an extra boost on the 9th and 10th. After the 10th you may find yourself reverting to the other major influences you have had going on around you for the duration of January. These being, trying to get answers to something you just can't put your finger on, feeling like you want to be free of a situation and putting energy into your plans to launch them into motion. With Mars in your area of travel it may just mean you are about to take a vacation… to a very adventurous location.
Moon in Gemini 22, 23, 24

January is great for your love life but it may leave you with a mental hangover as you begin to dig deeper into questions you may have been putting off. Give yourself time mid month to focus on what you want in a relationship. This may be a relationship you are already in or, if not, a relationship you would like to have. Venus comes into close contact with Pluto at this time along with a favourable aspect from Saturn so it will pay to make a plan and stick to it. Just make sure the cards are all stacked in your favour and with these 3 planets that shouldn't be difficult. If you have any legal papers to sign read them carefully and don't rush in thinking you have covered all your bases. Mars is in a precarious position that suggests if you rush in… you will miss something important.
Moon in Cancer 25, 26

Work and relationships are both vying for your attention as the Sun, Mercury, Venus and Pluto all line up in your work area. If you have been putting off any health checks you need to make do it now. For the duration of January Mars is in your relationship area making relationships full of passion or a bit rocky. Don't allow anything to get so out of control that it ends in an argument because your patience may be wearing a bit thin possibly causing you to say something you will regret later. If you have been having trouble with a friendship that has gone wrong wait till the end of the month when Jupiter turns direct and is in a better position to sort things out for you.
Moon in Leo 1, 27, 28, 29

As per usual work is strongly featuring in your thoughts this month with Mars in this area of your chart throughout January. You should be able to accomplish quite a lot but don't forget there are other things to life than work and over the coming weeks you will have several planets lining up in your area of fun, creativity and play to remind you of this. You have a great opportunity to partake in just these types of activities especially around the 15th to 17th when along with Pluto and Venus both coming into contact with each other you also have the added benefit of the moon in your area of love and relationships. Make the most of this because if you don't you may find that your partner may not forgive and forget that you didn't give him/her the time that you both needed to spend together.
Moon in Virgo 2, 3, 30, 31

You may be feeling like staying a little closer to home than usual and it would not be a bad place to be around the 17th and 18th as the Moon, Venus and Pluto intensify any emotions that have been playing out for you lately with family and home life. Keep a clear head about you and don't get drawn into any situations that are too intense for you to handle. There is help coming in the form of Mercury entering your area of fun and romance around the 20th where it joins Mars in giving you a boost to your creative pursuits and may find you with many invitations to answer where great conversation, lots of energy and excitement around. Have a great time and don't get into too much trouble.
Moon in Libra 4, 5, 6

Communication seems to be high on your list of priorities in January with new insights and thought processes lending you a helping hand in getting your views across. Keep and eye out for what may pop into your email inbox, letterbox and phone calls, etc as you may be given a lead or answer in something you have been waiting for. Around mid month when Venus and Pluto come into conjunction there is the strong possibility of serious talk taking place to do with your love life. Be ready for it as I'm sure you'll have a lot to contribute. Around the 21st as the moon is in your relationship area and the Sun and Mercury both enter your home and family sectors would be a good time for you to make plans to stay in and spend more time with those closest to you.
Moon in Scorpio 6, 7, 8 

Did you make any new year's wishes on planning for your own security and getting finances in order. Because if not, you may wish to take a second look at this in January where you have some great opportunities to set yourself up with some long term goals that will steer you in the right direction to achieving just that… security and financial stability. Take your time with it though and try to filter out all the thoughts running around your mind this month as Mars is in your area of communication and whilst you may come up with some new ideas that hit you out of the blue you need to be discerning as to what will and won't work. Keep your ears out for anything your partner may put to you mid month as it looks like there is something you can use with it to your advantage… and their's.
Moon in Sagittarius 9, 10

You seem to be having a very busy start to the new year with the sun and 3 planets at one time or another throughout the month being in your sign. You've had Pluto there for a few years now but this month you also have Mercury and Venus travelling through your sign giving you a helping hand in communication and love. Yes… you heard that right… Pluto, planet of transformation being joined by Mercury, planet of communication and Venus, planet of love. Pretty good combination and one that should be taken advantage of. If there is anything you are wanting to change about your relationship or love life now would be a good time to do so.
Moon in Capricorn 11, 12

Mars is in your sign this month giving you more energy and ideas than you may possibly know what to do with. This may or may not be a good thing though as you may be feeling a bit sluggish due to many other things you have on your mind that you don't quite have a handle on yet. This is not the month to make major decisions, it is not the month to go forging ahead and not taking other's into consideration with your plans, rather it is the month to do what you need to do for yourself and give more time to see how other situations pan out. As Mercury enters your sign along with the Sun around the 21st you should have a better grasp of all the facts you need before making any changes.
Moon in Aquarius 13, 14

Isn't it nice to have your ruling planet Neptune back in your sign. This should be having the effect of heightening your Piscean qualities and generally making you feel at home within yourself. If this is not the case then this month you have Mars to blame for any discord around you and your own inner spirituality as the planet of war travels through your twelfth house. Keep a close eye on friendships around mid month as Venus and Pluto come into conjunction along with the moon in your own sign possibly throwing a light on to something you should have picked up on earlier, this being, a friendship that turns into something more serious.
Moon in Pisces 15, 16
Don't forget to check out this month's Tarot Scopes too!