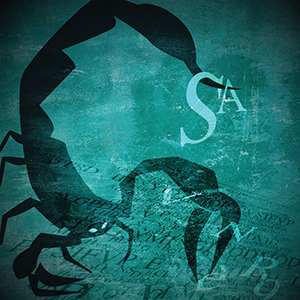 Happy Birthday Scorpio! Here are highlights for the month ahead.
Lunations: Moon Phases for the entire month:
New Moon: The New Moon occurs on November 29that 7° Sagittarius 43″.
Full Moon: This month's Full Moon occurs on November 14th at 22° Taurus 37″.
Retrogrades: Neptune turns direct on November 20th. Chiron and Uranus are retrograde for the entire month of November .
Ingresses: Mars enters Aquarius on November 9th.  Mercury enters Sagittarius and Venus enters Capricorn on November 12th. The Sun enters Sagittarius on November 21st.
Continue reading for complete scopes for each sign:

Aries — March 21-April 19: You should be able to accomplish quite a lot this month with no less than 3 planets, alongside the Sun later in the month, in an area of your chart that is just begging you to have a little fun and adventure. Venus will bring a lot of fun to your love life until the 13th and as she leaves this area of your chart Mercury enters. The big thing for you in November may not be how much fun you are having because with these transits, that goes without saying. What you need to be aware of is this. You may need to hold back a bit of your exuberance and think of how it feels to be on the other end of anything you say or do. This is a month where you feel like letting loose but you don't want to do that at the expense of others. The moon in your relationship area on 24th, 25th and 26th should come along just in time for you to be feeling a little more balanced.
Moon in Aries November  11, 12, 13

Taurus — April 20-May 20: This is the month to think of your love life! With the Sun in this area of your chart till the 22nd and also Mercury until the 13th you should be able to set wrongs to right without too much effort on your part. Communication with your partner will be smooth. Venus will also give you a helping hand as she is in an area of your chart which should make for some very intense emotions from the 1st to the 13th. Interestingly, both Mercury and Venus move into different signs on the same day. The day to watch is November 13th as after this you may feel a shift in energy. Best use those great transits early on in the month and not wait till things change. There is a new moon in your own sign on November 14th which can be used for shifting the energy of a situation in your favor.
Moon in Taurus November 13, 14 (Full), 15

Gemini — May 21-June 21: Venus is in your love area until the 13th giving you a chance to simply shine when it comes to your relationship. If you are single it is a good time to meet someone new and as you only get one shot of Venus in your love area every year or so you need to use this energy to your advantage. No dawdling, no sitting back waiting as now is the time to act. After the 10th Mars should also be in a position to help you with this. It will be in a particularly fun and adventurous area of your chart and with the energy of Mars there anything is possible. You may be planning a trip or just going out and doing fun things. Once again don't sit back, get out there and socialise. The full moon in your love area on the 29th gives you a further chance to shine the spotlight onto your relationship.
Moon in Gemini November 15, 16, 17

Cancer — June 22-July 23: Your love life should be running quite smoothly in November as Venus moves into this area of your chart on the 13th. This may not come too soon for some as Mars has also been visiting this sector of your chart and could've caused some upsets earlier in the month. This means that after the 13th you should smooth things over in your relationship however, it doesn't mean you should push your luck too hard as you may well run out of it. Work looks to be on the up and up for you as Mercury moves into this area on the 13th just as Venus leaves. Anything you need to do work-wise should run smoothly for you. The moon is in your love and relationship area on November  5th, 6th and 7th use this time to find some balance for yourself.
Moon in Cancer November 18, 19, 20

Leo — July 24-August 23: Mars is in your relationship area this month from the 10th. You'd be wise not to go rushing into anything you may regret later with this transit. If you do you may set yourself up for a whole load of trouble that you do not want and may be difficult to extricate yourself from. Adding fuel to the fire here is that Mercury on the 13th, moves into an area of your chart which will be just making you itch for a little excitement. Because of Mars' position you may find there is a fine line between "a little excitement" and a "whole load of trouble". Navigate November wisely. The moon in your relationship area on the 7th, 8th, 9th occurs just before things could all go wrong for you so use this time to deepen your understanding of what to watch out for.
Moon in Leo November 19, 20, 21

Virgo —  August 24-September 22: Venus forms favorable aspects to your sign after the 13th. Before then it may all be about wanting to stay close to home and not do too much. There's a lot of thinking for you in November with Mercury, your ruling planet, in your area of communication. First half of the month may see you trying to negotiate changes you wish to see whilst the second half is more to do with putting those changes into action. May be a bit of work for you to do also as Mars will be in this area of your chart giving you the incentive to get the job done! The moon is in your love and relationship area on the 9th, 10th and 11th which should give you a bit of respite into what may become a busier month as it progresses.
Moon in Virgo September 22, 23, 24

Libra — September 23-October 22: 
This could be an energetic month for you where you accomplish quite a lot. As you know Jupiter has recently moved into your sign for the first time in 12 years and towards the end of the month Mars will come into a favorable aspect to Jupiter. You may feel as if the first half of the month is all about planning and the second half is all action. Plan well Librans it is what you are good at! Venus moves into your home and family area after the 13th which is usually a time to take things easier at home. However, with Mercury moving into your communications area at the same time you seem to have a lot on your mind.  The moon will also be your love and relationship area as Mercury and Venus change signs so take note to what is around in your love life then too. The dates to watch this are November 11th, 12th, and 13th.
Moon in Libra November 24, 25, 26

Scorpio — October 23-November 22: Mercury, alongside the Sun, is in your sign this month. You have until the 13th to use the benefits of Mercury's communication skills. After this you won't be out in the cold as Venus moves into your third house (area of communication) just as Mercury exits your sign. This is the month to put your money where your mouth is. You should be thinking clearly and have a lot of new ideas up your sleeve. When it comes to your love life you also have a new moon in this area of your chart on the 14th. Because this new moon stands for new beginnings and the planets I have mentioned are changing signs around this time you may find there is a "shift" in you. This is nothing to worry about and something which is no doubt worth embracing.
Moon in Scorpio 1, 26, 27, 28

Sagittarius — November 23-December 20: The month begins with Venus in your sign highlighting your need to put your relationship back on an even keel. Saturn is in very close contact to Venus during the first few days of November so it may be that you have some deep thinking to do about what you want in your relationship. As Venus leaves your sign on the 13th Mercury enters. Mercury is the planet of communication so you may expect a few deep and meaningful conversations especially during the week of 22nd to 29th when it also comes into close contact with Saturn. The difficulty for you during this time though comes in the form of Mars in your area of communication. Mars can trigger all sorts of unwanted discussions so make sure you know what you want and where you stand. New moon for you on the 29th should see you starting something afresh.
Moon in Sagittarius November 2, 3, 4, 29 (New), 30

Capricorn — December 21-January 20: Venus shines her light on you as she enters your sign on the 13th. This is a great time to just step back from a situation and see where you stand. With Mercury in a position to help you with insight and understanding you may find you start seeing things in a whole new way. Mars will be vying for your attention to rush in and take action, especially when it comes to your own security but you may wish to just hold on a bit longer and let the situation unfold before doing anything rash. The moon in your relationship area on 17th, 18th, 19th couldn't come at a better time as it will help you to solidify any plans you are wishing to put into place when it comes to your relationship.
Moon in Capricorn November 4, 5, 6

Aquarius — January 21-February 19: Friendships take the spotlight for you in November with both Venus, and later Mercury moving through this part of your chart. Venus shall be there till there until the 13th then just like a baton in a relay team Mercury takes up Venus' position on the 13th through to the end of the month. This means you have a great chance to spread your wings when it comes to friends and friendships. If anything had been going wrong in that department for you then you can set it to rights this month. It can also give you a chance to get your relationship back onto a more equal footing if things were getting too intense for you. The moon in your love area on 19th, 20th and 21st occurs just before the Sun also enters your friendship area. Seems like you just can't get away from friends this month, which for an Aquarian is not bad thing.
Moon in Aquarius November 7, 8, 9
Pisces — February 20-March 20: If you find yourself experiencing problems in the friendship department this month then you have Mars to blame. Up until November 9th the planet of war and conflict will be in this area of your chart and you may do well to remember to not antagoniz any situations that need no further fuel to flame the fires that could result in a friendship coming unstuck. By holding out until November 13th, when Venus enters this area of your chart, you will not only be doing the situation a favor but also making sure that the odds are stacked in your favor for an amicable outcome. The moon moves through your love area on the 22nd to 24th and you can expect this to be a time where emotions are smooth and in turn puts your love live in a much stronger position.
Moon in Pisces November 9, 10, 11
---
Be sure to check out this month's tarotscopes too!
November 2016 Monthly Horoscopes
by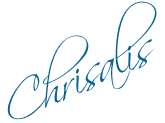 Personal Consultations:
If you would like to schedule a session with me, there are two ways to go about it. You can either purchase time either per minute (via Click4Advisor) or in blocks of 10-, 30- or 60-minutes (via PayPal). If I'm not showing as available, or if you want to purchase blocks of time through PayPal, please feel free to email me:




"




Chrisalis




$3.99 per minute








New Clients:
First Paid Session Only!
3 Minutes Free!



Flat-rate sessions available in 10-, 30- or 60-minute increments: Choose from the menu below: