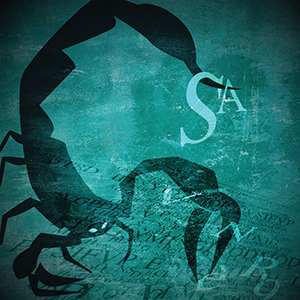 Happy Birthday Scorpio! Here are highlights for the month ahead.
Lunations: Moon Phases for the entire month:
New Moon: This month's New Moon — occurs on November 7th at 15° Scorpio 11.
Full Moon: The Full Moon occurs on November 23rd at 0° Geminin 52..
Retrogrades:  Venus turns stationary direct on November 16th; Mercury goes stationary retrograde on November 17th; Neptune goes stationary direct on the 25th. Chiron and Uranus are both retrograde for the entire month of November.
Ingresses: Uranus retrogrades back into Aries on November 6th, Jupiter moves into Sagittarius on November 8th; the North Node moves into Cancer on the 16th; and the Sun moves into Sagittarius on November 22nd.
Continue reading for complete scopes for each sign:

Aries — March 21-April 19: Uranus is retrograding back into your sign on the 7th, and as it will also be in opposition to Venus retrograde when it does so then your love life should be quite fun to say the least. That is, if you appreciate a love life that could be a bit chaotic and full of sudden changes, twists and turns. When Venus retrogrades it usually brings up things from our past that we need to deal with in relationships. It may be that an ex reappears or that you are faced with a similar situation you have found yourself in before. Either way, with Uranus in opposition to this you will most surely be kept on your toes. Moon in your love area on the 5th and 6th should set you up for a month of an emotional roller-coasting. Enjoy!
Moon in Aries November 19, 20

Taurus — April 20-May 20:  Hopefully you've been reaping the benefits from Venus' retrograde in your relationship area last month. Don't go thinking that this has ended for you because Venus has now moved back into Libra though, because Venus will again move into your relationship area next month. You might like to think of November as "the calm before the storm" or, in your case, taking a little break to work on what you want before throwing your plans into action in December. The other interesting transit you have this month is Uranus, which has been moving through your sign but retrogrades back into Aries on the 7th. This will place it in opposition to Venus so be ready for a lot of changes happening quickly and without warning. Moon in your love area 7th and 8th is a chance for you to catch your breath and balance out your next move.
Moon in Taurus November 21, 22

Gemini — May 21-June 21: Mercury is in your love area this month and retrogrades from the 17th, giving you a chance to think through any long terms goals you have for your relationship. The Venus retrograde will be forming a nice trine to your sign during the month which will also help your love life along. There seems to be a balance between your inner thoughts and words which put into place possibilities for moving a relationship along the right path. This is especially true as Jupiter is commencing it's 12 month journey through your relationship area from the 9th. Jupiter is only in this area of your chart once every 12 years. Enjoy it while it lasts! Moon in your love area 9th and 10th gives an extra dose of feel good emotions to Jupiter's lucky transit through your love life.
Moon in Gemini November 23, 24 (Full), 25

Cancer — June 22-July 23:  You seem to be caught between a few tense transits this month. Over in your love area you have Saturn and Pluto continuing to slowly move through this area of your chart but this month you also have the Venus retrograde squaring your Sun sign alongside your 7th house. Adding onto this is Uranus retrograding back into Aries and again squaring your sign. This all adds up to a lot of fun and games for you to be dealing with. Venus is in an area of your charge ruling home and family, something you are very comfortable with, however the square it is making could cause some tension. Uranus in opposition to Venus will mean things can change quickly and what you thought was going to be smooth, actually turns out to be not quite as easy as you thought. Moon in your love area 11th, 12th and 13th is a time to allow yourself some peace and quiet.
Moon in Cancer November 26, 27

Leo — July 24-August 23: Venus is retrograde in an area of your chart which is excellent for communication. At the same time Mars is in your relationship area until the 16th, which is not exactly known for making relationships smooth, stormy – yes, passionate – yes, but smooth sailing – no. Venus and Mars will be forming a very nice trine to each other from the 7th to 15th, so if there is something you feel you need to get off your chest then this is the time to do so. After the 17th Mercury turns retrograde. Fortunately for you it is forming a trine to your sign all month and is in the outspoken sign of Sagittarius. This can pretty much have the effect of you knowing what you want to say and do and the greatest hurdle you may experience is knowing when the time is right to launch your views. Moon in your love area 14th and 15th may find you doing a balancing act on what you want and what you are prepared to give.
Moon in Leo November 1, 2, 28, 29

Virgo —  August 24-September 22: Mars is in your relationship area from the 16th, bringing with it renewed passion and direction to your love life. From the 1st and for the duration of November Venus' retrograde will be in an area of your chart known for stability and security. The combination of Mars' energy to move things forward in a way that suits you and Venus' energy reiterating the need for security in your life can make this month a win:win for you. It is the month to find a way around any hurdles in anything that has been holding your relationship back. You will not be lost for words and the words you do use will be aimed at putting you in a position of power. Moon in your love area 16th, 17th and 18th occurs just as Mars enters your relationship area, giving you a heads up to put your plans into action.
Moon in Virgo November 3, 4, 30

Libra — September 23-October 22: Venus retrogrades in your sign this month bringing with it ghosts from the past when it comes to love. You may find an ex resurfaces or a relationship you are trying to sort out is suddenly given a chance to move forward. Uranus in your relationship area can also help with things changing direction quickly after the 7th. You need to be ready to act quickly this month in matters of the heart. Make your decisions before the need to do so arises so you can act with every aspect already thought through. Moon in your love area 19th and 20th also finds Mars in your work area. Pay more attention to your love life at this time or you may find yourself working when you should be playing.
Moon in Libra November 5, 6

Scorpio — October 23-November 22: Venus retrogrades back into Libra this month which shouldn't be much of a problem for you but it may be telling you to bide your time before your next move when it comes to your love life. It will be in a sector of your chart that is known for intuition so trust your own intuition when it comes to deciding on what you want in your love life. December will be a month where your wishes can come true if you play November right. Don't push things, just sit back and let the cards fall where they may, ready for you to pick things up next month and run with them in the direction that works best for you. Moon in your love area 21st and 22nd occurs just as Mercury retrogrades into an area of your chart that will have you thinking of what makes you feel emotionally secure.
Moon in Scorpio November 7 (New), 8

Sagittarius — November 23-December 20:  Jupiter, your ruling planet, enters your sign from the 9th. Lucky you! This can be the start of a 12 month period where you feel you have all the luck in the world. It only comes around once every 12 years so enjoy it while it lasts. Mercury will retrograde in your sign from the 17th allowing you to really think on what you want and how you can accomplish it. A sextile from Venus retrograde will also benefit your love life. As it is in your friendship area you may find that old friends and acquaintances reappear in your life. Moon in your love area 23rd, 24th and 25th incorporates a full moon in your love area which comes into close contact to Jupiter. All up, looks like a great November for you with new beginnings all round and the chance to move forward at your own pace.
Moon in Sagittarius November 9, 10

Capricorn — December 21-January 20: Mercury retrogrades on the 17th in an area of your chart that is not exactly known for allowing you to see things clearly. As you also have a T square forming from Venus and Uranus (from the 7th) to your sign then this is not the month for any quick decisions, especially involving your love life. It may well be a month you feel as if a lot is going on around you (and within) but as some of it is not clear your hands are tied. From the 16th Mars enters your communication area and you may feel an urgency to act or speak out. At this time Mars will be squaring the Mercury retrograde and although it may seem like a good time to push ahead and say what is on your mind, a Mercury retrograde can hold things back. Moon in your love area 26th and 27th is a time to focus on your relationship.
Moon in Capricorn November 11, 12, 13

Aquarius — January 21-February 19:  Mars is in your sign until the 16th which should be giving you quite a bit of energy to get through anything you have been putting off. Whilst over in your area of friendships Mercury is turning retrograde on the 17th. November may well turn out to be a whirlwind of a month for you, especially given that also after the 9th Jupiter will be giving your life a boost on many levels in keeping with your ideals. Jupiter's placement in this area of your chart will last for a year and should see you on a very lucky streak when it comes to any groups you are in and also your friendships. The Mercury retrograde may well have you off to a shaky start in this regard but it will get better. Moon in your love area 1st, 2nd, 28th and 29th also find the Sun conjunct Jupiter making this a lucky time for love.
Moon in Aquarius November 14, 15
Pisces — February 20-March 20: Venus has now retrograded into an area of your chart known for secrets. As Venus rules love then the secrets that can be uncovered in November should be of a personal nature for you. Don't go stirring up any hornet nests unless you are prepared to uncover the truth. With Mars entering your sign after the 16th life is sure to be interesting. You should feel a renewed sense of energy and situations move forward for you. The first week of the Mars transit finds both Jupiter and Mercury (also retrograde) forming a tense aspect to Mars. Be aware not to take on more than you can handle during that week. Moon in your love area 3rd, 4th and 30th is a great time to spend with your partner, reconnecting and discussing what is important for both of you.
Moon in Pisces November 16, 17, 18
---
Be sure to check out this month's tarotscopes too!
November 2018 Monthly Horoscopes
by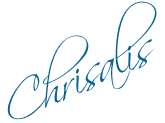 ---
Personal Consultations:
---
Hope you enjoyed your monthly horoscope. For a live psychic reading or astrological consultation, please feel free to email me at chrisalisreadings@hotmail.com.




"




Chrisalis




$3.99 per minute








New Clients:
First Paid Session Only!
3 Minutes Free!



Flat-rate sessions available in 10-, 30- or 60-minute increments: Choose from the menu below: