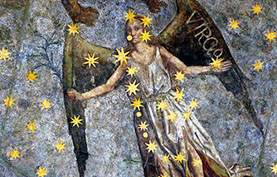 Aries
March 21 – April 20 
You may be feeling a bit jittery this month with a lot of activity in your relationship area. Problem is you may feel you need to act quickly when in fact you may need to actually get your mind clear on what you want (or wish to say). Uranus is causing a bit of havoc for you just now as it in your own sign and whilst this may have been giving you flashes of insight recently it may now be that those insights were not what they used to be. Towards the end of the month relationship problems start to solidify for you and you have a more steadfast way forward as Saturn shines some wisdom on your heart.
Moon in Aries 13, 14 September
Taurus
April 21 – May 21 
Romance seems to be on your mind for the first half of the month along with creative ways to get what you want. You have a great deal of charm going on for you so use it while you can to have yourself heard. The latter part of the month you may find yourself more focused on work… so much so that you may find it hard to think of anything else. Be careful you don't get so immersed in your work at that time that you let everything else just go by you. There is more to life than work including your home life which after 20th you may wish to take a closer look at.
Moon in Taurus 15, 16, 17 September
 Gemini
May 22 – June 21
The month of September may turn out to be quite pleasant for you.  For the first part of it you may be staying close to home and enjoying all that has to offer.  Come the second half of the month though and you are ready to make great plans and venture forth and see what you may have been missing for a while…. possibly quite a while.  Reason being, the second half of this month brings with it an opportunity for you to be quite popular amongst the opposite sex.  To add on to this you will have the charm and wit about you to make the most of any opportunities that come your way.
Moon in Gemini 17, 18, 19 September

Cancer
June 22 – July 22 
The first half of the month may be quite different to the latter part for you.  If you find you are too busy for the first 2 weeks just keep in mind there is soon a time coming that will give you an opportunity to slow down and take a much needed break from all the hustle and bustle that has been around for you lately.  Even as Mars leaves your sign around 20 September you will still be entertaining the moon entering your sign on this date. This is not a dull month for you.  It is also not a month to make major decisions.
Moon in Cancer 20, 21, 22 September
Leo
July 23 – August 23 
Up until 10 September you may find yourself quite vocal with a lot on your mind and  also a lot to say almost as if you have been saving a lot up and now you are ready to really let lose with your thoughts.  You may then find you have a lull in your turbulent thoughts until around 20 September when Mars enters your sign.  Expect the unexpected and be ready for anything.  Not even Venus entering your area of communication on 16 September can save you from things possibly going a bit haywire for you but if you remember to think before you speak during this month then that may go a long way in saving you from unwanted situations (possibly of your own making).
Moon in Leo 23, 24 September
Virgo
August 24 – September 22 
You should be feeling quite good this month with the Sun, Mercury and Venus all in your sign at various points for the first few weeks and even when they move into Libra it is not a problem for you as it just means you will feel even more stable and rational (something Virgos thrive on). There is a full moon in your relationship area on 12 September highlighting for you what you do and don't want from a relationship.  After 20 September you may find you have a few frustrations that you cannot quite put your finger on.  My advice would be to just sit back and see how things pan out.
Moon in Virgo 25, 26 September
Libra
September 23 – October 23 
There is a new moon in your sign on 27 September so make sure you mark your calendar to this date to begin anything "new" you wish to start. In fact, your thought processes coming up to this new moon may be a bit chaotic as it will be in opposition to Uranus for a few hours just beforehand – giving you a head start if you stayed tuned to any insights that cross you mind during that period.  You are in for quite a fun time in the second half of this month though as no less than 4 planets line up in your sign one of which is Venus (your ruling planet) and she promises to shake your love life up…. remember keep tuned in to those few hours on 27 September.
Moon in Libra 27 (new), 28 September
Scorpio
October 24 – November 22 
You may find there is a lot you can't put your finger on towards the end of this month.  September may have started out quite nicely for you but as it progresses more and more you find there are answers you are searching for which are just not coming forward.  Use that wonderful intuition of yours though to sense what you need to know and don't make any major decisions just now.  The moon is in your sign at the beginning of the month and also at the end so you may find that your emotions are quite strong… don't act in haste.
Moon in Scorpio 1, 2, 29, 30 September
 Sagittarius
November 23 – December 21  
There may be a bit of friction around for you in the first half of the month affecting your work so try to keep your head down and out of trouble. After mid-month you will find that life is easier and you are immersed in finding time to spend with friends as your social life picks up no end.  You may even decide it is time to do some travelling and start planning out a trip to take your mind off what may have been a very busy time with work lately.  Around the time of the full moon on 27 September you may find that a friendship turns into something more.  Keep an eye out for this as you may be taken by surprise.
Moon in Sagittarius 3, 4 September
 Capricorn
December 22 – January 20 
You should feel a "freeing up" in your life after mid-month.  You've had Mars in your area of relationships for several weeks and you may have found this has caused you all sorts of friction, fights and just general discord with those closest to you.  Venus is also up to a bit of mischief for you just now and you may have found that you wanted to be just downright cheeky but once again after mid-month you are reigned in on your behavior and your usual Capricorn good sense comes into force again.  By the end of the month career is very much your top priority especially around the new moon on 27 September.
Moon in Capricorn 5, 6, 7 September
Aquarius
January 21 – February 18 
After 20 September you may find your love life taking a turn for the better as Mars moves into this area for you. For several weeks now you have been very much focussed on work and getting everything you could done finished but you are now moving into a period where it is time for "you". After mid-month Venus is in a position to bring some interesting people and experiences to you and this is only highlighted more by the new moon on 27 September which could be felt as a "wake up" call for any dreams you have been wanting to bring into real life.
Moon in Aquarius 8, 9, 10 September
Pisces
February 19 – March 20
The full moon on 12 September falls in your sign and will help to highlight you and where you stand within your relationship.  You may find that this is a month where there are erratic changes for you concerning those closest to you.  In one respect it is a month where you have the opportunity to get what you want in your love life and on the other if you don't act fast enough the period you could have used to achieve this may have slipped you by.  After midmonth secrets may come out of the closet to haunt you so make sure you have been honest and upfront with those closest to you.
Moon in Pisces 10, 11, 12 (full) September