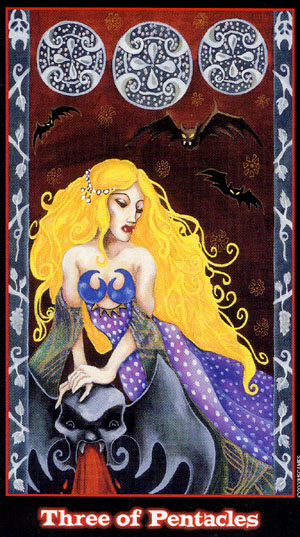 Three of Pentacles
Today — as Mercury sextiles the North Node and trines the South Node — is a good day for connecting with others and putting your heads together to bring a project to fruition.
The Three of Pentacles — this version from Nathalie Hertz's Vampire Tarot — joins companionship and camaraderie with work and productivity. It refers to the bringing together of like-minded people in a business or financial capacity. It's about networking, collaborating and team-building.
It's a card of cooperation and coordination. Bringing all of the necessary elements together — and adding your own unique contributions to the mix.
The Three of Pentacles also represents progress. Seeing the fruits of your labors come to life. And overseeing your efforts from start to finish, much like the three bats in this card are watching over the young Vampiress.
If you're involved in a project that could benefit from someone else's expertise, don't be afraid to ask. And don't be afraid to offer your assistance to those who might need it as well. You may just need a little push to get past a hump, or you may need the discerning eye of someone you trust.
The Three of Pentacles — like all threes — refers to the initial stages of progress where you've taken an idea (the Ace) put it into production (the Two) and are making progress now toward creating something real (the Three). It says you should be feeling good about what you've accomplished so far. But there's still work to be done, and you won't be able to do it alone.