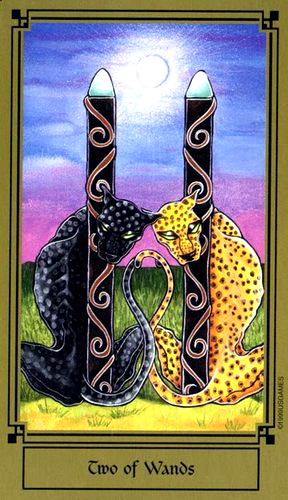 Two of Wands
The Two of Wands — like all Twos — refers to taking the spark of an idea (seen in the Aces) and forming it into a tangible, working plan.
This requires looking at it from all angles — weighing the pros and cons, evaluating time and energy, separating the wheat from the chaff and so on. This is beautifully represented in the imagery depicted on this version of the card.
Here we see two leopards — one dark and one light — each standing watch by their own ornate pillars. The dark leopard is an exact mirror image of the light. Their sleek bodies curve toward one another and become "one," reminding us of the power of uniting opposing forces to make one stronger entity. The Sun shines high in the sky between them.
The key here is balance: you won't be able to make something happen without careful consideration and planning. And all the planning in the world won't cause your ideas to materialize without putting in the effort.
There's a certain give and take with the Two of Wands (as with all Twos in the tarot) that is mirrored right back to you. There's also a need for discrimination — throwing out the unrealistic or half-baked ideas and focusing on what has a genuine shot at being successful. The Two of Wands requires you to be objective and this is why it's always wise to bounce your ideas off of another.
If you want to make something happen, prove it by participating in its development. The outcome you achieve will be directly proportionate to the energy you put into making it manifest.
This card is part of the Fantastical Tarot by Parisian artist Nathalie Hertz. Nathalie also created the Faerie Tarot and the Vampire Tarot, published by US Games.
Check out more daily tarot scopes or visit our Shop.
Check out more daily tarot scopes or visit our Shop




"




Chrisalis




$3.99 per minute








New Clients:
First Paid Session Only!
3 Minutes Free!



Flat-rate sessions available in 10-, 30- or 60-minute increments: Choose from the menu below:








Melodie 

$3.99 per minute

$3.99 per minute


New Clients:
First Paid Session Only!
3 Minutes Free!



Flat-rate sessions available in 10-, 30- or 60-minute increments: Choose from the menu below: