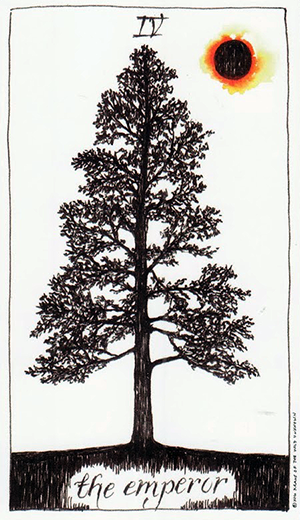 ARIES: The Emperor

With your ruler (Mars) exalted in Capricorn and conjuncting Saturn this month. You should be thinking more about taking charge of your life and achieving your goals and ambitions.
This is the Wild Unknown Tarot's version of the Emperor card, in this case a stark and mighty tree stretching high into the heavens.
Notice the New Moon in this card too: it's in your sign this month (on the 16th) conjunct Uranus, the planet known as the great awakener.
This card symbolizes worldly acclaim and ambition. No matter how high you want to climb, you can know that there are possibilities available to you if you only you set your sights on pursuing them.
You may be asking yourself whether you want to be a small fish in a big pond or a big fish in a small pond. It's all about gaining perspective and establishing priorities.
As the Emperor also relates to the "Laws of the Land," some of the less pleasant manifestations of this card include things like being on the receiving end of legal or professional disciplinary actions, dealings with the IRS or government, or having to deal with an oppressive boss or coworker.
The message behind this card is one of taking care of business. Hard work, perseverance and determination are all required: nothing will come to you through sheer luck or wishful thinking. It's not the time to be passive or wishy-washy. It's all about stepping up and taking control of a situation that requires a firm hand and authoritative presence.