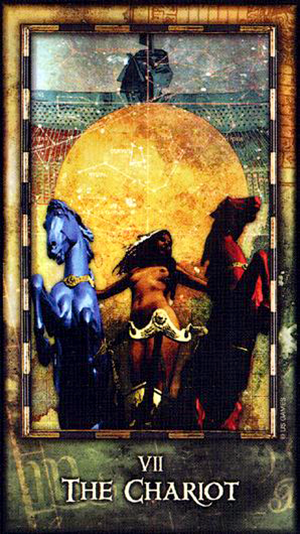 ARIES: The Chariot

This month you'll have Venus retrograding back into your relationship sector while Uranus retrogrades back into your sign. As a result you may feel yourself being torn between the desire to merge with another (Venus) and an overwhelming desire for freedom (Uranus).
Like the Charioteer in this card —  from Timothy Lantz's gorgeous Archeon Tarot — you may be in for a bit of a bumpy ride, at least in the relationship department.
This Charioteer is depicted as warrior goddess, harnessing two vastly opposing energies. The blue and red stallions embody hot and cold (or fire and ice) energies and are rearing up in two different directions.
You may be met with obstacles, but you're clearly up for the challenge: there is a sense of confidence and strength seen here in the way she takes charge of the two rearing beasts. And there's a sense of fatedness as well: as in the symbol of the goddess Maat above the moon and the overlay of constellations in the background.
The Moon in the background glows a brilliant gold. It almost looks like a Sun: more "opposing/diverging" symbolism. And yet we see the warrior goddess standing front and dead center, as she strives to restore order to the chaos around her.
You'll likewise be called upon to both maintain control and harness the opposing forces in your own life. Your challenge will be to find a way to pull your energy inward and funnel it outward into one solid direction.
You can accomplish a lot through sheer force and determination — as long as you're aware of the need to focus your energy in one primary direction. You'll have find a way to balance the diverging energies in your life. But if you can "pull it together" you'll make great strides toward accomplishing your goals.