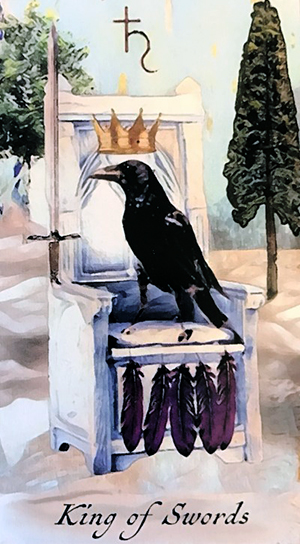 Aries: King of Swords
This month, with your ruler (Mars) joining Saturn in Aquarius, it's going to be time to put on your thinking cap and bring forth your problem solving skills. Like the King of Swords in this card — from the wonderful Crow Tarot — you need to be alert and observant.
The King of Swords is intelligent, strategic and analytical. He's inherently impartial. He doesn't mince words, and he doesn't listen to excuses. He makes his decisions based on logic and reason rather than compassion and empathy.
He's a no-nonsense individual who is expected to mete out justice with a fair and authoritative hand. He may be a parent, a supervisor, a judge, or even a friend that steps in to give you a reality check when you need one most.
As with all court cards this can also refer to you — or to a state of mind that you need to develop in order to preserve a sense of order in your life. You may have felt taken advantage of by someone who's overstepped their bounds and this card encourages you to resolve that problem by taking a more authoritative stance.
The King of Swords encourages you to be decisive and to start thinking ahead. It asks you to clear away the debris and work on attaining better focus.
And it challenges you to step away from emotional attachments and make your decisions based on what is right, fair, and most importantly best for you in the long run. it says it's time to get clear about the direction you want to take in your life. And to plan ahead accordingly.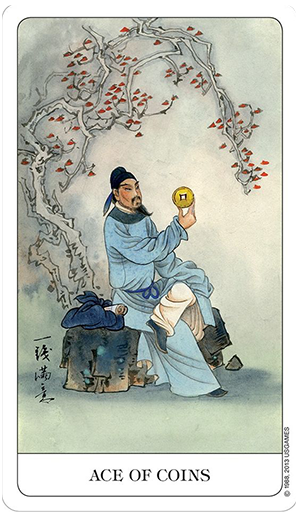 TAURUS: Ace of Coins
Your ruler (Venus) moves into your money house this month, where it will remain until early August. It brings with it many opportunities to capitalize on your ideas and to generate more income.
The Ace of Pentacles — this version from the Chinese Tarot — refers to new opportunities for growth, prosperity and abundance, of which material (financial) gain is only a small part of.
It refers to planting seeds which then grow and flourish, and ultimately begin to propagate and replenish themselves over time.
Are you thinking of launching a new business or starting a new financial venture? Perhaps you're thinking of investing in property or long terms gains. your Now is the time to do it.
This card says it's time to think about what you value, which extends to well beyond money and material things. It says it's time to look at what you put out there and what you get back in exchange.
The Ace of Coins — like all Aces — is a card of assurance and inspiration. It's a "Yes" card, a manifesting card, a card of limitless promise and potential. It's an essence rather than a "thing," which means you have a lot of say in how it plays out.
If it's money you want (or security, stability, comfort, etc.) now is the time to work on attracting more of it into your life. The Ace of Pentacles encourages you to participate in your own energetic exchange. Whether it's time, money, energy or aid, all of us have resources at our disposal. Put yours to good use this month and see what the Universe sends back.
GEMINI: Three of Cups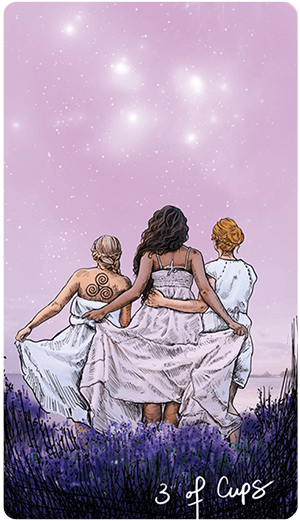 This month Venus (your ruling planet) moves into your sign, where — thanks to an entire retrograde passage through Gemini, it will remain for the next four months.
money house and with several planets moving in and out of your sign — you're hopefully going to be feeling more fully in your element. This should be a time of renewed opportunities to connect (or reconnect) with loved ones.
The Three of Cups — this version from the wonderful Lightseer's Tarot — is a joyful and festive card that emphasizes partying and celebrating over work and responsibilities. It also emphasizes friends and casual relationships over serious romantic entanglements.
It refers to being surrounded by like-minded people and putting your differences aside. It's about coming together and joining forces with those who have your best interests at heart.
The focus is on merriment and gaiety rather than monotony and drudgery. It's on interacting and networking with others, allowing you to push aside some of your more serious concerns — at least for the time being.
No matter where the people in your life have come from — no matter what your connection or history or relationship with them is — the Three of Cups is a card of companionship and camaraderie. It serves as a reminder that there's always something to be grateful for, and always someone to share your gratitude with.
Cancer: Death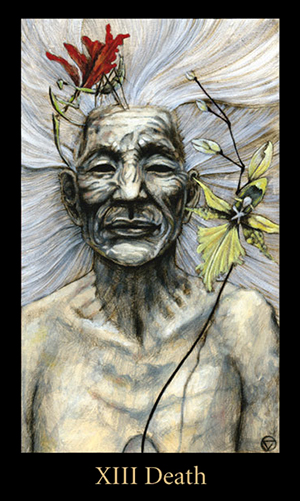 This month Mars and Saturn join together and move into your 8th house, the area associated with loss, endings, transformation and metamorphosis. This transit can get you thinking about what's important and what you no longer need.
This is the Death card from the Mary-el Tarot. It speaks of putting certain things to rest — whether that be a relationship that you've been holding onto for far too long, a belief system that no longer serves you, or material possessions that you've accumulated but no longer have any use for.
The Death card is scary for some. Because it represents having something we've grown accustomed to taken away. But this card focuses on the transformative effects of Death in that all that you release will not only be replenished, but will get you one step closer to your own evolutionary potential.
It reminds us that energy never dies and that nothing we've lost is ever really gone. It's simply transformed and renewed.
Sometimes the Universe shows us just what we don't need by removing it forcefully from our grip. In this sense the "death" can be a painful undertaking. But if you choose instead to cooperate, it can be an incredibly liberating experience.
You may have to accept that the very thing you so desperately cling to is the one that's holding you back. In this respect, it's more about leaving behind something that probably wasn't working for you anyway and moving toward something that you're naturally more aligned with in the end.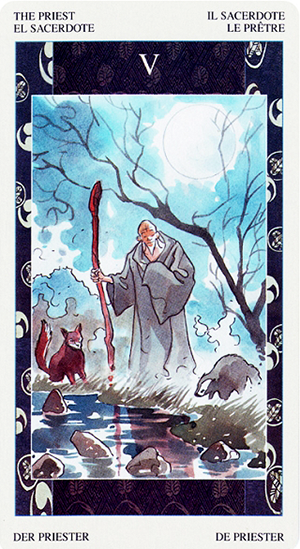 LEO: The Priest
This month you may be thinking about all that you've gained through the trials and tribulations in your life, and how you can pull from those experiences to help others.
You may be coming out of a period of soul searching and personal reflection, which when filtered through the impulse to consider the welfare of others, can act as a powerful conduit to heal those who need healing and acceptance — now more than ever.
This is the Samurai Tarot's version of the Hierophant card. It's called the Priest in this deck, and as you can see from the imagery in this card, the focus is as much on helping those who need assistance as it is on spiritual enlightenment. But perhaps the message here is that these are one and the same.
This card references the ability to bring comfort and guidance to those who need it, even if you're still struggling to heal your own wounds. And as you can see in this version of the card, the Priest must rely on his own walking stick to reach the stream he's guiding the thirsty woodland creatures to.
In this respect they may be healing him as well. We all know how powerful the idea of being useful is, and we all know important it is to feel that we're making a valuable contribution.
The Priest card comes as a reminder that there's always something to learn and always something to teach. There's also always something to give, knowing that what we get back in often far greater in the end. We just need to step outside of our own biases and preconceived notions, and be willing to lend a helping hand.
VIRGO: Three of Pentacles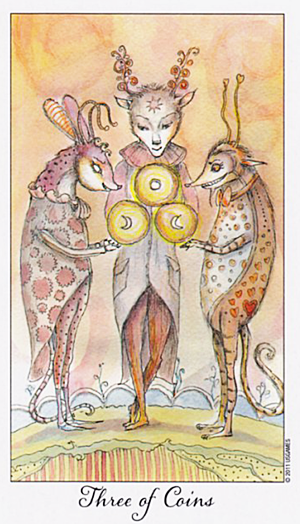 This is a good time to put your head together with others and work on bringing a project to fruition. The Three of Coins — this version from the Joie de Vivre Tarot — is a "teamwork" card, among other things.
It's about hitting your stride and seeing initial results of something you've been working hard on. Sometimes you need help to take it to the next level, even if that comes in the form of a critical eye.
The Three of Coins — like all threes — refers to the initial stages of progress where you've taken an idea (the Ace), put it into production (the Two), and are making progress now toward creating something real (the Three).
The imagery in this card describes this process beautifully. All three of these creatures are working together in harmony, with the central figure holding a coin that has a Full Moon inscribed on it while the other two are presenting him with coins of their own: one with a crescent (New) Moon and the other with a crescent (Balsamic) Moon.
These three phases of the Moon represent the different stages of a project from start to finish.
You may need a little push to get past a hump, or you may need the discerning eye of someone you trust. The Three of Coins says that you're making progress and should be feeling good about what you've accomplished so far. But there's still work to be done, and you won't be able to do it alone.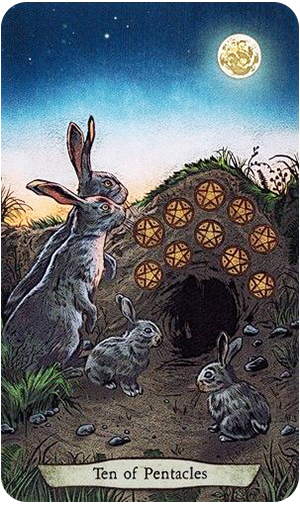 Libra: Ten of Pentacles
This month, with a lineup of planets in your 4th and 5th houses, you're likely to be thinking about your home, family and loved ones, especially when it comes to providing them with financial stability.
The Ten of Pentacles — this version from the the Animal Totem Tarot — is about planning for your future and building your empire , on whatever scale that might be.
It's about achieving success through hard work and determination, as well as the satisfaction that comes with knowing that it's all going to pay off in the end. Not just for you but for family and loved ones, as this card is also about creating a legacy that can be built on for generations to come.
The Ten of Pentacles is about establishing a lasting legacy for yourself and your loved ones. It's about taking care of those who depend on you and making sure they feel secure. And it's about planning ahead for their better future.
No matter how successful you are already there's more to be done, especially as it pertains to creating something that will live on long after you're gone.
You could be thinking of starting a family or putting money aside for children you already have. You may be in the process of giving birth to something else — a business, a creative endeavor or a body of work. Whatever it is, know that this is something you want to be proud of, so put the extra energy into making sure you do it right.
Scorpio:  Four of Swords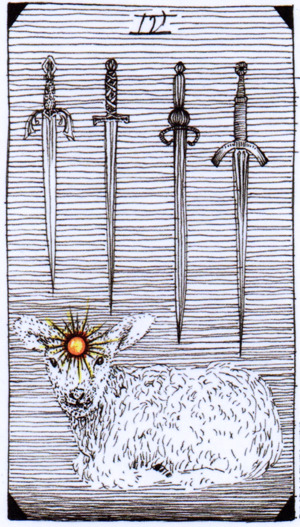 You may feel the need to take a breather this month, to recharge your batteries or to get some much needed rest.
The Four of Swords — this version from the beautiful Wild Unknown Tarot — encourages you to disengage from all the commotion that surrounds you find your strength through rest and recovery.
It could be as simple as getting away for a few days to relax and recharge your batteries. And it could be as profound as going on a life-altering pilgrimage or spiritual retreat.
It refers to removing yourself from all of the distractions in your life and reflect rather than "act." It speaks of detaching from the whirlwind of activity around you and choosing to observe rather than participate.
Swords represent thoughts and ideas and Fours are all related to some kind of structure. Sometimes that structure is positive — as in forming a concrete plan — and sometimes it can be limiting, as in feeling boxed in or restrained.
In this case the focus is on taking time for yourself and aligning body, mind and spirit. If you can't get away there are other ways to regain your sanity. Meditation, breathwork, self-imposed silence, etc. — any of these can help you to de-stress and restore your equilibrium.
While you may feel pressured at times to "get a move on," you'd be best served to stay calm and carry on, rather than let yourself fall out of balance. The Four of Swords reminds you of the need to take care of your inner needs as much as you need to take care of your outer ones.
Sagittarius: King of Pentacles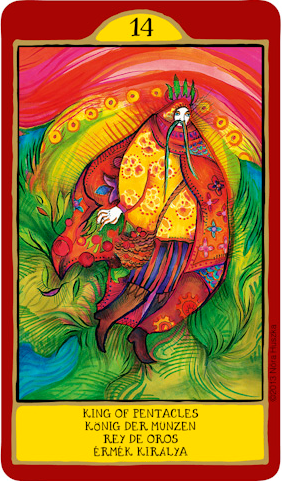 Jupiter and Pluto come together in a big way for you this month, with a major conjunction in your money house. If you use this energy wisely, it won't be long before you're feeling like a king.
Especially the King of Pentacles which is all about abundance, affluence, benevolence and an appreciation for the finer things in life.
This card refers to an enterprising, success-oriented individual. He (or she) has a bit of the Midas touch, knows how to attract wealth and knows how to make good use of it — neither squandering it or spending it frivolously.
The King in this deck is a robust and colorful King. He's clothed in the finest royal attire. He's vibrant, spirited and energetic: you can see that he's got places to go. Yet he's also very open and generous.There's not an ounce of stinginess or pettiness about this King.
If this is someone coming into your life, know that he or she is there to teach you those qualities. If this card represents you in your current capacity, don't forget the little people — those who've helped you get to where you are today and have celebrated your success.
But if, on the other hand, you've been focusing too much on what you lack or what's been missing in your life, it's time to rethink the messages that you're sending out to the Universe. Remember the universal laws attraction: they're as present as ever in this card. You 'll need to shift your energies to those of prosperity-consciousness and gratitude in order to fully appreciate the blessings of this King.
CAPRICORN: Seven of Swords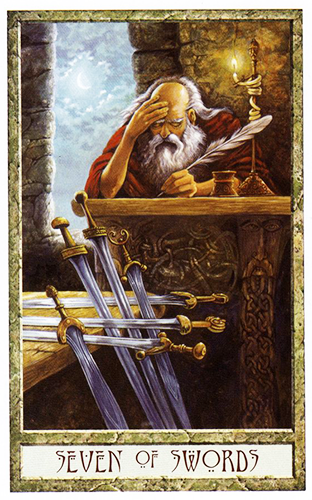 Now that your ruling planet (Saturn) has joined up with Mars in Aquarius, you should be giving more serious thought to how you communicate your ideas to others.
You may even want to keep your thoughts to yourself. while you flesh out your ideas. Because this card emphasizes deep thought, research and strategy, you want to have a good handle on what should be withheld and what should be disclosed.
The Seven of Swords — like all Sevens — requires you to evaluate all the different sides of a complicated situation, and arrive at a solution that causes the least amount of distress.
It can refer to a moral dilemma or one with no easy answer, such as a decision that favors the head over the heart. But it also involves strategy, planning and cunning.
What do you think the man in this card — from the Druidcraft Tarot — is writing? He's clearly deep in thought and something is weighing heavily on his mind. Perhaps he's drafting a treaty or agreement that he doesn't expect to be well received.
His swords are stacked against one another, an indication that he may be at cross-purposes with those he's communicating with.
Take some time to think before you speak, as may not have all of the information before you that can help you make a proper assessment. As the Seven of Swords is also a card of suspicion and distrust, you want to make sure you're not reading into things that just aren't there. The Mercury / Pluto sextile encourages you to choose your words wisely and to take all things into consideration before you take a stand.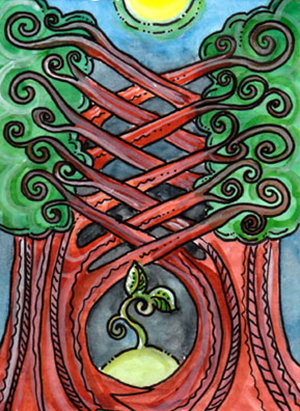 AQUARIUS: Ten of Wands
With Mars and Saturn now conjunct in your sign, there may be times this month where it may feel like it's all work and no play for you.
This card — the Ten of Wands from Dana Driscoll's gorgeous Tarot of Trees — emphasizes responsibilities and duties which have become priorities, forcing you to deal with them rather than devoting your time and energy to what you really want to do.
There may be times when you feel overburdened and oppressed. The weight of responsibilities you've taken on may seem like a heavy load — too heavy in fact for just one person to carry.
You may also feel like you're carrying "extra baggage" — whether this refers to your own struggles or those of someone else. There's a strong possibility you've taken on someone else's problems, rather than letting them iron them out themselves. As a result, it may feel like you're carrying the weight of the world on your shoulders, with no time or energy left to attend to your own needs.
The seed of an idea has sprouted, but as you can see it's getting very little nourishment — even though the Sun is shining in the background. The trees on either side are so tightly intertwined that they're blocking out all the light. The Ten of Wands encourages you to lighten your load: you'll have to find a way to nurture your own ideas, needs and interests, or risk seeing everyone else's problems interfering with your progress.
Pisces: The High Priestess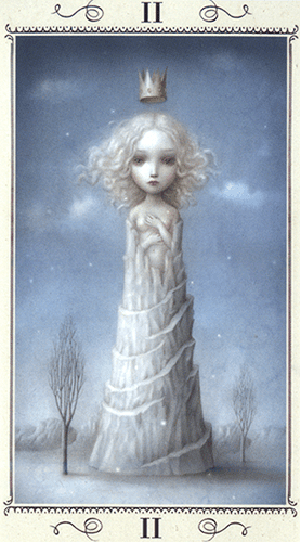 Your card this month is the High Priestess from the gorgeous Cecolli Tarot by Nicolleta Ceccoli,
The High Priestess represents intuition, serenity and wisdom. She encourages you to seek guidance from within and to heed your inner voice. In this respect you may need to find your place of quiet and solitude in order to best access her messages.
She represents psychic impressions and psychic experiences, such as astral travel, lucid dreams or déjà vu experiences. While that may be a bit unnerving for you at first it can open up doors for you that you never dreamed possible.
The High Priestess is a strong feminine energy — regardless of gender. As the feminine counterpoint to her predecessor, the Magician — who's associated with harnessing and mastering tangible resources — the High Priestess is known for mastering the mysterious, hidden inner world.
She's at home in the world of arcane knowledge and esoterica. She's both young and old, masculine and feminine, innocent and wise. She is the keeper of secrets, knowledge and mystery. She's associated with wisdom and insight, psychic awareness, and a sense of "knowing" even when there is not a factual basis for it.
You may be getting more in touch with your own intuition or experiencing profound instances or deja vu or synchronicity. It's important to embrace these visions and try to understand them, rather than shying away from them. They can bring insights into not only your own personal choices, but the direction you need to be heading in the coming days.
—————————–
This month's tarotscopes feature some of Ask the Astrologers all time favorite cards.
We hope you like them too! 
Don't forget to check out this month's Horoscopes too!
April 2020 Tarot Scopes
By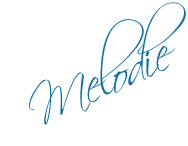 ---
Want to learn more about any of the tarot decks used in these month's scopes? Here are direct links to view or purchase. As Amazon Associates, we may earn a commision from qualifying purchases. Thanks for looking!
---
Sessions
I am available for live chat consultations in 30 and 60 minute increments at the rate of $4 per minute for 30 minute sessions and $3 per minute for 60-minute sessions payable through PayPal.
Please note that I do not offer free readings and these are the lowest rates you will find me at online. I am located in the US, in the Eastern time zone. Payment links are accessible through the sidebar on the right. Feel free to pop into my chatroom if you see me available live, or email me to schedule a session if you don't.
---