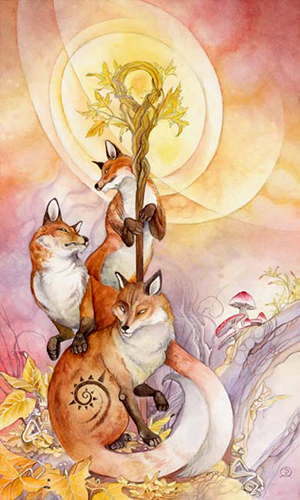 Aries: Ace of Wands
Things are likely to start looking up for you this month as your ruling planet (Mars) moves back into its home sign. You may have been feeling a bit out of sorts in recent weeks — while Mars was in Pisces — but now with it coming back into Aries it should be full speed ahead.
This is a good time to visualize and then work on manifesting your goals. It's a great time to start a new project or to start thinking about where you want to go from here.
The image on this Ace of Wands — from the Shadowscapes Tarot — suggests there is a correlation between what you are thinking of doing on a higher level and bringing it into your life. If this is the case it will not be difficult.
Things will fall into place for you almost seamlessly as your thoughts and actions correlate to what is around you and help comes from unexpected sources.
The Ace of Wands invites you to ask yourself what you really want to do that you can put your whole heart and soul into. It invites you to offer your intentions up to the Universe with every reason to believe you will be rewarded for doing so.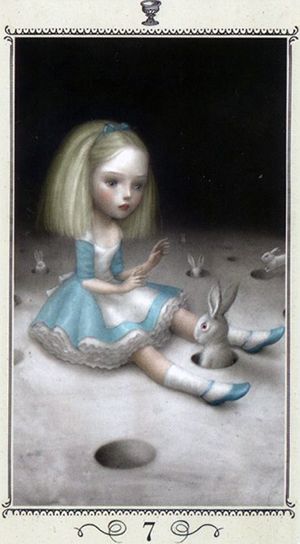 TAURUS: Seven of Cups
You may wonder whether you're coming or going this month, thanks to Venus (your ruler) being both retrograde and hidden by the Sun. At least in the early part of the month.
You may find that there are too many decisions to make and too many distractions getting in your way of making them.
This is the Seven of Cups from the Ceccoli Tarot. This card is generally related to having too many choices and as can be seen in this card it's no different here. Alice is fixated on the white rabbit but is it the White Rabbit or just one of many? It's hard to tell.
This is the dilemma with the Seven of Cups. There are elements of distraction, temptation and seduction all rolled into one.
Your instincts may be blurred by irrational thoughts or fantasies. There can be too many choices available, which makes it hard to decide. Or it may be a case of wishful thinking, that can interfere with actual progress.
What you long for looks so appealing while what you have appears so drab. But it's just an illusion and even if it weren't — even if it were perfectly attainable — it's not going to come about by sitting around daydreaming about it. The message behind this card is to aim for reachable goals and to participate in attaining them rather than allowing yourself to fall into the trap of wishful thinking.
GEMINI: Temperance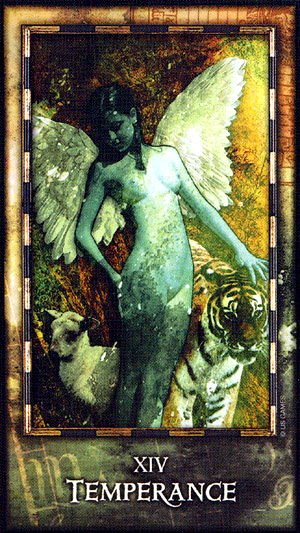 This month, with Venus retrograde in your sign at the beginning of the month and Mercury retrograde in your sign at month's end, you may be struggling to maintain the equilibrium in your life..  with finding balance in our lives, whether it's between head and heart, career and family, or material vs. spiritual progress, etc.
The Temperance card encourages us first and foremost to seek that balance and to find our personal "Center." In the Archeon Tarot, we see an angelic figure: youthful, graceful and innocent. She stands watch over two totem animals, a lamb and a tiger.
She appears to be tending equally to both of her charges. The lamb represents peace, harmony and gentility. The tiger represents passion, strength and a wild ferocity.
Her manner of tending them is different for each. She keeps a cautious hand above the tiger at all times while watching over the docile lamb. She maintains her sense of balance and equilibrium, all the while staying present in the moment.
The Temperance card is called "Art" in some decks. It speaks of the unique creative forces that each of us possess. It speaks of seeking out symmetry and harmony. In what areas of your life are you too inflexible, too rigid and too unwilling to hear another's point of view? Your challenge will be to overcome those impediments and to integrate the opposing forces in your life.
Cancer: Four of Swords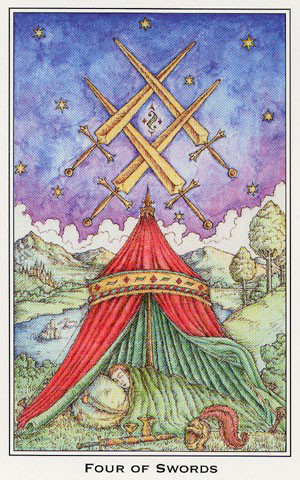 This month, with a lineup of planets (and a lunar eclipse) taking place in your 12th house, you may have the urge to get away from it all.
It could be due to the strains of mundane chores and responsibilities; or you might just want to escape from the hustle and bustle of day-to-day life. Either way the Four of Swords represents a desire to retreat.
This card — from Nigel Jackson's Medieval Enchantment Tarot — calls for you to disengage from all the noise and distractions around you and  find your strength through recovery.
It could be as simple as getting out of town for the weekend to relax and recharge your batteries. And it could be as profound as going on a life-altering pilgrimage or spiritual retreat.
The figure in this card rests peacefully under a starry sky, He's tucked in to his own personal sanctuary — a sumptuous tent, luscious blankets and pillow, his sword and helmet resting outside. The four swords also seem to cast a protective shield above him.
If you're able to get away, then by all means do it! But if you can't there are other ways to restore your sanity. Meditation, breathwork, self-imposed silence, etc. — any one of these can help you to de-stress and to restore your equilibrium.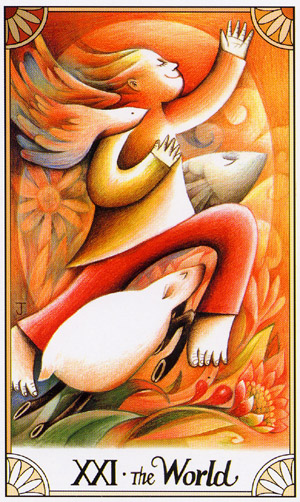 LEO: The World
For you this month, with a lineup of planets in your 11th house, you may find yourself moving closer to a sense of wholeness and personal fulfillment.
This card — the World card from the beautiful Jaen Tarot –describes opportunities to look back over your life and see how far you've come. As you close the door on one chapter and prepare to open another, you can get a better idea of what you want to take with you and what you need to leave behind.
The World card completes the Fool's journey and as such, speaks of fulfillment, integration and completion. And just like the Fool, you've come full-circle, from instinct to essence to progress to development, as you end one cycle and embark on a new one.
This card represents endings and new beginnings.You must tie up loose ends and close the door on one chapter in your life — even if that leaves you with feelings of longing or regret.
The World card represents both fulfillment and completion, reminding you to put the finishing touches on projects that are almost finished and put the things that didn't pan out to rest. You're preparing to embark on a whole new cycle, and will want to do so with a clean slate.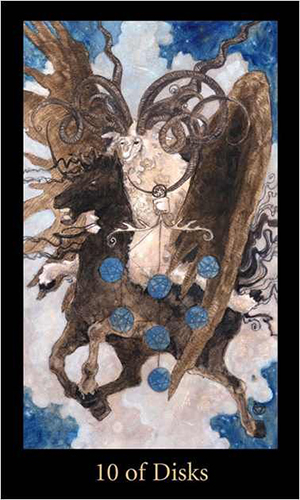 VIRGO: Ten of Disks
This month may see you striving to balance your career and professional life with the demands of home and family. It may not be easy, but nobody said you can't have it all.
The Ten of Disks — this version from the Mary-el Tarot indicates a need to start looking at the bigger picture as you strive for stability and financial security.
This card is about building your empire, on whatever scale that might be. It's about achieving success through hard work and determination, and seeing it all pay off. Not just for you but for family and loved ones, as this card is also about creating a legacy that can be built on for generations to come.
The Ten of Disks is about enjoying and appreciating what you have while planning ahead for the future. No matter how successful you are there's always more to be done, especially as it pertains to creating something that will live on long after you're gone.
You may be thinking of starting a family or putting money aside for children you already have. You could also be in the process of giving birth to something else — a business, a creative endeavor or a body of work. Whatever it is, know that this is something you want to be proud of, so put the extra energy into making sure you do it right.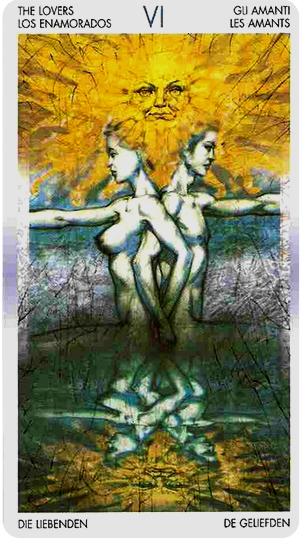 Libra: The Lovers
This month, with your ruling planet (Venus) is moving backwards and forwards through the sign of Gemini, while Mars gets ready to move into your 7th (relationship) house.
Venus in Gemini understands the importance of sharing ideas and communicating feelings, which are the foundations upon which happy, healthy relationships are built.
But it also relates to the mental aspects of relating via decisions that need to be made. Sometimes — where the Lovers card is concerned — it's a choice between two people, and sometimes it's a choice between love and something else (career, family, responsibilities, freedom. etc.).
The Gemini duality is present in this version of the card, from Francesco Ciampi's Tarot of Reflections.  The yin / yang energy is evident in the most literal sense (the figures are male and female) but also figuratively in that one faces left (referencing intellect) and one face right (referencing feelings).
This is something you might think about when making your own decisions or forming your own conclusions about the people in your life. A little less scrutiny (harsh glaring sunlight) and a little more fluidity (to counter the fluctuating emotions that are a natural part of every relationship) can go a long ways toward healing any riffs that occur.
Scorpio: Eight of Pentacles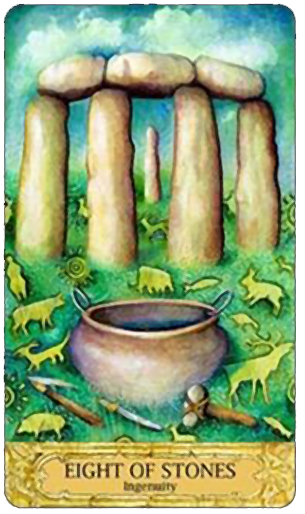 This month, with several planets moving through your 3rd and 8th houses — the areas associated with commerce and brainstorming — you're going to be thinking about doing business and being more productive. You'll be focusing on honing your craft and turning your skills into something you can be proud of.
The Eight of Stones is the Chrysalis Tarot's version of the Eight of Pentacles. It's a card of craftsmanship. It can be as simple as being 100 % focused on your work and demonstrating your level of dedication and service. And it can be as innovative as taking something you're uniquely capable of and turning it into a career.
The Eight of Pentacles is also known as the apprentice card. It refers to taking on an interest — a new one or a lifelong dream — and devoting yourself fully to it. It doesn't have to be career related, but since it's a labor of love wouldn't it be great if it were? Making a living doing what we truly love is something we all aspire to achieve.
Take some time this month — even if you're still somewhere punching that clock — and think about what you really want to be doing. Chances are good that once you start seriously thinking about your options, taking steps toward making them happen will come to you naturally.
Sagittarius: Two of Cups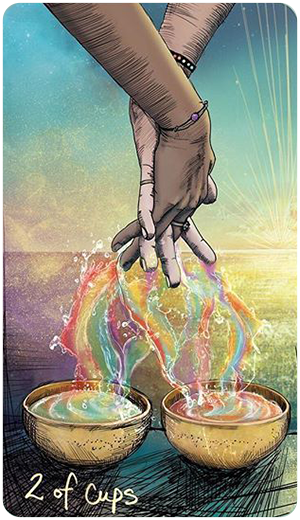 This month, with Venus and Mercury taking turns moving retrograde in your relationship house, you may be revisiting some of your views about relationships and taking a fresh look at where you see yourself down the road.
Two of Cups — this version from the Light Seer's Tarot — speaks of falling in love, finding your other half, and connecting with another on such a powerful level that the two become one.
It's not always a love connection. It can refer to a close friendship, business partnership, or some other deep bond. It refers to the "sum of the parts being greater than the whole," which reminds us that two heads (and hearts) are better than one.
The concepts of opposites attracting, sexual / primal urges, and anima / animus projections are all beautifully referenced here. The masculine and feminine archetypes as depicted in this card are just as powerful as they are simplistic.
While the urge to merge is going to be particularly strong, you can take comfort in the knowledge that maintaining your identity is a welcome part of this process. It's the process of falling in love that reveals to us ourselves at our very best. It's where we put our best version of ourselves forward and the Universe responds by opening up unanticipated doors.
CAPRICORN: Two of Wands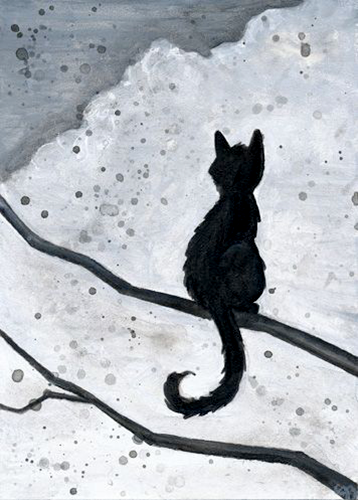 Be on the lookout this month for opportunities that are available to you which might not be so readily apparent from your current vantage point.
The Two of Wands speaks of having put an initial plan into action and seeing it gather momentum. It means that something has started to happen — something big enough to assure you that you're on the right track, but not well-thought out enough yet to ensure that it's a go.
This is the Two of Wands from Erin Morgenstern's Phantomwise Tarot. It reminds you of the importance of getting altitude — like the cat perched on the highest limb of this tree — in order to get the clearest overview.
We can see that the cat is both patient and alert — two of the most important features of the Two of Wands. It's the ability to balance these two qualities that makes getting to the finish line possible.
The Two of Wands encourages you to expand your horizons and reach for broader vistas. It speaks of taking a look at your long-term goals and acting on them with courage and conviction. You're already seeing how some moves are paying off, and are now in a position to take things to the next level.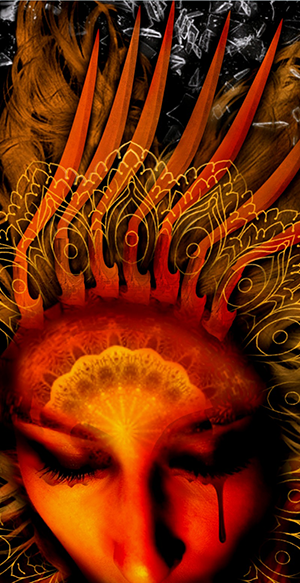 AQUARIUS: Seven of Swords
With Saturn now retrograde in your sign, you may be second-guessing yourself or looking at recent events with a tinge of regret.
The Seven of Swords — this version from the Tarot Maximo — requires you to evaluate all the different sides of a complicated situation, and arrive at a solution that causes the least amount of distress. It can refer to a moral dilemma or one with no easy solution, such as a decision that favors head over heart.
The Swords in this card are double-sided. On one end they're sharp and curved up toward the heavens. And on the other end they're dull and crooked as they emanate from the woman's head like a crown. The question is whether they're pointing up — indicating ideas, decisions and strategies — or pointing down — indicating worry, anxiety and stress.
The reds and golds can indicate passion, but can also represent fear and shame. It's probably the latter, given the mournful look on the woman's face. But there's a saving grace here too. The elaborate designs around her face tell us there are solutions, but that they require a level of intricacy and creativity to unravel.
Also notice the mandala glowing around the region of her third eye. We can see that she does have access to a vast reservoir of inner knowledge if she'd only open her eyes. She may be regretting her own actions.  And she may — like many of us today — be reminded of the actions of others that have created far-reaching and sorrowful consequences.
The Seven of Swords encourages you to think before you act, and take ownership for your actions — especially if they end up hurting someone else. It's a card of options, decisions and solutions — any of which can ultimately make or break you.
Pisces: Justice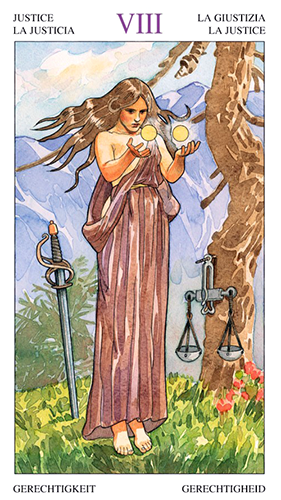 This month you may have to make a decision that calls for you to detach from any personal investment and approach things objectively and impartially.
In this card — the Justice card from the Sorcerer's Tarot — a woman stands in a clearing with a pair of tiny orbs hovering inches above her grasp. She stares at them, transfixed, as though she's channeling all of her energy into keeping them afloat.
You can almost feel the electricity in the air — notice her hair standing slightly on end and the orbs glowing above her hands. If you look closely you'll see that she also appears to be levitating — her feet barely touch the ground.
A scale hangs from a tree on her left and a sword is driven into the ground on her right. These are common themes with the Justice card. They represent fairness, wisdom, reason and intellect.
The Justice card refers to Universal justice — right vs. wrong rather than what you might desperately hope for or want to happen. In this respect if you're dealing with a legal situation, workplace drama, marital discord, or some other problem that calls for third-party mediation, know that this is the kind of Justice that will prevail in the end.
You may need to get some spiritual altitude; like the woman in the card you might have to "rise above" so that you can see things more clearly. But if you're able to let go of your attachment to the outcome, the answers you seek will reveal themselves to you in this way.
—————————–
This month's tarotscopes feature some of Ask the Astrologers all time favorite cards.
We hope you like them too! 
Don't forget to check out this month's Horoscopes too!
June 2020 Tarot Scopes
By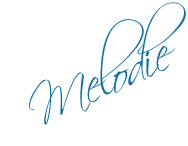 ---
Want to learn more about any of the tarot decks used in these month's scopes? Here are direct links to view or purchase. As Amazon Associates, we may earn a commision from qualifying purchases. Thanks for looking!
---
Sessions
I am available for live chat consultations in 30 and 60 minute increments at the rate of $4 per minute for 30 minute sessions and $3 per minute for 60-minute sessions payable through PayPal.
Please note that I do not offer free readings and these are the lowest rates you will find me at online. I am located in the US, in the Eastern time zone. Payment links are accessible through the sidebar on the right. Feel free to pop into my chatroom if you see me available live, or email me to schedule a session if you don't.
---