Here is the Ask the Astrologers Weekly Astro Forecast for the week of Apr 29, 2019 – May 5, 2019:
This week, we've got a planet changing direction (Saturn), a New Moon in Taurus, and two planets (Mars and Pluto) that are officially out of bounds. 
Starting on Monday, we have a Balsamic Moon in Pisces, which sextiles Uranus and the Sun — and semi-sextiles Chiron and Venus — before the day is through. As lunar aspects are fleeting, these transits will probably only produce short-lived effects. But in general, these are all favorable contacts that should see you feeling more creative, compassionate and optimistic.
Saturn goes stationary retrograde on Tuesday, and will remain retrograde until mid-September. During this time, you may be thinking about what (and whom) you want to retain in your life vs. what (or whom) you want to leave behind. You may feel the need to step back and regroup. This can mean ironing out the kinks in a union that's been faltering or it can manifest as bringing someone new in.
Saturn turning retrograde can make things seem a whole lot bleaker than they are. And because this change in direction is more about going back and fixing things than it is about putting them to rest, you'd be much better served to take some time to figure out what you need rather than rushing to judgment. Depending on where this transit is occurring in your natal chart, it can apply do areas that are in need of resolution.
Saturn will remain retrograde for almost 5 months (until Sept 19th), when it changes direction again at around 14º Capricorn and starts moving forward again. 
On Wednesday, we have Mercury squaring both Saturn and the Nodes, effectively becoming the focal planet of a cardinal t-square. The square to the Nodes is known in classical astrology as "at the bendings;" it can indicate a period of crises with emphasis on the concept of fate. Add Saturn to the mix and you may experience feelings of melancholy bubbling to the surface. It can manifest as boredom or apathy, or seeing the glass as half empty rather than half full. 
It can also manifest as inconvenient or uncomfortable discussions. Feeling like you're being put on the spot or forced to answer questions you're not prepared to answer. As Mercury represents thoughts, ideas, communications and mental activities, this can translate literally as a crisis in consciousness.
Fortunately there's also a nice Mercury / Mars sextile in play, and with these two planets in mutual reception. With Mercury in Mars' sign (Aries) and Mars in Mercury's sign (Gemini) their respective influenced are pleasantly reinforced. This aspect is great for making plans and then following through with them. It's all about being on the same page with those you are working with and getting things done with little conflict or aggravation.
Following along with the Mercury transits, there's a square to Pluto on Thursday. This aspect is associated with intrusive thoughts, anxieties and fears. It can feel like your mind is playing tricks on you, convincing you that something is real based on rudimentary "facts." You want to be careful not to let your imagination run away with you, lest you find yourself growing increasingly paranoid.
This aspect is great for ferreting out hidden information but is not so good at evaluating it objectively. With the Aries Moon joining in and conjuncting Mercury, you could be in danger of acting rashly or jumping to conclusions. If you notice yourself getting fixated on something and feeling the urge to act, step back, take a breather and re-evaluate it in a couple days.
Mercury next trines Jupiter, on Friday. Here we have two natural polarities — the natural rulers of the 3rd and 9th houses — joined together in harmony. We have Mercury — the planet associated with communications and ideas — trining Jupiter — the planet associated with benevolence, good will and generosity.
Among many other things, this transit is good for opening your heart to those you love and expressing appreciation and gratitude for all that you have. It's good for coming together with others and celebrating your allegiances while honoring and accepting your differences. It's a time for feeling inspired and optimistic about the future.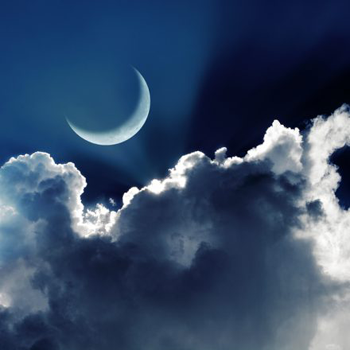 We have a New Moon on Saturday at 14º Taurus 10. The Moon is exalted in Taurus, meaning that it's a revered placement. An exalted planet or luminary is said to express its clearest and purest essence in that sign, in this case the calmest, gentlest and most sensuous sign of all: Taurus.
As New Moons always represent new beginnings and opportunities to start anew, this one — in Taurus — emphasizes opportunities for relaxing, meditating and getting grounded. These are all Taurus Moon activities, with the idea of comfort, luxury, and getting in touch with nature and the earth being the corresponding theme.
The Taurus Moon is sensuous and indulgent, so if you feel like getting something done, it's good for more than just lounging around the house. It's good for putting your culinary skills to use, remodeling your home, gardening or landscaping, or anything that amounts to creating beauty in your environment.
If you thought you might want to sit back and relax on Sunday, think again. There's a Mars / Jupiter opposition in play, which is further compounded by the fact that Mars is out of bounds. This is a highly volatile and potentially explosive transit that can see you drawing battle lines with those who don't share your same political or ideological views.
This is not the time to engage in any confrontational (or legally questionable) behaviors as you're unlikely to come out unscathed. Try to steer clear of hot-button topics (mainly politics and religion) during this time if at all possible.
That's it for this week. See you next week!
---
Here is this week's astro calendar; click on it to view it full-sized.

---
Weekly Astro Forecast —
Apr 29, 2019 – May 5, 2019
---
Thinking about learning Astrology? I highly recommend Stephen Arroyo's Chart Interpretation Handbook and Demetra George's Astrology for Yourself. Don't forget to check out more Weekly Astro Forecasts and our Monthly Horoscopes too! Want to see where these transits are hitting your natal chart? Check out our Free Natal Chart Calculator. You can also read more of my articles here.
Personal Consultations:
If you would like to schedule a session with me, there are two ways to go about it. You can either purchase time either per minute (via Click4Advisor) or in blocks of 10-, 30- or 60-minutes (via PayPal). If I'm not showing as available, or if you want to purchase blocks of time through PayPal, please feel free to email me:







Melodie 

$3.99 per minute

$3.99 per minute


New Clients:
First Paid Session Only!
3 Minutes Free!



Flat-rate sessions available in 10-, 30- or 60-minute increments: Choose from the menu below:

This forecast also appears on the Psychic Scoop website.