Here is the Ask the Astrologers Weekly Astro Forecast for the week of Feb 12, 2018 – Feb 18, 2018:
We have a lot going on this week, with a New Moon in Aquarius, a partial solar eclipse, and two planets (the Sun and Mercury) changing signs. Starting on Monday, we have a with a last quarter (Balsamic) Moon in Capricorn at the midpoint between Saturn and Pluto. With this configuration, you'd do well to think about how your actions are aligning with your career goals and your reputation. 
You may find yourself at a cross-roads and needing to make some changes in this area. As the Moon begins waning in light and counting down towards the New Moon (in this case a Solar eclipse), you'll have opportunities to reassess and fine tune your social standing. Use this time to think about what it is you're putting out there and make adjustments as necessary.
You may be feeling feel particularly energetic and enthusiastic when Mercury and Jupiter complete their square on Tuesday. The potential for overdoing things — as in over-committing, over-indulging and over-extending yourself — is strong. Be careful not to make promises you can't keep or annoy or others with your outlandish ideas.
Mercury is quite comfortable in Aquarius, as the sign ruled by its higher octave (Uranus). And Jupiter is currently in mutual reception with Mars. While these two conditions can make the square aspect a little easier to tolerate, there's still the potential for biting off more than you can chew and finding yourself in hot water as a result.
On Wednesday, the Sun sextiles Uranus. This aspect is great for stepping outside your comfort zone and expressing your own unique personality. Consider the Sun as it's tied to your life force, will and self-expression, and Uranus as it's tied to thinking outside the box. It is associated with being progressive and innovative, as well as broadening your range. This aspect encourages you to march to the beat of your own drum and express your own unique individuality in ways that inspire rather than shock.
These two planets "holding hands" (sextiling) one another emphasizes their respective influences, in this case the Sun's warmth and Uranus' individuality. As the sextile aspect relates to assistance and cooperation these two planets (which are natural polarities) work very well together.
We have a couple more sextiles on Thursday. There's a Venus / Saturn sextile and a Mercury / Uranus sextile. These two aspects are great for connecting and interacting with loved ones, which is nice since it also happens to be Valentine's Day.
The Mercury / Uranus aspect says you can keep things interesting without going too deep; while the Venus / Saturn sextile adds a bit of depth to the interchange without being too frivolous. In other words, they balance one another out. These transits are best used for one-on-one interactions and discussions that are neither too serious or too light.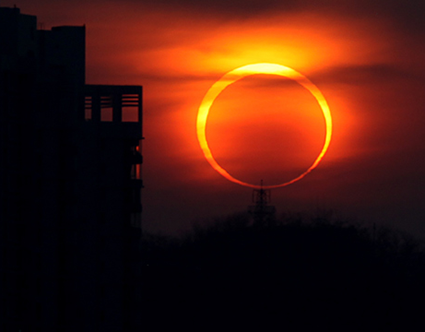 Also on Thursday, we have a partial Solar Eclipse at 9:05 pm UT. This is a New Moon at 27 Aquarius, the sign associated with progress, innovation, group afiliations and humanitarian goals.
This eclipse creates a shift in consciousness related to these areas as well as the house it falls in your natal chart. Its effects can last up to six months, but will be strongest over the next two weeks, as we move toward the next Full Moon.
The solar eclipse brings to light what has been obscured by our emotions — our innermost longings and desires — as opposed to what might be best for us. It causes us to see things in a whole new light, which in turn brings a clarity to even our most heart-wrenching decisions.
This can be a wakeup call if you've been walking around in a daze, but will be a welcome one in the long-run. Eclipses tend to force you to "get clear" about your situation and make the necessary changes, even if those changes are ones you've been dreading in the past.
On Saturday, the Sun conjuncts Mercury and Mars squares Neptune. The Sun / Mercury conjunction occurs at 29 Aquarius — an anaretic degree. The 29th degree of any sign is a critical degree and is said to intensify the nature of the sign it's in — which in this case is the cool, remote and aloof sign of Aquarius.
This tight conjunction — called Cazimi — refers to a planet being "in the heart" of the Sun, or so close in orb that it becomes a part of it. This is a powerful conjunction, with the potential for sudden flashes of insight and awareness, so pay attention to your thoughts and ideas during this time.
The Mars / Neptune square can be somewhat sobering and can leave you feeling melancholy, but only if you let it. You may not have a lot of energy and feel like staying close to home. This is actually recommended, as the Pisces Moon joins in and conjuncts Neptune, increasing the wistfulness of this aspect.
The Sun and Mercury both move into Pisces on Sunday. This marks the onset of a time to explore your dreams and your visions, to be more sensitive, compassionate and loving. It's a gentle, intuitive signature that's less interested in seeing what you can get out of a situation and more about what you can contribute.
You may be more inclined to form deep emotional connections during this time and to merge with another. You may be more accepting of the difference in people and more apt to set aside your own needs to focus on another's.
The Pisces Sun tends to be self-effacing, self-sacrificing and altruistic. It's romantic. imaginative and idealistic. Add to that Mercury in Pisces, which can heighten your intuition and psychic awareness but can also leave you dazed and confused. It's a good time to look at the boundaries (or lack thereof) that you have in place and think about how you can where you need to be adjustments. It's time for exploring your visions for the future and taking whatever steps you can to make the world a better place.
That's it for this week; see you next week!
---
Here is this week's astro calendar; click on it to view it full-sized.

---
Weekly Astro Forecast —
Feb 12, 2018 – Feb 18, 2018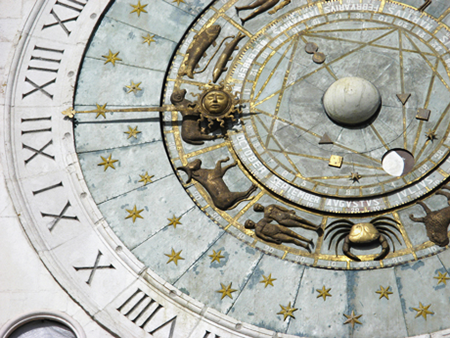 By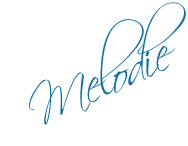 ---
Thinking about learning Astrology? I highly recommend Stephen Arroyo's Chart Interpretation Handbook and Demetra George's Astrology for Yourself.
Don't forget to check out more Weekly Astro Forecasts and our Monthly Horoscopes too!
Want to see where these transits are hitting your natal chart? Check out our Free Natal Chart Calculator.
You can also read more of my articles here.
Personal Consultations:
If you would like to schedule a session with me, there are two ways to go about it. You can either purchase time either per minute (via Click4Advisor) or in blocks of 10-, 30- or 60-minutes (via PayPal). If I'm not showing as available, or if you want to purchase blocks of time through PayPal, please feel free to email me:







Melodie 

$3.99 per minute

$3.99 per minute


New Clients:
First Paid Session Only!
3 Minutes Free!



Flat-rate sessions available in 10-, 30- or 60-minute increments: Choose from the menu below:

This forecast also appears on the Psychic Scoop website.