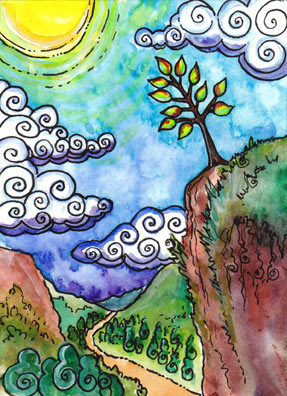 The Fool
A new day is dawning for you. You're as ready as you're ever going to be for a change — especially one that requires you to put the past behind you and prepare for a brand new start.
There are elements of anticipation, inspiration and faith in the Universe with the Fool card. Before he can embark on his journey, he must be willing to throw caution to the wind and let the day take him where it may.
It may not be easy to trust in this process, but the magic that can happen as a result is well worth the effort.
Think about where you may be focusing too much on the destination (outcome) and not enough on the journey.
You're undergoing a major transition and this card challenges you to be open to the process, unhindered by doubts, fears or misgivings.
The deck used for today's tarot scope is the Tarot of the Trees designed by Dana Driscoll, used by permission. Please visit the Tarot of the Trees website, where you can purchase this stunningly beautiful deck!  This deck is also now available for iPhone/iPad and Android devices through the Fool's Dog website..
Check out more daily tarot scopes or visit our Shop.