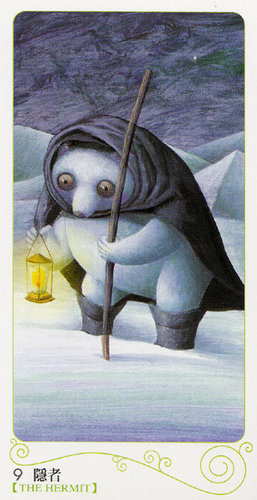 The Hermit
Today you may feel like removing yourself from the hustle and bustle of the outside world and retreating into a place of quiet and solitude.
The hermit card is not about rest or relaxation; it's about getting away from the noise and distractions so that you can heed your inner voice.
In this deck we see a bear lumbering down a snow-covered hill in the dead of night. Only a small lantern lights his way. He's bundled up against the elements; you can almost hear the sounds of his footsteps as he trudges through the snow.
He steadies himself with a rod as he silently scans the path before him. Is he lighting his own way? Or is he holding the lantern before him as a beacon for others who may have lost theirs?
While the Hermit card can sometimes refer to avoidance, there's a an important distinction between running away from one's problems and moving toward the "light." Every one of us sometimes need to get away — if only to gain some spiritual perspective.
Today you get to choose whether you're lighting your own way or acting as a guidepost for those who have wandered away from theirs. Both are valid endeavors ,and only you will know which is the right path for you.
The card used for today's 
tarotscope
 is part of the 
Tarot of the Magical Forest
Series, a
Lo Scarabeo
deck by
Hsu Chi Chun
and 
Leo Tang
, published by
Llewellyn
.
Check out more daily tarot scopes or visit our Shop.