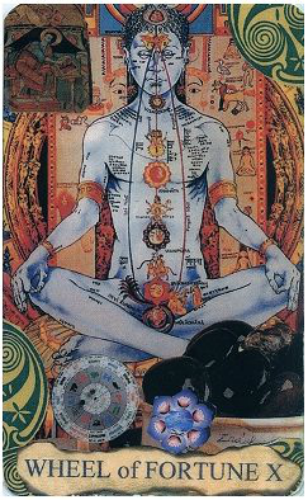 Wheel of Fortune
As the Sun sextiles Jupiter today it gives you a glimpse of what the Wheel of Fortune is about. We all have periods in our lives where things go and up and down along with our moods.  
Usually we try to find balance or equilibrium to help us through the periods where we are not feeling so happy.  It's a good thing the Sun is sextile Jupiter today for this is indeed a fortuitous aspect of these two planets. 
The Sun standing for you and your sense of "self" and Jupiter as the planet of expansion and luck allowing you to push forward with a sense of adventure and explore what is within and around you.
As you can see from this version of the Wheel of Fortune there is an endless cycle of who you are (yourself) on the inside and what is going on around you on the outside (your environment).
The chakra system is clearly marked on the figure within this card which is shown in a meditative pose once again highlighting the need to go within and draw out what is within to balance what is around for you.
The chakra system gives indepth knowledge of how you are functioning physically, mentally, emotionally and spiritually whilst the different symbols surrounding the figure display the need to delve deeper into knowledge and use all modes of learning you have to further extend yourself.
If there is one thing you may wish to do for yourself today it would be to take time for yourself out of the rat race and anything that is troubling you. Look within yourself and know that the knowledge and the power to accomplish and become what you want is always within you waiting for you to tap into. 
With Jupiter sextile the Sun today this process should be smoother and indeed you may find yourself soaring as new information pours into you.  Keep your mind open and allow the signs of synchronicity to flow through you showing you what needs to be done next.
Today's tarotscope — the Wheel of Fortune — is part of the self-published Mansion of the Moon tarot by Dennis Hogue aka ZADOK. This deck was designed and published in 1999 and is currently out of print.
Check out more daily tarot scopes or visit our Shop







Melodie 

$3.99 per minute

$3.99 per minute


New Clients:
First Paid Session Only!
3 Minutes Free!



Flat-rate sessions available in 10-, 30- or 60-minute increments: Choose from the menu below:





"




Chrisalis




$3.99 per minute








New Clients:
First Paid Session Only!
3 Minutes Free!



Flat-rate sessions available in 10-, 30- or 60-minute increments: Choose from the menu below: