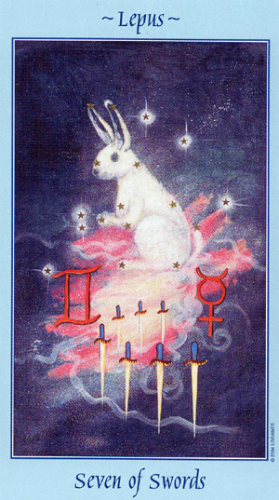 Seven of Swords
Today as Mercury enters Gemini, you want to be thinking about ways to use your ingenuity to work through a problem or to get out of sticky situation.
The Seven of Swords in some decks refers to deception, trickery and duplicity. But when you break it down into its purest essence — Sevens and Swords — you can see that there's an entire spectrum of manifestations for this archetype.
It speaks of ingenuity, mental acuity and strategy. You have to be quick on your feet to ward off some of the curve-balls that life throws your way, and a Seven of Swords / Mercury in Gemini combination fits that bill perfectly.
In this version of the card we see the Lepus constellation, which is associated with a Hare being chased down by Orion's hunting dogs Canis Major and Minor. The Hare sits up on his haunches behind a semi-circle configuration of Seven swords. His ears are perked and he's ready to pounce at a moment's notice.
This constellation features prominently in some lunar mythology, including the Moon Rabbit. I had never heard of this myth before but was deeply touched when I read it.
Speaking of the Moon, it's also void of course for most of the day. You would do wise to sit back and observe (like the rabbit figure in this card) rather than taking any important actions today, as a void of course Moon tends to lose steam by the time it reaches the next sign (which will be tomorrow morning).
The brightest star in the Lepus constellation is Arneb, which is said to embody the qualities of Saturn and Mercury. This is also quite fitting of the Seven of Swords dynamic. What keywords would one associate with a Saturn and Mercury combination? Try cunning, ingenuity, planning and strategy.
If you think it would be easy for two ferocious dogs to chase down and devour a cute little bunny rabbit, think again! You may (like the Hare) need to keep your ears perked and be ready to leap at a moment's notice.
While the Seven of Swords can provide you with the tools to "out-wit, out-play and out-last" your opponents, take note of the swords that are increasing in size, and save your best moves for last.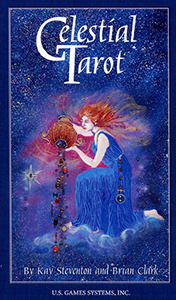 Today's tarotscope — Seven of Swords — featuring the Celestial Tarot by Kay Steventon
and Brian Clark
This deck combines in depth astrology with the tarot and , published by US Games.
Kay Steventon also gave us the gorgeous Spiral Tarot and collaborated with Brian Clark on the book and card set Ancient Feminine Wisdom.
Brian is a highly respected Australian astrologer who has written numerous books on astrology and who founded the Astro*Synthesis distance learning program in 1986.
Check out more daily tarot scopes or visit our Shop.
Personal Consultations:
If you would like to schedule a session with either of us, there are two ways to go about it.  You can either purchase time either per minute (via Click4Advisor) or in blocks of 10-, 30- or 60-minutes (via PayPal). If we're not showing as available, or if you want to purchase blocks of time through PayPal, please feel free to email us:







Melodie 

$3.99 per minute

$3.99 per minute


New Clients:
First Paid Session Only!
3 Minutes Free!



Flat-rate sessions available in 10-, 30- or 60-minute increments: Choose from the menu below:





"




Chrisalis




$3.99 per minute








New Clients:
First Paid Session Only!
3 Minutes Free!



Flat-rate sessions available in 10-, 30- or 60-minute increments: Choose from the menu below: