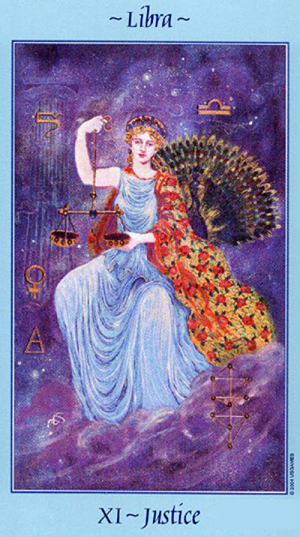 Justice
As Venus enters Libra today, we might all be thinking about how we can bring more fairness and impartiality into our lives.
This version of the Justice Card — from the Celestial Tarot — emphasizes the elements of beauty and grace (also Venus in Libra attributes) as well as the traditional meanings associated with this card: Cause and Effect, Action and Consequence, Right and Wrong.
The symbols for Venus and Libra are both prominent on this card.
The Justice card card speaks of balancing head against heart and desire against logic. While we all strive to keep these areas in sync, it's a constant and precarious battle.
Sometimes the heart rules and sometimes it's the head. But if you rise above the situation (like the girl in the card) you'll be better equipped to achieve perspective. Sometimes we have to get some altitude in order to see things from outside of our earthly attachments.
The Justice card speaks of a universal justice: divorced from what you want or wish for, and held under the microscope of truth, wisdom and universal law. This means that no matter how desperately you want a specific outcome, the one handed down will be fair and just.
The Justice card encourages you to seek the answers to your most pressing concerns through objectivity and conscious awareness. If you rely too much on head, heart will suffers and vice versa. But if you can find a way to balance the two, the truth will reveal itself in the end.