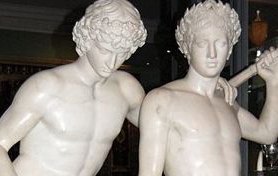 Aries
March 21 – April 20
You may have to put some of your social obligations on the back burner while you focus on your career this month.  With Mars (your ruler) moving through your work sector, Pluto moving through your career sector, and Jupiter moving through your money sector, you'll be hard pressed to think about anything else.  Emphasis is on building a better mousetrap, i.e., developing and refining your brand.  What is it you have to offer that no one else has?  Work on cultivating your own unique vision, especially after the 12th when the Moon moves into your sign and your career and self-expression rulers come together in perfect harmony.  There may be a partial setback around the 24th, when two powerful planets (Pluto and Uranus) force you to confront the discrepancies between your public and private personas.  Deal with it now and put it behind you – because as Saturn and Venus turn direct in the following days, you'll be shifting your attention back to the area of relationships.
Moon in Aries:  June 12rd, 13th and 14th.
Taurus
April 21 – May 21 
You'll be putting a lot of time and effort into making money this month, courtesy of a 4-planet lineup in your financial sector.  You start the month with the Sun, Venus and Mercury all moving through your money sector, and Jupiter joining in on the 11th.  In the meantime, there will be a partial lunar eclipse on the 4th, which also straddles your financial sectors. While this has been a theme for you in recent months, it's particularly emphasized in June. Your ruler (Venus) is retrograde until the 27th.  Don't be surprised if you hear from someone from your past or get the urge to reach out to and old flame yourself.  This is common with Venus retrograde, and often manifests as some "blast from the past" with respect to your love life. Don't expect miracles here though: these relationships are usually meant to be resolved rather than recaptured. When Venus goes direct again (late in the month) things should be moving ahead again in that department as usual.
Moon in Taurus:  June 14th, 15th,16th and 17th.
 Gemini
May 22 – June 21
Happy Birthday Gemini!  With four planets moving through your sign this month (5 when you count the Moon between the 17th and 19th) you'll be feeling like you're in your element for the better part of the month. You'll be tying up one 12-year cycle and starting a new one too, when Jupiter moves into your sign on the 11th.  This is a time to reflect on what you've accomplished in the past 12 years and where you want to go in the next.  A move is possible under this transit, but other possible manifestations include going back to school, traveling abroad or embarking on a spiritual undertaking.  You don't have to decide on day one: in fact there are a few stressful Mercury transits at that same time (the 11th) that may have you wondering if you're ready to take on the world after all.  By the 21st you're back on track again so start visualizing your future and take it from there.
Moon in Gemini:  June 17th, 18th and 19th.
Cancer
June 22 – July 22 
This month you're likely to be spending a lot of time behind the scenes.  This doesn't have to be a bad thing: it can mark a period of intense personal contemplation or creative expression.  With such a rich inner life and so many diverse personal interests, no one appreciates these periods of reflection and solitude more than you.  The lunar eclipse on the 4th falls across your health sectors, so pay attention to your body and signals it's sending you.  This is not the time to ignore physical ailments, especially as you become so immersed in your dreams that you neglect your health. Mercury moves into your sign on the 7th, the Moon on the 19th, and the Sun on the 20th.  While this may be enough to get you out of your shell, take it easy as far as jumping back into the public arena. You can accomplish a lot more by being still with your thoughts now and saving the grandstanding for a later date.
Moon in Cancer:  June 19th, 20th and 21sth.
Leo
July 23 – August 23 
Your dance card should full this month, with 6 planets moving through your social sectors.  Starting with the Sun, Venus and Mercury (and Jupiter on the 11th) in your house of friends and acquaintances, you may be spending more time with casual friends than serious relationship partners.  The Full Moon (lunar eclipse) on the 4th takes place in your romance sector, with Venus conjuncting the Sun (your ruler) on the 5th.  These shine a spotlight on your relationships; although not without challenges.  Each of them will have you looking at what's been hidden or obscured and what needs to be brought out into the light of day.  This is a rare Venus transit – crossing over the face of the Sun, which will not happen again until 2117 – so pay attention to what's revealed and to the changes that it brings to your relationships. There's a small window of opportunity, between the 20th and 24th, to make changes that are not only necessary but are also likely to be permanent.
Moon in Leo: June 21st, 22nd, 23rd and 24th.
 Virgo
August 24 – September 22 
 As usual, work is going to be your primary focus this month.  This means in both the career / professional arena and in areas that are related to self-improvement.  With Mars moving through sign (where is has been for the last 6 months and where it will be for another month) this might seem like business as usual for you.   But now there's also a line-up of planets moving through your career sector, drawing even more attention to this area.  You may be up for a promotion or recognized by your peers. You may also be juggling professional responsibilities. Either way, you'll have to find balance between what the outer world expects from you and what your own instincts are saying is best. The week of the 11th can be important, with strong Mercury aspects and Jupiter moving into your professional sector.  This starts a whole new (12 year) career cycle for you, so figure out what you want to be when you "grow up" and get to work making it happen.
 Moon in Virgo:  June 24th, 25th and 26th.
Libra
September 23 – October 23 
You may be torn this month between an urge to expand your horizons and a desire to just "run away from it all."  With four planets moving through your solar 9th house (the sector related to personal expansion), there's a thirst for knowledge and a need to get out there and see how the other side lives.  But with Mars moving through your house of fear and self-undoing, you may be tempted to just hide yourself away. Your ruler (Venus) is now retrograde and will be passing over the Sun (on the 5th) in a rare transit that will not occur again until 2117.  While the retrograde has you disregarding status quo relationship expectations, this transit brings to light all that's been obscured by your own Ego.  You'll be taking stock of your relationship, for better or worse. You'll want to compare what you're getting from your partner versus what you're bringing to the table.  If these two things are not in harmony, it's time to make a change.
Moon in Libra:  June 26th, 27th and 28th.
Scorpio
October 24 – November 22 
You'll be in your element this month with the Moon in your sign on the 1st and several planets moving through the Scorpio (8th) house for the better part of the month.  Pluto and Mercury are also involved in an "accidental reception," i.e., positioned in one another's natural houses. The theme for you will be "research:" uncovering details, exposing hidden facts, and bringing to light that which seems evident only to you.  This would ordinarily be a good money month for you too, especially with respect to personal investments.  But with Venus retrograde and the eclipse occurring across your financial sectors, extreme caution is recommended. Relationships may be tested, particularly on the 4th, 11th and 24th.  Venus retrograde can bring things back together – at least temporarily. Old flames resurface and faltering relationships are revitalized, but everything in this area is tenuous for most of the month.  Once Venus turns direct, though (on the 27th), things start to smooth out again your relationships should be easier to get back on track.
Moon in Scorpio: June 1st, 2nd, 3rd, 28th, 29th and 30th.
Sagittarius
November 23 – December 21  
The month is ripe with opportunities for you in the relationship department.   In fact almost everything that happens for you astrologically this month happens in your relationship sectors. For starters, the Sun, Venus and Mercury are all moving through your relationship house.  The full Moon (and partial lunar eclipse) moves into your first house on the 4th, activating all of those planets.  On the 5th, Venus makes a rare conjunction to the Sun, crossing its face in a once in a lifetime transit. Because Venus is also retrograde, and because this aspect takes place in your relationship sector, you can expect long-standing relationship issues to take center stage.  Ask yourself "what do I need to release now in order to make room for something new?"  And "where do I see my current relationship heading in the future?" You'll want to answer these questions and set your conclusions in motion between the time Jupiter enters your relationship house on the 11th and Venus turns direct in that house on the 27th.
Moon in Sagittarius: June 3rd, 4th, 5th and 30th.
Capricorn
December 22 – January 20 
You've got your work cut out for you this month, particularly in the professional arena.  With three of the slower moving planets all emphasizing this same theme for you now, this has been a long-standing area of focus. Your ruler (Saturn) has been moving through your career sector for the last several months. Pluto is also still moving through Capricorn and Mars is still moving through Virgo. Additionally, you'll have five planets (Sun, Moon, Mercury, Venus and Jupiter) all transiting your work sector at various points during the month. What this means for you is an extraordinary amount of discipline, resourcefulness and work ethic throughout the majority of the month. If it feels like you're taking one step forward and two steps back, that's because two of those planets (Saturn and Venus) have been retrograde.  But that all starts to change this month when both of them turn direct – on the 25th for Saturn and 27th for Venus.  Don't lose focus: your efforts will start paying off again after that time.
Moon in Capricorn:  June 5h, 6th and 7th.
Aquarius
January 21 – February 18 
You might have to take a good long look in the mirror this month and ask yourself if you're seeing yourself as others do.  With five planets moving through your house of creative self-expression, you're probably going through a bit of a personal renaissance.  This is almost always a good thing for Aquarius – put it's not without challenges this time.  Pluto and Uranus (your ruler) are in hard aspect for most of the month.  Due to their respective house placements, this can manifest as an inability to see yourself clearly, or to understand how the changes you're undergoing can impact on others. It all comes to a head on the 11th, when Mercury joins in and activates a t-square.  Ask yourself if these conflicts are true professional jealousies or if they might somehow be warranted.  You can certainly reinvent yourself under this transit, as long as the "new and improved" you is aligned with the expectations of others.  If not there could be more unnecessary conflicts, particularly around the 24th.
 Moon in Aquarius:  June 7th, 8th and 9th.
Pisces
February 19 – March 20
You're more likely to be keeping the home fires burning this month than you are venturing out into the social sector.  With 6 planets (and 7 when you count the Moon) below the horizon this month, you're going to be more content spending time with family and loved ones than you have been in recent months. It may be that you've become disillusioned with "what's out there" and are choosing to stick with those who've proven themselves worthy of your trust.  Neptune (your ruler) is in your sign but your relationship ruler will be debilitated after the 11th. This can serve to widen the gap between you and a relationship partner by emphasizing your natural differences. If you're smart though, you'll see it as an opportunity to step outside of your ego and see things from another's perspective.  Yes, it's possible that you'll have your hopes dashed before it's over. But don't' let your disappointments get the best of you though; these placements encourage you be more accepting and forgiving.
Moon in Pisces:  June 9th, 10th, 11th and 12th.