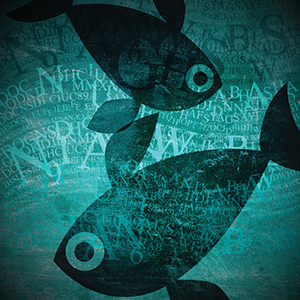 Happy Birthday Pisces!
Here are some astrological highlights for the month ahead.
Lunations: Moon Phases for the entire month. This Month's Full Moon occurs on March 5th at 14° Virgo 50″.
The New Moon — a total solar eclipse — takes place on March 20th at 29° Pisces 27′.
Retrogrades: Saturn turns retrograde on March 14th at 4° Sagittarius 55″; Jupiter is retrograde for the entire month of March.
Ingresses: Mercury enters Pisces on March 13th; Venus enters Taurus on March 17th;  the Sun enters Aries on March 20th; Mars enters Taurus and Mercury enters Aries on the 31st.
 Continue reading for complete scopes for each sign:

Aries — March 21-April 19: March is a very busy month for Aries with both Venus and Mars in your sign there is sure to be no shortage of excitement especially when this comes to your love life. Misunderstandings that may have arisen from Mercury's recent retrograde between your friends and yourself can be cleared this month. You will have new insights and ways of dealing with conflicts after the 14th when Mercury moves into a part of the your chart that will give you extra added benefits when it comes to intuition. You also need to keep this in mind in the first two weeks of March as Uranus comes into contact with Venus and Mars. This can work either in your favour or not as Uranus tends to bring in the unexpected change which may cause you either headaches or take your love life to a totally new level. The Solar Eclipse the of the 20th affects Aries strongly as it moves straight into your sign alongside the Sun. This is the beginning of a new astrological year and given that it also falls on an eclipse it will make 2015 a year to remember all Arians.
Moon in Aries:  Mar 20, 21 and 22


Taurus — April 20-May 20: You may find your energy levels fluctuating this month as you move between wanting to hang out with friends and loved ones and wanting to retreat to the comfort and safety of your own inner sanctuary. You'll have to make time to satisfy both impulses if you want to maintain your sanity. On one end of the spectrum you've got your relationship rulers (Venus and Mars) moving through your 12th house — along with Uranus. This indicates a need for space and time alone, even as you wrestle with the urge to merge with others. On the other end you've got the Sun, Neptune and Chiron moving through your social sector, bringing meaningful connections into the picture. There's no reason you can't do both — although by the time you get to the 17th, with Venus moving into your sign, and the 20th — with a total Solar Eclipse in your 11th house — friendships and relationships are bound to win out. Keep an eye on your finances all month, especially debts that are piling up or coming due. With Jupiter retrograde all month and Saturn retrograding on the 14th, you may need to backtrack and clear up some old debts.
Moon in Taurus: Mar 22, 23 and 24

Gemini — May 21-June 21: Saturn turns retrograde in your love and relationship area this month after the 14th. This means that it is time to start thinking will seriously about your relationships and what they mean to you. The last few weeks may not have been easy for you when it came to communication and with that in mind you may like to take some time for yourself to decide what is important for you. Venus and Mars our bonus in an area of your chart that is making you immensely popular to be around. You may find yourself meeting new and interesting people from all walks of life which is causing you to question what it is that you really want. The Eclipse on the 20th further intensifies this feeling and you may find yourself being thrown in to like changes before you really know what is happening. For this reason March is a month for you to keep your wits about you and keep yourself grounded in an effort to navigate towards the end goal. Remember you have a lots of energy around to this month but you also have the need to focus this energy and use for yourself.

Moon in Gemini: Mar 24, 25 and 26

Cancer — June 22-July 23: You should be on fire in the career department this month. With 5 planets (all in fire signs) moving through your career, financial and work sectors, this is one area that should flow relatively smoothly for you. You may be in line for a promotion or raise; or you could be making plans to completely overhaul your career. Meanwhile your 9th house is packed this month too. If you have opportunities to further your education, make travel plans or broaden your horizons in other ways, now would be the time to do so. The 9th and 10th house axes are all re-inventing yourself so don't let these transits pass you by without working toward those ends. If there's going to be any friction during the month it will happen around the 11th, due to a tense aspect between Mars/ Uranus and Pluto. This will most likely involve colleagues or partners (relationship or business) who are feeling competitive and / or threatened by your success. You may not be able to stay completely out of the fray but you can avert an ugly showdown by refusing the fan the flames. This is especially important with respect to your love life, as your relationships ruler turns retrograde on the 14th.
Moon in Cancer: Mar 1, 26, 27, 28 and 29

Leo — July 24-August 23: Jupiter is still in your sign and is still retrograde. But this month it's in mutual reception with the Sun. It's also the only planet on your Eastern hemisphere, making it an even more prominent signature planet for you. So what does all this mean for you? First of all it can increase your psychic awareness and intensify your spiritual leanings, due to its retrograde motion and assistance from the Pisces Sun. The Sun / Neptune / Chiron stellium can soften some of the Leo tendencies toward drama and self-promotion. It can also bring romance to the forefront, as Jupiter rules romance for you and is trining your relationship ruler (Uranus) for the better part of the month. You may be reconnecting with an old love or patching up problems in an existing relationship. Because you're Sun-ruled, this month's eclipse will be especially powerful for you. It happens the same day as the vernal equinox (March 20th) — as the Sun and Moon leave Pisces and move into Aries. At this point your focus shifts to 9th house areas — travel, education, higher learning, etc.: anything that gets you out of our comfort zone and forces you to broaden your horizons.
Moon in Leo:  Mar 1, 2, 3, 4, 29, 30, 31

Virgo — August 24-September 22:  You'll be taking stock of your relationships this month with both the New and Full Moons (including the eclipse on March 20th) falling across your relationship axis. Additionally your ruler (Mercury) is dignified in Aquarius, but opposite a retrograde Jupiter (your relationship ruler). What does this mean for you? Decisions are going to be made and certain things eliminated with respect to your relationships.  It's going to be out with the old and in with the new for you in this area. Whether that means ending a relationship entirely or cutting out unhealthy behaviors so that your relationships can thrive will be up to you. You have a lot more power — and a lot more say in how this all plays out — than you realize. There's a stellium in your relationship sector and one in the area associated with sex and intimacy. These can either act in concert and pump up the volume in the love department or work against one another and bring conflicts to the forefront. Things heat up on the 11th, forcing you to evaluate your priorities and defend your views. You'll have to work on bringing things back into sync if you want your relationships to survive.
Moon in Virgo: Mar 4, 5 (Full Moon), 6, 7 and 31

Libra — September 23-October 22: You'll be focusing on both work and relationships this month. Which means that both areas are going to be vying for your attention and potentially causing you some distress. You start the month with your ruler (Venus) debilitated in Aries and conjuncting the South Node. This relates specifically to resolving karma in relationships and taking care of past "debts." Opportunities to do so are generally not pleasant so don't expect this to be a walk in the park. You could also attract someone into your life that you have past-life ties to, so be mindful of the karma you're creating as well. In the meantime, the Sun, Neptune and Chiron are moving through your work sector, bringing opportunities for you express yourself creatively on the job. This aspect can also enhance your psychic abilities and inspire you to pursue spiritual and philosophical studies. This is a good time to join a yoga class or take up meditation, astrology metaphysics, etc. — anything that combines spirituality with learning. As the month winds down — in preparation for next month's total lunar eclipse in your relationship sector — you'll be back to thinking about relationships and tying up loose ends.
Moon in Libra: Mar 7, 8 and 9

Scorpio — October 23-November 22: Work is important to you this month and you will find yourself accomplishing more than you thought you would. You need to be careful that as Venus moves into your love and relationship area after the 18th that you are not so embodied in work that you ignore your partner and love life. As there is an Eclipse on the 20th you do not want to go rocking any boats around this time as you may find yourself stuck within a situation that is of your own doing but not of your own liking. The 23rd and 24th are dates to keep in mind when it comes to being especially careful in what you say and do. At this time the Moon is in your relationship area within close proximity to Venus and whilst your emotions may be heightened this does not mean you should act upon them. Mercury will give you cause to look at your relationship with family members earlier in the month although you can expect a more light-hearted approach to communications after the 14th which will likely put you in a more creative and playful mood.
 Moon in Scorpio: Mar 9, 10 and 11

Sagittarius — November 23-December 20: The last few weeks may have been difficult for you as you found yourself at the center of a few communication misunderstandings. As much gets underway this energy clears and you can put the last few weeks behind you. Mercury will close into your area of home and family after the 14th giving you a chance to take a breath away from the hustle and bustle of the last few weeks. With Saturn still in your sign and turning retrograde on the 14th it is a time to look at what is important to you as the energy of Saturn forces you to take stock of your life. For the first time of the month both Venus and Mars are in a position to put more than a few smiles on your face. This may take the form of view stepping outside of your comfort zone and pushing the boundaries when it comes to your relationships. Being a Sagittarian this could prove to be very interesting for you and others. Keep in mind there is an eclipse on the 20th and any boundaries that you do push may come back to bite you.
Moon in Sagittarius:  Mar 11, 12, 13 and 14

Capricorn — December 21-January 20: Home and family will be important to you this month as both Venus and Mars moves to this area of your chart. Whilst Venus allows for loving and smooth relationships at home and within your family Mars, on the other hand, may give you more cause for concern. As Mars is the planet of war you can expect a few misunderstandings and upsets as the month progresses. Given that there is also an Eclipse of the 20th you need to be aware that anything can happen and probably will. Your saving grace may come in the form of Mercury moving into your area of communication after the 14th. This will give you a head start in manoeuvring yourself through any tricky situations that come your way. After the 18th Venus should be allowing you to feel more light hearted and secure within yourself. If there is anything you wish to do just for fun this is the time to do so. Being childlike and allowing your inner child to shine through may just be the thing you need to make March a month to remember.
Moon in Capricorn: Mar 14, 15 and 16

Aquarius — January 21-February 19: You may have to work to keep your relationships with colleagues on an even keel this month, particularly around the 11th when a tense aspect between your ruler (Uranus), Mars and Pluto tightens up. There's a pressing need to "clear the air" which can  escalate into an intense confrontation if you're not careful. You're probably better at detaching from drama than most people but still may find yourself caught up in the fray. You're full of ideas — and good ones too — which can translate to others as overstepping your bounds. Rein in some of the aggression you're feeling and work on bringing others into the fold; otherwise it can erupt into a me against you mentality that gets  no one anywhere. The good news is that there are people in positions of authority that are very interested in what you have to say. You may be called in to make a presentation or offered an opportunity to head up a project on the job. You've also got a lot of activity in your financial sectors — 5 planets there by the eclipse on the 20th. As a result, you may find yourself in a better financial position than anticipated this month.
Moon in Aquarius: Mar 16, 17 and 18 
Pisces — February 20-March 20: The Full Moon on March 5th gives you the opportunity to lay out your options on how you would like your love life to proceed. There are many things around for you early this month and topping that list is your need to feel more secure and stable. As Mercury moves into your sign after the 14th your need to be heard intensifies and you may find yourself growing increasingly more frustrated at a situation you have not fully seen your options on the for some while. The Solar Eclipse on March 20th finally sees the scales tip in your favor as you voice your concerns and find yourself lightened of a load that has been holding you back. When you do there is you will find new opportunities coming your way especially as being as moves into your area of communication after the 18th bringing with it a breath of fresh air not only to your way of thinking but also in how you relate to others. March may well be the most important month for you of 2015.
Moon in Pisces: Mar 18, 19 and 20 (New Moon Total Solar Eclipse)
March 2015 Monthly Horoscopes
Be sure to check out this month's tarotscopes too!
By 
 *** Special thanks to Chrisalis for all her help on the horoscopes this month. This column was actually more of a collaborative effort and I'm eternally grateful! 
Personal Consultations:
If you would like to schedule a session with me, there are two ways to go about it. You can either purchase time either per minute (via Click4Advisor) or in blocks of 10-, 30- or 60-minutes (via PayPal). If I'm not showing as available, or if you want to purchase blocks of time through PayPal, please feel free to email me:







Melodie 

$3.99 per minute

$3.99 per minute


New Clients:
First Paid Session Only!
3 Minutes Free!



Flat-rate sessions available in 10-, 30- or 60-minute increments: Choose from the menu below: