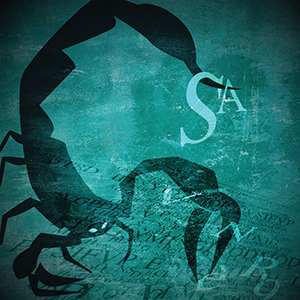 Happy Birthday Scorpio! Here are highlights for the month ahead.
Lunations: Moon Phases for the entire month:
New Moon: This month's New Moon occurs on Nov 18th at 26° Scorpio 19″
Full Moon: This month's Full Moon occurs on Nov 4th at 11° Taurus 58″
Retrogrades: Neptune turns direct on Nov 27th. Chiron and Uranus are all retrograde for the month of November.
Ingresses: Mercury moves into Sagittarius on the 5th; Venus moves into Scorpio on the 7th; and the Sun moves into Sagittarius on the 22nd.
Continue reading for complete scopes for each sign:

Aries — March 21-April 19: This is a month where you may feel held back and also free to do what you want, and therein lays the conundrum. Therefore proceed with caution if there is anything you think you can just forge ahead with as it may come with hidden problems. Both Venus and Jupiter are in an area of your chart this month to cause a lot of intense moments in your relationship. Venus will be helping you out until the 8th as it moves through your love area. After the 8th Venus joins Jupiter in an area of your chart that may uncover secrets best left where they are. The influence of Jupiter will most likely mean words are said and then it may be time to run for cover as the outcome may be unpleasant. Moon in your love area on 14th, 15th and 16th gives you a chance to regain your balance.
Moon in Aries November 2, 3, 29, 30

Taurus — April 20-May 20: This month should see your love life go from strength to strength, and not a moment too soon. Not only do you have Jupiter now transitting this area of your chart but you also have Venus moving into it on the 8th. Great time to put your relationship back on track especially from 10th to 17th when both Jupiter and Venus are in close contact to each other. You might also want to do some deep soul searching and think about what you want in life. This is the last full month Saturn is in an area of your chart that is known for insight, use it well. New moon in your relationship area on the 18th comes with the promise of new beginnings.
Moon in Taurus November 4 (Full), 5

Gemini — May 21-June 21: With Mercury in your relationship area from the 6th you can be sure this is the month to get on top of anything which has not been working too smoothly in your love life. As it is also the last month Saturn is also in this area of your chart then you might be in for a few "life lessons" as November progresses. These can come in the form of speaking up for yourself when it comes to your relationship. Have a think about what you want and need from your partner and if you have been just going along in a relationship thinking it will all work out, then you might need to make some changes to this. Moon in your love area 19th, 20th and 21st gives you time to balance the good with the bad and come up with a solution, just in time for the Sun to enter your love area.
Moon in Gemini November 6, 7

Cancer — June 22-July 23: With Venus joining Jupiter on the 8th to trine your sign then you should be feeling the effects of this on your life. It occurs in an area of your chart known for happiness and fun so you have no excuse to not go out and enjoy yourself. Mercury can give you a boost at work when it comes to communication from the 6th especially as it is the last full month that Saturn is in your work area. Use this month well. Tackle any chores that need done and tie up any lose ends. Moon in your love area 22nd and 23rd occurs just as the Sun also moves in to an area of your chart which can further boost opportunities for you when it comes to career.
Moon in Cancer November 8, 9

Leo — July 24-August 23: With Mars in your area of communication all month you certainly won't be short of a few thoughts. In fact your mind may be racing a hundred miles an hour. Best not to act out on anything you are thinking too quickly though as Pluto will be squaring Mars from 13th to 25th. This aspect could have a negative impact, especially where your work is concerned. Venus joins Jupiter in your home and family sector giving you a nice, easy time at home. No meddlesome chores for you as this is the time to sit back with your feet up. Mercury trines your sign from the 6th which can offset a lot of friction Mars may be causing. Moon in your love area 24th, 25th and 26th is a time to spend with your partner working on your relationship.
Moon in Leo November 10, 11

Virgo —  August 24-September 22: The 10th to the 17th will find you in fine form when it comes to communication. This is because both Venus and Jupiter are conjunct in an area of your chart allowing you to break through any problems you may have been experiencing in your relationship. Mars is in an area of your chart to help you sort through finances, although you also may need to curb some spending. For those of you born in late Virgo there may be a feeling of frustration as Saturn squares your Sun. Mid December will see an end to this. Moon in your love area 1st, 27th and 28th allows you to explore what is on your mind and align these thoughts with your emotions.
Moon in Virgo November 12, 13

Libra — September 23-October 22: After the 6th Mercury is in your area of communication giving you a chance to clear a few things up that have recently been problematic in your life. This may not come a moment too soon as Mars is in your sign all month. Mars can be difficult to handle when it comes to anger and as it will square Pluto from the 13th to the 25th you can expect a few situations to arise where you need to keep your temper under control so a bad situation does not become worse. November is also the last full month Saturn is in your communication area and the lessons this has taught you in the past few years will come in handy now. Moon in your love area 2nd, 3rd, 29th and 30th allows you to find some time to spend with your partner.
Moon in Libra November 14, 15, 16

Scorpio — October 23-November 22: Venus moves into your sign this month on the 8th and shall come into close contact with Jupiter, also in your sign, from the 10th to the 17th. This is a fantastic opportunity for you to get your relationship back on track if things have been difficult lately. If you are single, it is a great time to meet someone new who may turn out to be very important to you. As the moon is also in your sign on the 17th and 18th you might wish to think of something special to do with your partner on those dates. Getting your finances in order is also a priority for you. Moon in your love area 4th and 5th just makes this month all the sweeter for you when it comes to emotions.
Moon in Scorpio 17, 18 (Full)

Sagittarius — November 23-December 20: This is the last full month that Saturn will be in your sign for about another 28 years. If you have found the last few years difficult then Saturn will be the culprit. Many Sagittarians will give a collective cheer to see the end of this. Saturn is known as the planet of wisdom and as it leaves your sign you can think back to how the last few years have been for you, perhaps finding yourself a lot wiser. As an added bonus Mercury enters your sign after the 6th. With Mercury in this placement it can go a long way in allowing you to reflect on what you have learnt. Both Venus and Jupiter find you in a dreamy mood and are good for relaxation. Moon in your love area 6th and 7th occurs just before Venus is in a position to really allow your emotions to soar.
Moon in Sagittarius 19, 20, 21

Capricorn — December 21-January 20: Mars shall be forming a tense aspect to your sign all month, especially from 13th to the 25th as it squares Pluto. This is not the month to push forward with plans that are not fully thought out. The combination of Mars and Pluto squaring each other can make for some pretty strong emotions which can quickly get out of hand. Next month, Saturn enters your sign for the first time in 28 years. Saturn moving through your sign may be easier than it is for most other signs as it is your ruling planet. With the planetary movements of Mars and Pluto in November you don't want to push your luck and find yourself with more problems than you can cope with come December. Moon in your love area 8th and 9th occurs just as Mercury moves into an area of your chart which can cause confusion. Best to keep a low profile this month.
Moon in Capricorn November 22, 23

Aquarius — January 21-February 19: Spread your wings and fly this month as Mars is in an area of your chart where you may be feeling as if you do not want to be hemmed in. It's a great month to go on a holiday or adventure. Although with Mars squaring Pluto from 13th to 25th you might wish to be a bit less adventurous than you had planned. This aspect can be rife with accidents. Venus in your work area after the 8th can give you a boost to your career especially as Jupiter is now also in this area of your chart. Mercury is in a great position after the 6th to meet up with friends both old and new. Moon in your love area 10th and 11th is a time to take stock of what you really want.
Moon in Aquarius November 24, 25, 26
Pisces — February 20-March 20: Luck is on your side this month when it comes to love with both Venus and Jupiter in an area of your chart that may have you taking some risks. Of course you'll check the lay of the land before you jump in to anything too risky. However, with these two planets you may find yourself throwing caution to the wind. Whatever you do it will be a lot of fun. You may also find that you are more open with your communication and not putting up with too much resistance from others. Travel for enjoyment is also likely this month. Moon in your love area 12th and 13th is a time to check what is happening around friendships, not taking things for granted and listen to what the other person is saying.
Moon in Pisces November 1, 27, 28
---
Be sure to check out this month's tarotscopes too!
November 2017 Monthly Horoscopes
by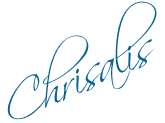 Personal Consultations:
If you would like to schedule a session with me, there are two ways to go about it. You can either purchase time either per minute (via Click4Advisor) or in blocks of 10-, 30- or 60-minutes (via PayPal). If I'm not showing as available, or if you want to purchase blocks of time through PayPal, please feel free to email me:




"




Chrisalis




$3.99 per minute








New Clients:
First Paid Session Only!
3 Minutes Free!



Flat-rate sessions available in 10-, 30- or 60-minute increments: Choose from the menu below: