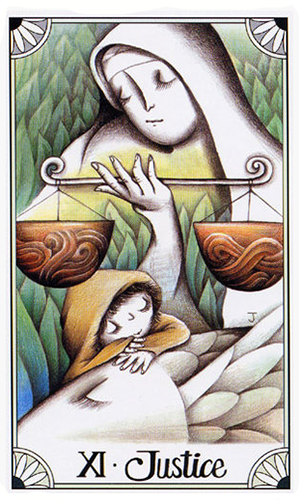 ARIES: Justice

You may be struggling with doing the right thing this month, or you may be trying to make a choice between right and wrong. Sometimes those choices aren't clear — depending on whatever prerequisites you have in place for making those kinds of determinations.
The Justice card — this version from Jaen Tarot — is about having to live with the choices you make and being able to sleep at night once you've made them. This requires an ability to balance the pros and cons of a situation, which requires balancing your head and heart.
Notice that all of the figures in this card have their eyes closed. A small child rests over a giant sleeping fish, as a Madonna figure rises up from the mists of his dreams and watches over them.
The scale she holds in her hand is precariously balanced. Between head and heart. Need and desire. Right and wrong. If any of those were given more weight than the other, that balance would be lost and the quiet contentment disrupted.
The Justice card speaks of a universal justice, divorced from what you want or wish for, and held under the microscope of truth, wisdom and universal law. This means that no matter how desperately you want a specific outcome, the one handed down will be fair and just.
There are karmic repercussions inherent in this card. Whether it's karma you're sewing (doing the wrong thing even when you know it's wrong) or karma that you're reaping (having to face challenges that are a result of past misdeeds) know that in the end Justice does prevail. Keep that in mind so that you too can sleep at night, knowing that you've done the right thing.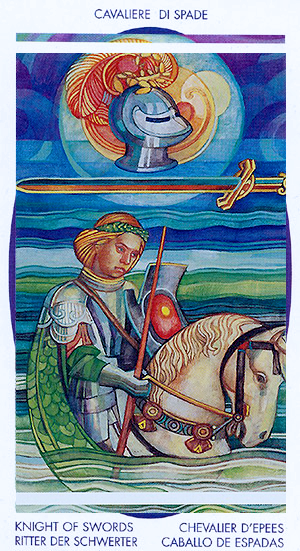 TAURUS: Knight of Swords

This month it's going to be important for you to think critically and strategically about the choices you make.
You may be wavering over important decisions. You may be weighing your options or figuring out what your best course of action may be.
The Knight of Swords is traditionally associated quick thinking and quick action. But this is a kinder, gentler version of the card. This version, from this Crystal Tarot — appears to be lost in thought.
He's in no hurry to get moving, even if his horse is raring to go. He may be daydreaming about the journey ahead, or he may be contemplating all of the different routes that can lead him to his destination.
As with all court cards this can refer to someone in your life, a frame of mind you need to adopt, or it can refer to you personally. If it's someone in your life, you will know him by his gentle demeanor and sense of fair play. These are qualities that you'd do well to incorporate in your decision-making this month.
The Knight of Swords is known for being frank, blunt and outspoken. And even in this gentler version you can count on him to be honest. If you have something to say, now is the time to say it — as long as you temper your words with kindness and diplomacy.
If it takes you a little while to get your bearings today and to make an informed decision, know that there's a reason for holding back. You want to be decisive, fair and just. So make sure you have all the facts before you jump to any conclusions.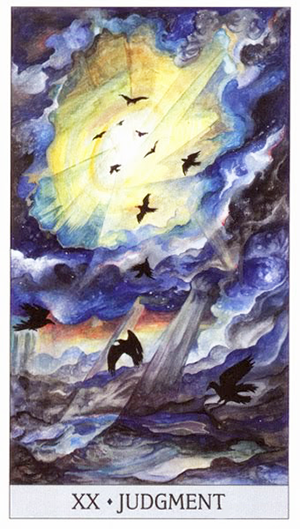 GEMINI: Judgment

This month you may be taking stock of your life and seeing how the actions you've taken and decisions you've made have brought opportunities for you to change the course of your life.
The Judgment card — this version from the Japaridze Tarot — represents a day of reckoning. It calls for self-evaluation and awareness, a need to develop enough spiritual altitude to look objectively at your mistakes and shortcomings as well as your triumphs and victories.
It serves as a powerful reminder that in order to put the past behind us we must not only let go of prior judgments but heal the wounds that have been holding us back. It's a card of both atonement and forgiveness. Of unconditional love, understanding and acceptance — for both ourselves and for those who've hurt us or let us down.
This card refers to eternity, infinity and timelessness. It refers to the endless human journey that we sometimes refer to as "karma." We reap and sew with each thought, action, and decision.
It represents a summation of all that has come before, and an awareness that each step taken — from here on out — leaves an indelible imprint on our future. On a personal level, this card speaks of compassion, forgiveness, understanding, and acceptance.
Take this time to tie up loose ends. This can be a literal letting go of the past, but it will more likely relate to putting yourself in other people's shoes and seeing how the mistakes they've made or the grief they've caused have been just as much a part of being human and flawed as any direct attempt to cause you pain.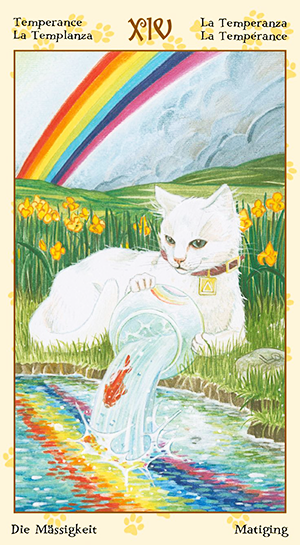 CANCER: Temperance
Your card this month — Temperance from the Tarot of Pagan Cats –– indicates a need to go with the flow and to find ways to bring the conflicting desires of your being back toward the center.
This may take the form of aligning yourself with higher spiritual realms, or it may be more about learning to surrender.
The Temperance card speaks of searching within yourself for that wellspring of inner grace and finding a way to bring the good and bad, light and dark, happy and sad back in to balance.
This card is called "Art" in some decks. It speaks of the unique creative forces that each of us possess. It speaks of seeking out symmetry and harmony. And it speaks of integrating the opposing areas of your life into one big calm, peaceful and harmonious medium.
In what areas of your life are you too inflexible, too rigid and too unwilling to hear another's point of view? Your challenge will be to overcome those impediments and to integrate the opposing forces in your life.
In this version a beautiful white cat in a field of daffodils lounges near the edge of a stream. She pours the contents of a fishbowl — including its lone inhabitant, a goldfish — into the water. A brilliant rainbow sits high in the sky and is reflected in the rippling stream.
Her demeanor is calm and peaceful — almost trance-like — as if she's mesmerized by the process. This is the essence of this card: there's a calm and graceful symmetry in taking one's time, going with the flow, and becoming one with all that surrounds you.
There may be truths that must be faced in order to achieve the equilibrium depicted in this card. There may be messages to deliver or mysteries to unravel or even dreams to be discarded, if you're to reach the end of the rainbow and your heart's desire.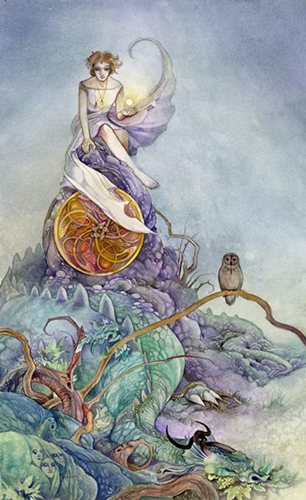 LEO: Page of Pentacles
This month should see you feeling more inspired and more ready to put some of your bigger ideas into practice.
The Page of Pentacles is enthusiastic, filled with promise and excited about putting plans for the future into motion.
It refers to dreams and ideals that may not even be fully formed. There's an air of anticipation that goes with wanting to see them come to fruition and that may have just needed a nudge to turn them into reality.
The Page of Pentacles — this version from the Shadowscapes Tarot — is both a self-made individual and a work in progress. But it's not all about "work" in the sense that it's tedious or uninspiring. It's about craftsmanship and inspiration as seen in the colorful figure in this card.
You could find yourself putting the finishing touches on half-finished projects in order to clear the way for something else. You could be polishing off your resume, purchasing business attire, or boning up on your studies, in anticipation of something bigger and better on the horizon. Or you could be getting ready to start something brand new — like heading off to college.
The Page of Pentacles is excited about creating something and perfecting it, whether it's on the job or in other areas of his life. Whether this refers to you personally or to someone in your life who reflects these qualities, the idea is to take the ball and run with it. While you may be overwhelmed with the work that's set out before you, if anyone is up to the task it's you.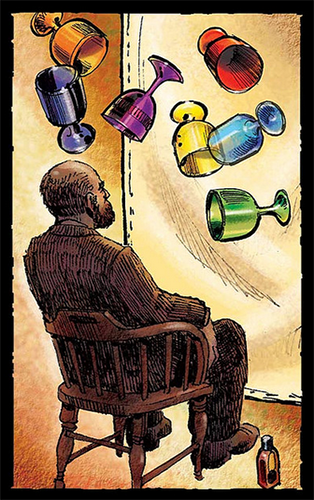 VIRGO: Seven of Cups
You may be considering several different options this month and feel uncertain about the value in any of them.
The Seven of Cups — this version from Robin Ator's Prairie Tarot — speaks of ideas that are floating around — some of them unformed and some of them unrealistic — as you weigh the different opportunities that are before you.
This can refer to business ventures that you're considering now, or it can relate to pie-in-the-sky dreams you've entertained off and on for years. Either way, the presumption is that nothing has been done about any of them and precious time may be wasted day-dreaming about things that you've put no effort into manifesting.
In this version of the card we see a man gazing hypnotically at 7 brightly colored goblets. None of them have anything in them — which should be his first clue that there's a problem.There's a blank canvas behind them and some type of elixir at his feet.
There are elements of fantasy inherent in the imagery of this card. And we all know how easy it is to get distracted by such pretty things. But chances are good that some of them are unattainable and none of them have been particularly well thought out.
"What would I do if I had the resources to do anything I wanted?" would be a good question to ask yourself right now. Think about that and then pull all those scattered ideas into making that one dream a reality.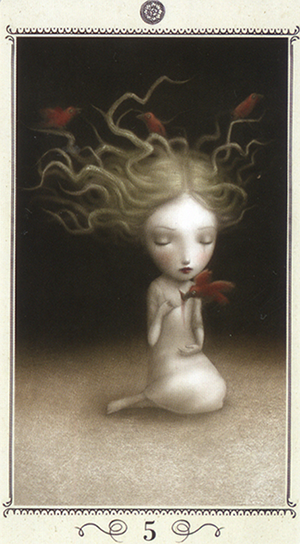 Libra: Five of Pentacles
This month you may find yourself needing to rethink what you value, especially when it comes to your own sense of worth or self-esteem. You may be dealing with financial setbacks or adversity, such as seeing your earnings held up or seeing your resources dwindling as a result of unexpected expenses.
This energy is illustrated here — in the beautiful Ceccoli Tarot version of the Five of Pentacles— in the form of a tender young woman sitting alone in the dark, looking sad and forlorn. A flock of songbirds has taken up residence in hair, with one of them plucking at her heart. A single tear falls from her downcast eyes.
The Five of Pentacles refers to feeling lost and alone, isolated or excluded, shut out, rejected or unworthy. It doesn't have to manifest in a big way. It can be as "simple" as being dismissed or overlooked — an insignificant occurrence that in light of the Venus / Pluto square takes on a life of its own.
It's a harsh word, a careless remark, a lack of consideration or a call that doesn't come. Something that makes you feel small, dejected or demoralized. Keep in mind that Pentacles relates to more than just money. It has to do with values in general and self-worth. Allowing the inconsiderate acts of others to make you feel small says a lot about how much value you place on yourself.
This is what you want to think about this month as you look at how these incidents affect you and what you can do to offset their impact on your own sense of self-worth. There can be feelings of shame and embarrassment — or fear of being rejected — associated with reaching out for help.
Take some time to nourish that tender heart of yours and remind yourself that you're worthy of being loved and accepted. The challenge with the Five of Pentacles is not to give in to those fears, but to overcome them.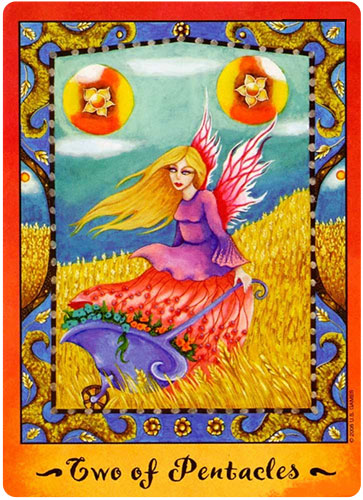 Scorpio: Two of Pentacles
This month may find yourself juggling all of the different areas in your life and trying to find ways to maintain balance.
With all of the activity going on around you may feel like you're being spread too thin, or pull in too many different directions. You'll have to be flexible and observant. Giving into the call of one desire without neglecting the call of another should be foremost on your list.
The idea is to be alert enough to remain aware of your surroundings and agile enough to immerse yourself in them fully. Much like the little faerie — from Nathalie Hertz' gorgeous Faerie Tarot — in this card.
Although there are bound to be distractions and demands on your time, this card says you have it in you to stay centered and attend to your obligations by pulling those opposing forces together and striking a balance between them.
In the context of this card Pentacles refers to more than just money. Yes this card can mean juggling funds — robbing Peter to pay Paul and seeing money go out as soon as if comes in.
But it can also refer to tasks, commitments and external obligations. Think about what you need to balance in your own life today as opposed to what deserves your undivided attention. It may require levels of skill and dexterity that you didn't even know you had. If you can pull it off though and find ways to satisfy one area without neglecting the other, it should be tremendously rewarding for you in the end.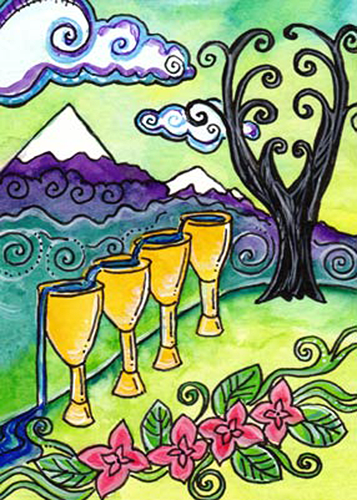 SAGITTARIUS: Four of Cups
This month may find you asking yourself: "Is that all there is?" The Four of Cups is a card of apathy. The focus may be on what is lacking in your life, rather than what's right there before you.
A lack of motivation and lethargy are also hallmark features of the Four of Cups. There's also generally a lack of energy, which may mean it's going to be a lazy day where you don't feel like doing much of anything.
One of the positive aspects of this card though is that it reveals to you exactly what's "wrong with this picture" and allows you the opportunity to make it right.
The Four of Cups — this version from Dana Driscoll's Tarot of Trees — is associated with melancholy, apathy and indifference. This doesn't mean that whatever you desire is lacking — in fact the Cups in this card are not only full but they're all overflowing.
The water (emotions) that pours from one cup to the next is wasted on the ground.The Tree pulls its limbs away from the cups and in toward its own center.
With this in mind, you want to work on doing the same: finding your own center and pulling your energy inward rather than allowing it to scatter to the wind. Whether the Four of Cups manifests for you as disillusionment or personal fulfillment, will depending on how successful you are at achieving that aim.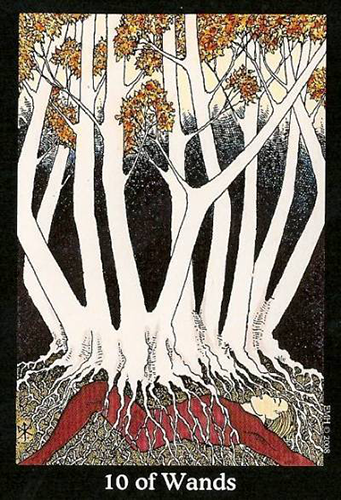 CAPRICORN: Ten of Wands
Has it seemed like it's been all work and no play for you in recent days? The Ten of Wands — this version from the gorgeous Whispering Tarot — can feel like you're carrying the weight of the world on your shoulders, or are so consumed with work that you have no time left for anything else.
You might experience this first hand on the job or in a stressful relationship or even in your own head. If you've been giving — of your time, energy, money, affection — until you find you have nothing left to give, that is the essence of the Ten of Wands.
You may be questioning whether something is worth putting more effort and energy into — such as a job, a relationship, or a business venture that's not paying off — or whether it's time to throw in the towel.
You may also feel like you're carrying "extra baggage," whether this refers to your own struggles or those of someone else. You may have taken on someone else's problems, rather than letting them iron them out themselves. As a result it may feel like you're carrying the weight of the world on your shoulders with no time or energy left to attend to your own needs.
As your ruler (Saturn) moves through the final degrees of Sagittarius and prepares to move into your sign, you may be struggling with feelings of uncertainty or dealing with a lack of direction. This transit moving through your 12th house can translate as illogical doubts and fears, which you don't want to let hold you back.
The weight of responsibilities you've taken on may seem like a heavy load — too heavy in fact for just one person to carry. The Ten of Wands says it's time to lighten your load. Get rid of what is no longer worth holding onto, and work on salvaging what's left.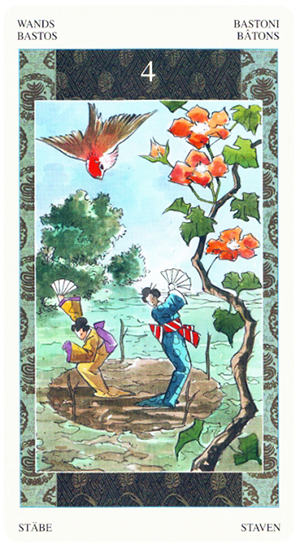 AQUARIUS: Four of Wands
This month you should be met with opportunities that bring kindness, warmth, graciousness and congeniality into your life.
No matter where you are in the world, you may feel like Spring is in the air, as this transit moves in like a breath of fresh air. This is a gentle, easy-going transit that brings feelings of benevolence and goodwill to the forefront.
Your card this month is the Four of Wands — this version from the Samurai Tarot — is all about reflecting on accomplishments and looking forward to where those accomplishments may lead. It speaks of rejoicing and celebrating — whether this means planning for a party or special event, or getting yourself out of the doldrums and washing away the blues.
The Four of Wands takes the "dream big" energy that came with the Three of Wands and turns it into something solid and tangible. It's a joyous celebration: a marriage, a promotion, the birth of a child.
It tells you that "this is only the beginning" of something you've already established and that it's going to just keep getting better and better. You may be planning a special event — one which will be way more fun than you are anticipating. You are likely to meet people, have fun, put your worries aside and focus instead on the promise of friendship, companionship and socializing.
No matter what else you're up against, remember to be grateful for what you have. It's not the time to isolate or withdraw from social opportunities. Look around you and take note of all you've accomplished thus far. Chances are good there's a lot to be grateful for and a cause for celebration right there in front of you.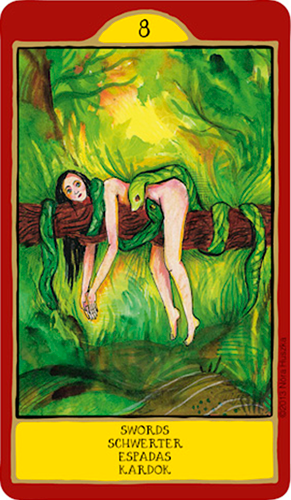 Pisces: Eight of Swords

You may be thinking about you've gotten yourself tangled up in this month and how much of it is of your own doing. The Eight of Swords speaks of being wrapped up in something — often your own misery — to the extent that you're unable to see a way out.
If you look at the image in this card — from the gorgeous Gypsy Palace Tarot — you can see that the woman could easily extract herself from the serpents that have entwined themselves around her and chained her to the tree.
But she lies there looking almost dumbfounded and doesn't even try to move. She's stuck when she doesn't need to be stuck. She's allowed herself to become a victim of circumstances.
There's a definite inability to see the forest for the trees vibe to this card. And that all stems from being too focused on how you might be trapped rather than figuring out ways to get out.
Notice the Sun shining through the clearing on this card. And the pathway which is only partially obscured. If she wanted to plan her escape route, that's the first place to look, although it doesn't look like the woman in this card has even bothered.
You'll have to look at both how you've contributed to the situation you find yourself in and the best way to get yourself out of it. At the very least you'll have to find the motivation to start moving toward a solution.
That solution is likely right there before you, and it may be clear to others even if you can't see it yourself. You can either unwind yourself from the restrictions that have rendered you immobile, or you can retrace your steps and back yourself out the same way you came.
—————————–
This month's tarotscopes feature some of Ask the Astrologers all time favorite cards. We hope you like them too! 
Don't forget to check out this month's Horoscopes too!
October 2017 Tarot Scopes
By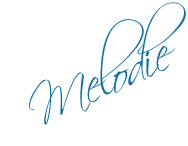 Personal Consultations:
If you would like to schedule a session with me, there are two ways to go about it. You can either purchase time either per minute (via Click4Advisor) or in blocks of 10-, 30- or 60-minutes (via PayPal). If I'm not showing as available, or if you want to purchase blocks of time through PayPal, please feel free to email me.







Melodie 

$3.99 per minute

$3.99 per minute


New Clients:
First Paid Session Only!
3 Minutes Free!



Flat-rate sessions available in 10-, 30- or 60-minute increments: Choose from the menu below: