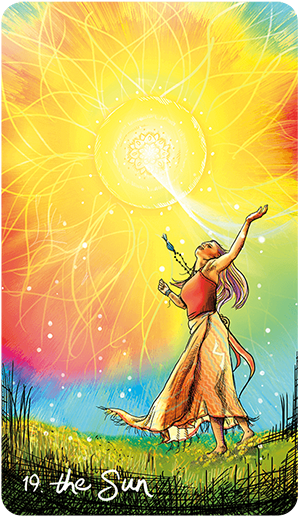 Aries: The Sun
This month you want to focus on what's right in your world rather than what might be wrong. The Sun card is all about happiness, optimism and vitality: it's about being present in the moment and celebrating being alive.
Look around you and take notice of the blessings that surround you. Step away — at least mentally — and turn your attention away from work and mundane affairs long enough to soak in the energizing rays of the Sun.
The Sun card — this version from the Lightseer's Tarot  — represents energy and vitality. Feeling happy to be alive. Getting in touch with your inner child, your true authentic spirit, the part of you that longs to embrace life with ever fiber of your being.
When we think of the Sun, we think of warmth, light and life. It warms our spirits as well as our bodies; it brightens our moods as well as the outside world, and it brings life to our dreams and goals as well as to every living thing on the planet.
The Sun card in the Tarot is much the same way. It refers to the wonder and glory of being alive. Of feeling warm, confident, radiant and spirited. Its attitude is that "everything is as it should be," for you and all around you.
The Sun reflects your own inner light and inspires you to let it shine. It encourages you to say yes to life rather than letting your troubles hold you back. It tells you to turn your face to the Sun rather rather than looking back over your shoulder toward whatever caused you to dim your light in the first place.
The Sun card is all about optimism, enthusiasm and personal radiance. It's about being yourself and allowing yourself to "shine," without any pretense or constraint. Even when the sky is cloudy, the Sun is still shines. We may not always see it but it's always there — and serves as a reminder of the warmth and vitality that each of us possess