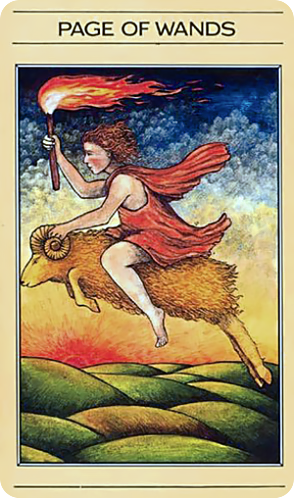 Aries: Page of Wands
You should be in your element this month, now that Mars (your ruling planet) is back in your sign. With Mars in Aries, you're going to be feeling more dynamic, energetic and alive.
This card is about racing toward your goals with the sort of fierce determination that propels you toward the finish line. There's no conserving energy or plodding along methodically when it comes to the Page of Wands. It's all go go go and get it done now!
The Page of Wands — this version from the Mythic Tarot — combines the fearlessness and impulsivity of the Page with the drive and passion associated with the Wands (or Fire) element.
You may be rushing toward a deadline, scrambling to outsmart your competitors or planning an adventure — but even in that case there's little planning involved. It's more about chasing after your goals and striking while the iron is hot.
This card represents the urge to get the ball rolling, make things happen, and fearlessly go after your goals without worrying about consequences or pitfalls. It could indicate someone in your life — generally an eager, enthusiastic, free-spirited young warrior who's full of life and has boundless energy — or it can represent a part of you that's ready to come to life.
Either way, the Page of Wands — much like Mars in Aries — encourages you to muster up the courage and confidence to go after what you truly want and to not let anyone stand in your way.