Here is the Ask the Astrologers Weekly Astro Forecast for the week of Feb 5, 2017 – Feb 11, 2017:
We have a lot going on this week, including a planet turning retrogade (Jupiter), a planet and an asteroid (Ceres and Mercury) changing signs, and a Full Moon lunar eclipse.
We start the week with the asteroid Ceres moving into Taurus on Sunday. This is a nice placement for Ceres, with the asteroid associated with home and hearth sits comfortably in the sign associated with comfort and sensuality.
The Moon is also in Taurus on Sunday, the sign of its exaltation, but it's void of course until it changes signs (and moves into Gemini) in the early morning hours.
Jupiter goes stationary retrograde at 23° Libra 08′ on Monday. Jupiter retrograde turns all of our spiritual and higher-mind impulses inward. It can bring greater insights and awareness based on what resonates with us personally rather than through external doctrines.
This is a rather volatile retrograde in that Jupiter is still opposing Uranus, the planet associated with anarchy and rebellion. While this aspect was exact back in December, it's been within orb all this time and will continue to be within orb for the next several weeks, as Jupiter inches back toward its square to Pluto.
This Jupiter / Uranus / Pluto configuration has been in play for several months, correlating to the social (Uranus), religious (Jupiter) and racial (Pluto) tensions and upheavals we're experiencing world-wide. With respect to Jupiter retrograde though, the focus is on expansion and evolution. It's about turning inward and exploring your own values and beliefs, divorced from outside influences. It emphasizes personal growth — individuation — as reflected in the Sabian Symbol for the degree that it turns retrograde on: "a third wing on the left side of a butterfly."
Jupiter will be retrograde for four months (until June 10th). Use this time to think about what makes you feel fulfilled on a Soul level, rather than the objects and accomplishments that bring you external comfort and satisfaction. It's a time for pursuing altruistic or charitable goals. And a time to build on your personal relationship with your own higher power.
Mercury moves into Aquarius on Tuesday. As Aquarius is ruled by Uranus (which is the higher octave of Mercury), this placement emphasizes originality and independence.
Mercury in Aquarius is all about thinking outside the box. Looking toward the future. And figuring out your own unique contributions to society. It's innovative and progressive. It's open-minded, far-reaching and can be a bit eccentric. Use this time to explore your individuality and to think of ways to let your brilliance shine.
The Sun sextiles Uranus on Thursday while Venus inconjuncts the North Node (and simultaneously semi-sextiles the South Node). The Sun / Uranus sextile is great for flying your freak flag in a socially acceptable way. If you think that's an oxymoron, consider that the Sun is tied to your life force, will and self-expression, while Uranus is tied to originality and non-conformity.
It is associated with being progressive and innovative, as well as broadening your range. This aspect encourages you to march to the beat of your own drum and express your own unique individuality in ways that inspire rather than shock.
Venus and Mercury are in sextile on Friday. This is a recurrence of the same aspect that took place in January when Mercury was retrograde. But this time it's in masculine (or positive) signs — Aquarius and Aries respectively — as opposed to its previous placement in feminine / receptive signs (Capricorn and Pisces).
As Mercury is the planet associated with words, ideas, and the exchange of information, and Venus is the planet associated with fairness and cooperation, bringing them together in a harmonious (sextile) aspect can make for some very pleasant conversations.
This is a time to get in touch with your softer, gentler side. See the beauty all around you — in nature, in the music and the arts, and in friends, loved ones and strangers. Let your imagination take flight and open your heart to those who may need little more than a kind word or a shoulder to lean on.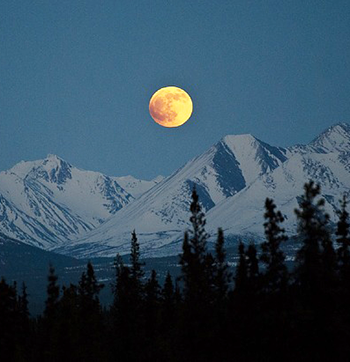 Saturday's Full Moon is known as the Snow Moon in Native American traditions. This is due to the heavy snowfalls that are common this time of year.
This Full Moon is also a penumbral lunar eclipse. This means that you're not going to see the Moon fully darkening the way it does with a total eclipse. A penumbral eclipse will only partially darken the moon, particularly along the perimeter.
The Full Moon eclipse occurs at 22 ° Leo 28. It takes place just after midnight (0:32 am UT) on Saturday — or 7:32pm EST on Friday.
The Sabian Symbol for this degree is "A bareback rider in a circus displays their dangerous skill." This symbol may be hard to consider outside the political "arena," particularly in US. But keep in mind that eclipses tend to expose things that have been hidden and bring them into the light.
Also on Saturday, the Sun trines Jupiter (and because it's a Full Moon, the Moon will also sextile it). This set of aspecta is particularly fortuitous. It brings the planet that rules growth, expansion and personal evolution (Jupiter) into harmony with the luminaries.
Try to end your weekend feeling good about yourself, courtesy of this transit. It's a positive, upbeat transit that evokes optimism and self-confidence and optimism. As with most transits, it all depends on what you make of it. So see it as expecting only the best, knowing that when you do, the Universe responds in kind.
That's it for this week, see you next week!
Here is this week's astro calendar; click on it to view it full-sized.

---
Weekly Astro Forecast —
Feb 5, 2017 – Feb 11, 2017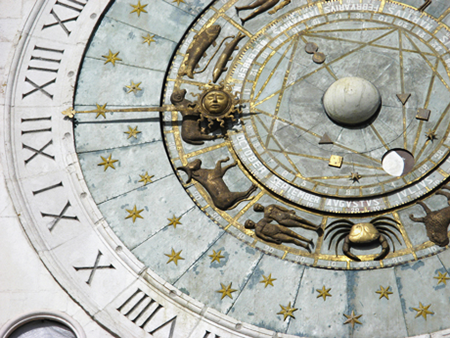 By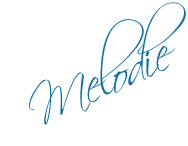 ---
Thinking about learning Astrology? I highly recommend Stephen Arroyo's Chart Interpretation Handbook and Demetra George's Astrology for Yourself.
Don't forget to check out more Weekly Astro Forecasts and our Monthly Horoscopes too!
Want to see where these transits are hitting your natal chart? Check out our Free Natal Chart Calculator.
You can also read more of my articles here.
Personal Consultations:
If you would like to schedule a session with me, there are two ways to go about it. You can either purchase time either per minute (via Click4Advisor) or in blocks of 10-, 30- or 60-minutes (via PayPal). If I'm not showing as available, or if you want to purchase blocks of time through PayPal, please feel free to email me:







Melodie 

$3.99 per minute

$3.99 per minute


New Clients:
First Paid Session Only!
3 Minutes Free!



Flat-rate sessions available in 10-, 30- or 60-minute increments: Choose from the menu below:

This forecast also appears on the Psychic Scoop website.