Here is the Ask the Astrologers Weekly Astro Forecast for the week of Apr 9, 2017 – April 15, 2017:
We start the week with two planets (the Sun and Venus) both at the exact degree of their exaltations. We also have a Full Moon, a planet turning retrograde (Mercury) and a planet turning direct (Venus)  this week.
Starting on Monday, with the Sun and Venus at their respective degrees of exaltation, this is a relatively rare occurrence. By themselves they're not all that uncommon. The Sun crosses this degree once a year and Venus does the same about one every 225 days. But to happen together at the same time — the last time was over 60 years ago — is significant. Exaltation is determined by a mathematical formula that determines the sign's "purest" astrological position.  In this case it's 19° Aries for the Sun and 27° Pisces for Venus.
If you're wanting to start something new, this is a good time to do it. Remember that there are other planetary transits in play and this combination won't trump them. Still it's a fortuitous pairing that can produce favorable results.
Speaking of planetary transits, Mercury goes stationary retrograde, also on Monday. Did we just say it's a good time to start something new? On second thought, remember to dot your i's and cross your t's, as Mercury retrograde promises that things will not go as planned. We all know that Mercury retrograde means things are likely to go haywire — especially all things related to communications, communications devices and local travel — like automobiles, train and bus schedules and so on.
Communications tend to run amok, plans get turned on their head, communications devices (computers, electronics, cell-phones, etc) and written communications (emails, texts, letters, etc.) get lost or misconstrued. It's not a good time to sign contracts or legal documents and not a good time to purchase Mercury-ruled items (automobiles, televisions, computers and so on).
Another intense Monday transit involves a Sun / Pluto square in cardinal (Aries and Capricorn) signs. This aspect can be extremely volatile. It can erupt into power struggles or confrontations with others. Intense anger (rage), trust issues and overreactions are all potential manifestations of this transit, which may be exacerbated by the misunderstanding that arise due to Mercury retrograde.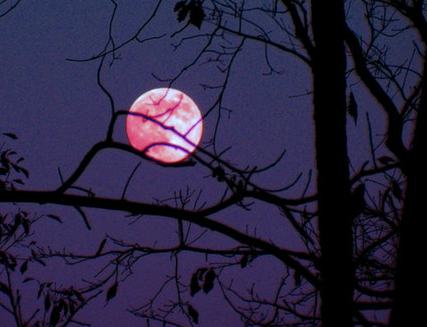 April's Full Moon takes place at 21° Libra 32, at 11:08 pm (PDT) on Tuesday or 6:08am UT on Wednesday. This is called the Full Pink Moon in Native American traditions, in honor of early Spring's first blooms.
The Aries Full Moon emphasizes the Aries / Libra polarity's natural association with relationships of all types, with Aries representing "the Self" and Libra representing "the Other." The theme here is figuring out where certain people fit in your life without focusing so much on one type of relationship so that you invalidate the other.
This Full Moon is part of t-square configuration, loosely conjuncting Jupiter, squaring Pluto and opposing Uranus and the Sun.
With Pluto at the apex, this Full Moon shines its light on some of the turmoil we're seeing in the world around us — and because it's in Libra — encourages us to make peace. The Sabian Symbol for this degree may have us thinking about specific world leaders: "Two people who have to give an accounting for their acts before the tribunal of society."
The Sun conjuncts Uranus on Thursday, further intensifying this volatile, combative t-square energy. On its own, this aspect is good for expressing yourself in ways that may not be conventional but can inspire tolerance and acceptance in others.
As the Sun is tied to your life force, will and self-expression, while Uranus is tied to thinking outside the box, these planets joining together can be incredibly progressive and innovative. This aspect encourages you to march to the beat of your own drum and express your own unique individuality in ways that inspire rather than shock.
But remember it's part of a very intense and unsettling t-square with other strong forces all vying for control. At the very least you want to look at your own contributions to whatever conflicts you're personally involved in, and do your part to restore the peace.
Moving onto Saturday, Venus turns stationary direct — still at its degree of exaltation (27° Pisces). The Sabian Symbol for this degree is appropriately enough: "A fertile garden under the full moon."  With Venus moving forward again, you might start to notice a shift in energy related to all things Venusian — especially love and romance. Relationships that started during this period — as well as romantic attractions that were sparked — will be seen in a whole new light.
As Venus moves forward you may be asking yourself whether your relationships will do the same. During the retrograde cycle, you may have been tying up loose ends in a relationship that was on its last legs, or you may have been compelled to reach out and reconnect with a lover from your past. But now you're moving your energy away from the past and back toward the present and future. You'll be thinking about which direction you want to take your relationships from this point forward as well.
Where does Venus fall in your natal chart and what houses does it rule? (you may need to speak with an astrologer if you're unsure about that). Venus rules two signs — Taurus and Libra — and the houses with these signs on the cusp will be activated by its change in direction. This will add other dimension to the impact of this transit and how it will affect you personally.
That's it for this week, see you next week!
Here is this week's astro calendar; click on it to view it full-sized.

---
Weekly Astro Forecast —
Apr 9, 2017 – April 15, 2017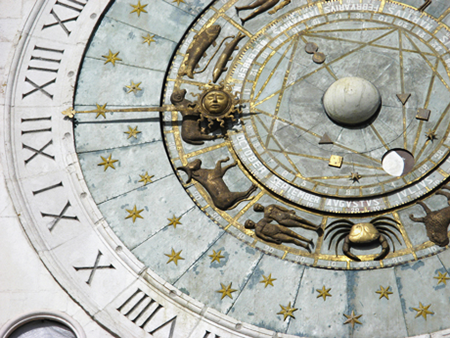 By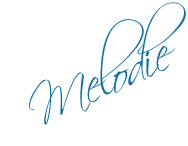 ---
Thinking about learning Astrology? I highly recommend Stephen Arroyo's Chart Interpretation Handbook and Demetra George's Astrology for Yourself.
Don't forget to check out more Weekly Astro Forecasts and our Monthly Horoscopes too!
Want to see where these transits are hitting your natal chart? Check out our Free Natal Chart Calculator.
You can also read more of my articles here.
Personal Consultations:
If you would like to schedule a session with me, there are two ways to go about it. You can either purchase time either per minute (via Click4Advisor) or in blocks of 10-, 30- or 60-minutes (via PayPal). If I'm not showing as available, or if you want to purchase blocks of time through PayPal, please feel free to email me:







Melodie 

$3.99 per minute

$3.99 per minute


New Clients:
First Paid Session Only!
3 Minutes Free!



Flat-rate sessions available in 10-, 30- or 60-minute increments: Choose from the menu below:

This forecast also appears on the Psychic Scoop website.