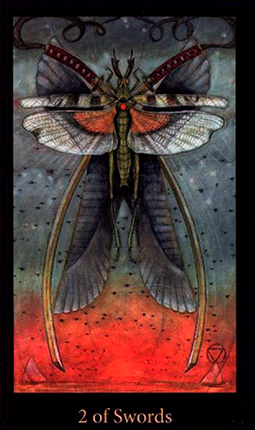 Two of Swords
You're striving for equilibrium today, as a means toward balancing all of the dichotomies in your life.
Whether you feel yourself being pulled in two different directions — between head and heart, for example — or just need a break from the chaos surrounding you, this card encourages you to take a step back, be still in the moment and reflect on what you want, removed from any external distractions.
You may wish to "rise above" all of the turmoil that is festering beneath you, but as with the imagery depicted in this card, you won't be able to completely escape it.
The juxtaposition of opposing forces (moth vs. snake, day vs. night, life vs. death, hibernation vs. metamorphosis) reminds us that there is a brief moment in between. And it's in that moment — the stillness and the presence of mind that occurs only there — where clarity, perspective and understanding are born.
Trust your instincts and work on following your intuition. This card requires you to access both hemispheres of your brain, whether that relates to creative, practical or even spiritual considerations.
The deck used for today's Tarot Scope is the Mary-el Tarot designed by Marie White, distributed by Shiffer Publishing. Used by generous permission. Original art, as well as full-sized prints, are also available on her website. Please check out and "like" this deck's Facebook Fan page. 
This month, Marie is offering 25% off on all original paintings and prints through her site. Check out Valentine's Day Sale to learn more! 
Check out more daily tarot scopes or visit our Shop