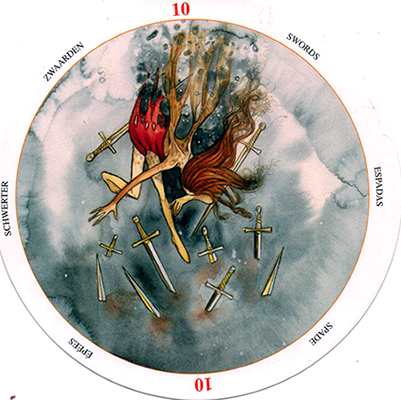 Ten of Swords
Today you may be called upon to surrender to the realization that something that means a lot to you must come to an end.
This card is called "Ruin" in some decks, and refers to damage that has been done which cannot be undone, such as a loss of a friendship, the end of a dream or a betrayal of trust.
In this version of the card we see a young fairy falling rapidly through the clouds. Perhaps like Icarus she's flown too close to the Sun which has melted her wings. They're still smoldering behind her as she tumbles toward the Earth.
She's dropped her swords and they scatter around her — only a few are still intact. The clouds obscure the ground beneath her, making it unlikely that she could latch onto something and break her fall. Even if she could though, too much damage has been done. 
This is one example of the turbulence and destruction that can accompany a Ten of Swords free-fall. It may feel like there's no turning back, no net to catch you and no where to go but down. Or like the unfortunate fairy in our card, like you've seriously crashed and burned.
But one of the unique features of this card is the ability to turn it around, which brings with it the opportunity to turn a bad situation into something empowering. Turn this card upside down and you might see the fairy flinging the daggers (hurtful words, anger, danger, destruction) away from her, as opposed to falling helplessly toward and onto them.
The Ten of Swords serves as a painful reminder that some things are irrevocably broken and cannot be repaired. It may be a relationship, a job, a life-style or even a belief system. There's no more denying, no more debating and no more struggling to fix things; it's time to accept that what's been done cannot be undone and finally put it to rest.
There is a silver lining to this card though, just as there is to the clouds our fairy finds herself tumbling through. The acknowledgement and surrender that comes from putting this chapter firmly behind you brings with it a fresh perspective and the opportunity to start anew.
This card is part of a the Circle of Life tarot collection by Maria Distefano. This is a Lo Scarabeo deck, published by Llewellyn. There is also a deluxe edition, which includes a Sunlight Satin bag — a specially designed tarot pouch — in addition to the cards and booklet.
Check out more daily tarot scopes or visit our Shop




"




Chrisalis




$3.99 per minute








New Clients:
First Paid Session Only!
3 Minutes Free!



Flat-rate sessions available in 10-, 30- or 60-minute increments: Choose from the menu below:








Melodie 

$3.99 per minute

$3.99 per minute


New Clients:
First Paid Session Only!
3 Minutes Free!



Flat-rate sessions available in 10-, 30- or 60-minute increments: Choose from the menu below: