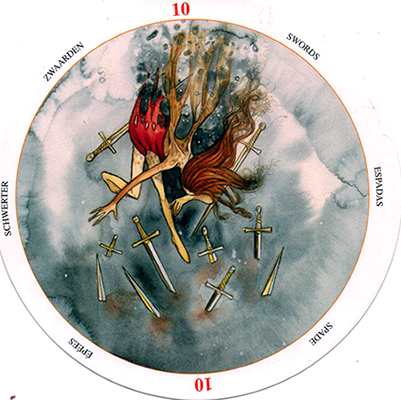 Ten of Swords
Today you may be called upon to surrender to the realization that something that means a lot to you must come to an end.
This card is called "Ruin" in some decks, and refers to damage that has been done which cannot be undone, such as a loss of a friendship, the end of a dream or a betrayal of trust.
In this version of the card we see a young fairy falling rapidly through the clouds. Perhaps like Icarus she's flown too close to the Sun which has melted her wings. They're still smoldering behind her as she tumbles toward the Earth.
She's dropped her swords and they scatter around her — only a few are still intact. The clouds obscure the ground beneath her, making it unlikely that she could latch onto something and break her fall. Even if she could though, too much damage has been done.