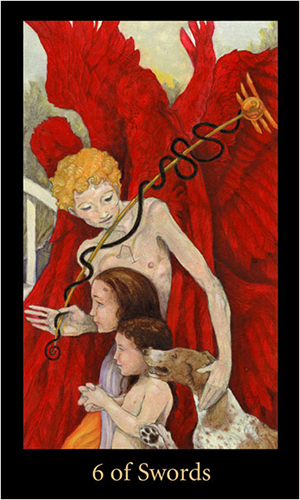 Aries: Six of Swords
WIth your ruling planet (Mars) retrograde for the first part of the month and then moving forward again for the last half, you're likely going to be similarly changing direction this month. If you're making big changes, you'll need to think about what you're taking with you and what you're leaving behind.
This isn't necessarily material things; in fact that's rarely what it means. It's more about attitudes and belief systems, as well as a life you may have built and dreams you may have dreamed that are no longer capable of sustaining you.
The Six of Swords is a card of transition and change. It represents moving to a better place, even if only in your mind.
In this version — from the Mary-el Tarot — we see the Archangel Raphael guiding a pair of young children and their dog across a bridge. Where he's leading them is not seen, but there are elements of safety, protection and comfort in this card, which is a necessary part of trusting in the unknown.
This is the message behind the Six of Swords. You may not be where you want to be just yet, but you're moving in the right direction.
The Six of Swords reminds us that we're not alone. We don't get to the other side without assistance from someone, even when that "assistance" comes in the form of a setback that forces us to change direction.
It also provides clarity and perspective. We may see things we don't want to see — or admit to ourselves — but it's that kind of clarity that motivates us toward change. This is the first step, courtesy of the Six of Swords, toward manifesting your goals.